Ed Jones hasn't just climbed the ladder of success in Indy car racing the last three seasons, he's been on a high-speed elevator to potential stardom.
He finished third in his first Indy Lights season in 2015, won the series' championship in 2016, and then was named INDYCAR rookie of the year in 2017 with Dale Coyne Racing (helped greatly by a season-high, third-place finish in the Indianapolis 500), his first season in the Verizon IndyCar Series.
That elevator ride has now reached one of the top teams in the sport, Chip Ganassi Racing. And Jones wants to keep riding upward and forward with arguably the best ride of his overall racing career.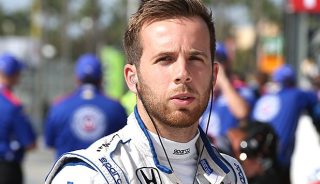 Jones, who turned 23 on Monday, got off to a good start with his new team in last week's open IndyCar test at ISM Raceway (formerly Phoenix International Raceway).
The Dubai-born British citizen said the test was both "extremely positive" as well as had the team "heading in the right direction," particularly with IndyCar's new aero package for 2018, he said in a media release.
Jones said he likes the new bold of the IndyCar chassis, especially that it has significantly less downforce than last year's car and puts control of the car more in a driver's hands, an aspect he calls refreshing.
Jones has already had two tests with the new 720-horsepower Dallara-Honda car. First was last month at Sebring International Raceway in Florida.
And then there was the major test last week in Phoenix, one that bodes well with promise for the season-opening race at St. Petersburg, Florida, on March 11.
Jones logged a total of 12 hours on-track in the No. 10 NTT Data ride during both day and night conditions, running a total of 283 laps around the 1.022-mile low-banked oval.
He was as high as seventh on the overall speed charts before ending the test with the 12th-fastest average speed of 187.696 mph, less than one-tenth of a second behind four-time IndyCar champ and CGR teammate Scott Dixon.
It was good preparation for the second race of the season on April 7 at the same track.
Jones has one more test coming up late this month, back at Sebring, before the season kicks off on the temporary street course in St. Petersburg.
"The test went really well," Jones said of Phoenix. "It was my first time running with the new aero kit on an oval, so there was a certain degree of adapting to do as we worked on finding the best set-up for the car, but we logged a lot of very solid laps and by the second day I felt much more comfortable and able to attack more.
"The new package is very different to last year, when we were pretty much flat the whole way round the lap on ovals. Now, due to the reduction in downforce, there is more lifting involved, which makes it more difficult to hold onto the tires over longer stints. That will introduce more of a technical and tactical element into the driving, which I think will suit me well.
"We made a lot of changes over the two days and learned and improved a great deal. Although we still have more pace to find and plenty to pick up in a short space of time, we're heading in the right direction and I believe we left Phoenix in a much stronger position than when we arrived, both in terms of single-lap speed and race simulations, which is all extremely positive."
And he hopes to keep that positive feeling going when things are for real, starting at St. Pete.
"I am confident we can be competitive from the outset at St. Petersburg," Jones said. "I'm really looking forward to the season.
"I feel completely at home inside the team and while I'm under no illusions that it's going to be tough – because the level in IndyCar is sky-high right now – I have a great opportunity with Ganassi this year and I fully intend to make the most of it."