Will she or won't she? Only Brittany Force knows for sure – and we should know Thursday or Friday whether she'll race in this weekend's NHRA Arizona Nationals in suburban Phoenix.
The 31-year-old daughter of 16-time NHRA Funny Car champ John Force is still recovering from the worst crash of her own six-year drag racing career nearly two weeks ago in the season-opening race at Auto Club Raceway in Pomona, California.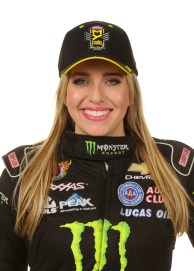 Taking the green "go" light in the right-hand lane and in the first round of eliminations on Sunday, Feb. 11, Brittany's Top Fuel dragster lost traction shortly after the start, made a hard left across the left lane in front of competitor Terry Haddock's dragster (he was not involved in the crash) and the left side of her car slammed hard in a lateral crash with the concrete barrier.
Force's car then shot back across back to the right-hand lane, spun, fell on its side, and then a brief fire ensued as the dragster came to rest wheels-up after sliding through the finish line.
She was taken to a local hospital with a concussion and severe bruising, was kept overnight for observation and more tests, and was released Monday, Feb. 12. She has been recuperating at her parents house in suburban Los Angeles ever since, but is reportedly still bruised and in pain.
The team said it will issue an update on whether Brittany will or won't be able to race this weekend either Thursday or Friday. The key is how she is able to sit in her dragster, and whether doctors feel her still-bruised body can withstand the G-forces produced by the 11,000 horsepower dragster.
John Force Racing released a Q&A with Brittany late Wednesday afternoon. Here is the full interview:
How are you feeling and what has your recovery been like?
I got banged up pretty good but I'm getting better each day. I'm anxious to get back in my race car. I've been taking it easy and resting up at home. There's not much else for me to do. It's all just a matter of time.
Your family is very close knit, can you talk about the support you have gotten from them?
My family has been really supportive through this whole process. They were right there with me in the hospital. I've had a full house for the past week being checked up on by my parents, my sisters, my nephews, my niece, my friends and my boyfriend. My team has been calling and texting around the clock making sure I'm okay. Really, all the people close to me have been there for me.
Would like to say anything to your fans?
Thank you to all my fans and NHRA family for sending thoughts and prayers. I received all of your flowers and cards and I appreciate all your support on social media. I'm so blessed to be in a sport where fans are so loyal. Thank you again to the greatest fans on Earth.
Have you also heard from your competitors?
I've always said drag racing truly is the greatest sport. For the past week I've had so many of my competitors reach out to me as well. Thank you to all of them. I look forward to getting back out there with you.
Just an hour before making the run where you had the accident, you received your 2017 Top Fuel championship ring and jacket. What does that mean to you?
Honestly that whole day is kind of a blur. But standing on that stage at driver introductions and receiving my championship ring and jacket was something that I had been looking forward to. Seeing that championship ring only gives me and my team more motivation going into the rest of the season. It proves that we did it once and we're going to fight to do it again.
What do you remember about that run?
I don't remember any of the crash. The last thing I remember is staging the car. The next piece I remember is the Safety Safari helping me out of the car. I remember looking down at this mangled mess and thinking someone had wrecked. Then I realized the mess was my car. After that I remember bits and pieces but I do remember my whole family in the hospital with me. My first question was what happened. My next question was what about Terry Haddock in the lane next to me.
Have you watched the incident?
I watched part of the crash on my sister's phone and it was much worse than I expected. My biggest concern is being trapped in the car while it's on fire. So, after seeing in the video that the car tipped over and caught on fire, I made the decision not to watch it again until getting back in the car and making some runs. I don't need those images in my head before making another pass.
After just escaping with minor injuries, talk about the safety of your dragster.
For how horrific that crash was, the fact that I came out of it just a little banged up is incredible. That just shows the safety that we put in these cars. I have to thank Don Schumacher Racing for the design of the canopy and thank you Simpson for all your gear that kept me safe.