When you're used to winning championships – like three in the previous five seasons – any other season finish is disappointing.
That's kind of how NHRA Top Fuel dragster driver Antron Brown looked at his fourth-place showing in the 2017 Mello Yello Drag Racing Series.
"At the end of the day, we had a very competitive season last year and made it to 10 final rounds," Brown said. "But we got into the Countdown (NHRA's six-race playoffs) and our timing was off.
"We struggled with a lot of problems we don't usually have. Now it's time for a new chapter for this team and time to get better. This is a new beginning for us and it's going to be fun and exciting and we're coming after them."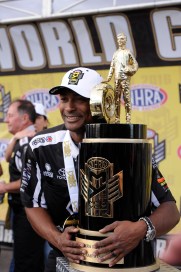 Brown had a good start to 2018, reaching the semifinals before losing to Don Schumacher Racing teammate Tony Schumacher in the season-opening Lucas Oil Winternationals at Auto Club Raceway in Pomona, California.
"We had a great performance at Pomona and I couldn't be more proud of what our Matco/Toyota guys did," Brown said. "Now we are going to Phoenix where we've won three times (2009, 2012 and 2014, and was runner-up in 2011) and we'll just try to hit it hard and get a fourth."
Next up on the NHRA 24-race national event circuit is the second race of the season, this weekend's NHRA Arizona Nationals at Wild Horse Pass Motorsports Park in suburban Phoenix (Chandler, Arizona).
Brown has definite plans to make it four wins in Phoenix. And if he does that Sunday, he'll set a significant career milestone: it would be his 50th career win driving a Top Fueler and the 66th win overall (he won 16 races in Pro Stock Motorcycle before shifting from two to four wheels).
In so doing, Brown would become only the fourth Top Fuel driver in NHRA history to hit the 50-win mark. The others are Tony Schumacher (83), Larry Dixon (62) and Joe Amato (52).
This will be the second time Brown has been racing in Phoenix this month. He was part of the preseason test there for Top Fuel, Funny Car and Pro Stock cars a week before the season began.
"Testing went really well there," said Brown, leaving him optimistic that he can reach victory circle once again. "I love going back to Phoenix."
Brown has been the most dominant driver in NHRA Top Fuel competition since 2012, winning more than twice the number of races (34) than the next most successful Top Fuel driver (16 by Schumacher) in that time period.
He also has a 71 percent overall win percentage, which exceeds both eight-time Top Fuel champ Schumacher and 16-time Funny Car champ John Force.
"I'm just pumped up, feeling like we've got some unfinished business from last year," Brown said. "We had a good outing but didn't close the deal, so this year, we're looking forward to getting back there and getting off to a great start."
NOTES: Brown will serve as honorary pace car driver for the March 4th Pennzoil 400 NASCAR Cup race at Las Vegas. He'll be joined by teammates Matt Hagan and Leah Pritchett in a weekend full of activities that they'll all be involved in.
"I'm really excited," Brown said. "It's going to be my first experience as a pace car driver, and I'm just super stoked to go out there and drive the Camry pace car for Pennzoil and start those NASCAR boys off the right way. Throttle down, pedal to the metal. I just want them to get off to a great start."
Brown has won four times at The Strip, the drag strip adjacent to Las Vegas Motor Speedway.
"I couldn't be more excited to have the opportunity," he said. "It's an honor to be out there with such talented drivers, and I know I'm going to really enjoy watching our NASCAR counterparts."