Drag racing is a Force family tradition. So, too, is not keeping a Force family member down.
Just 12 days after the most serious wreck of her six-year drag racing career, Brittany Force and John Force Racing announced late Thursday afternoon that the defending 2017 NHRA Top Fuel champion has been medically cleared and will indeed race in this weekend's NHRA Arizona Nationals at Wild Horse Pass Motorsports Park in suburban Phoenix, Arizona.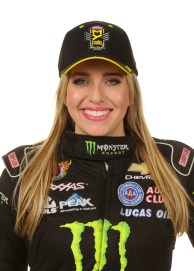 "I flew into Phoenix early this (Thursday) morning and headed straight out to the race track to meet up with my team," Force said. "I suited up and got belted back into my car that I ran all last season.
"It honestly felt good to be strapped back in and I was surprised how comfortable I was. I'm looking forward to getting back in my car tomorrow (Friday's first two rounds of qualifying) and getting back in the swing of things with my guys."
The 31-year-old Force, one of four daughters of 16-time NHRA Funny Car champ John Force, suffered a concussion and bruising after the hard crash she was involved in on February 11 in the first round of eliminations of the season-opening NHRA Lucas Oil Winternationals in Pomona, California.
Shortly after leaving the starting line in a race vs. Terry Haddock, Force's dragster crossed from the right to left lanes, impacted the retaining wall with a very hard lateral crash, bounced off, spun, went on its side and briefly caught fire after crossing the finish line wheels-up.
While she is still recovering from the bruising, Force feels strong enough to get back behind the wheel. Getting back in the race car could be the best medicine of all, since she has three runner-up finishes in Phoenix, including back-to-back second-place showings in both the 2016 and 2017 national events.
The three-day event kicks off Friday with qualifying rounds at 4 and 6:30 p.m. ET, the same times as Saturday's qualifying. Final eliminations begin at 1 p.m. ET Sunday.