If you always wanted to build your own championship race team but didn't have the money, well, we have the next best thing for you – and you can build it brick by brick, so to speak.
On Wednesday, IMSA WeatherTech SportsCar Championship officials announced a replica of the 3-time GTD-championship winning No. 63 Scuderia Corsa Ferrari 488 as the latest addition to the LEGO Speed Champions set.
The set, which contains 179 pieces and launches for sale on March 1, also features a LEGO version of driver Christina Nielsen. It will be available to order from LEGO.com and costs $14.99 – a lot cheaper than building the actual full-size car, obviously.
And, you can customize it any way you see fit.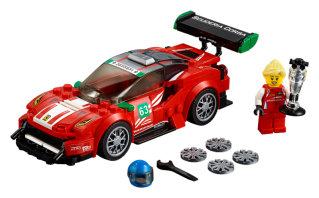 "To partner with Ferrari and the LEGO Group on its 60th anniversary and bring our No. 63 to life is a dream project," said Giacomo Mattioli, Scuderia Corsa team owner. "We've had outstanding results with the No. 63 Scuderia Corsa Ferrari 488 GT3 the past five years, and the LEGO Speed Champions set is a powerful way to tell our story, hopefully inspiring the race drivers, engineers and designers of the future."
The LEGO version of the Ferrari is spot-on with authentic details, including the red racing colors all the way down to race-graphic stickers, including the green number panel used by WeatherTech Championship GTD teams.
Nielsen's minifigure comes complete with her signature blonde hair, WeatherTech Championship and Continental Tire uniform logos and a blue helmet. It can also be placed inside the race car through a removable windshield, as opposed to through the door in real life.
To top it all off, the set also includes a replica silver championship trophy Nielsen won for capturing back-to-back GTD titles with co-driver Allessandro Balzan in 2016 and 2017.
"I cannot believe it is becoming real," Nielsen said in a media release. "I still think it's unreal. I need to get one myself, I haven't got one yet, or two, or three, or four, but yeah, it's absolutely amazing. My life feels 99 percent complete. The last percent is I need to have a Porsche in LEGO as well."