Ryan Hunter-Reay finished ninth last season in the Verizon IndyCar Series standings, but some might argue there should be an asterisk next to his season finish.
Hunter-Reay could potentially have finished higher, maybe even in the top-five – and likely might have earned more than the three podium finishes he had (Indianapolis Grand Prix, Iowa and Watkins Glen) – if he didn't suffer, as he put it, several "missed opportunities."
"We started the first race in St. Pete with some electrical issues in pit lane and ended up finishing the race in fourth, so a huge comeback there," Hunter-Reay told NBC Sports.
"And then at Long Beach, challenging for the race win with just a few laps to go, and right on the gearbox of James Hinchcliffe, and the car shut off – same exact electrical issue that shut the car off while leading the year before at Pocono.
"And then at Indianapolis (500), we were challenging for the lead when unfortunately the engine expired."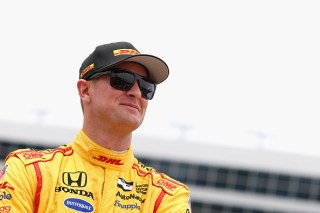 While there's no rhyme or reason for the mishaps, there was somewhat of a common thread at least on the surface.
"These things tend to happen when we're running upfront," Hunter-Reay said. "If you put all those missed opportunities together, there's a pretty good season in there."
An even better "pretty good season" is in Hunter-Reay's sites for 2018. Entering his 15th season in Indy car racing, including his 12th in the Verizon IndyCar Series, the 37-year-old Fort Lauderdale, Florida resident has high expectations for the 2018 season, which begins March 11 in St. Petersburg, Florida.
But he also knows what the record book says:
* Since winning the IndyCar championship in 2012, he finished seventh in 2013, sixth in both 2014 and 2015, fell to 12th in 2016 and rebounded to ninth last season.
* He's had three podium finishes in each of the last two seasons, but also has not won a race since 2015, when he triumphed at both Iowa and Pocono, following the biggest win of his career in the 2014 Indianapolis 500.
But Hunter-Reay and the rest of the No. 28 DHL-sponsored Andretti Autosport team are "definitely optimistic about this season," Hunter-Reay said.
Some of that optimism comes from the three-day preseason test at Phoenix earlier this month with a brand new race car that is significantly more aerodynamic than last year's model.
"The Phoenix test went well," he said. "It was much different than we had been used to, a lot less downforce than we've had in the past. There was some getting used to that driving style-wise and what you can get away with, getting into the corner and how to put the power down, but I think all-in-all, it was a pretty good test.
"We still have a some work to do. It'll be interesting to see how it races. I think there'll be a lot more passing than last year. We're definitely sliding around a lot more and it's very difficult in traffic, but my guess is it'll race better than last year."
And let's not forget the sleek, sexy and bold look of the new car, likely to become a big favorite once more IndyCar fans see it both in-person at racetracks as well as on TV broadcasts as the season progresses
"Absolutely (it's sexy and bold)," Hunter-Reay said. "The look of the car is 100 percent (improved from last year), they knocked it out of the park.
"I'm very, very happy with the good job they did on the design side of it. It's been great and you can really see the reaction from social media, like the fans that came out for the test (in Phoenix), it's definitely hit that note it was looking for."
But the new look also comes with new challenges that must be overcome in the first part of the season.
"It's all about getting the setup right," Hunter-Reay said. "This is a completely different aero kit and aero package and a different center of gravity. Yes, there's less downforce and you're driving the car more, you're busier behind the wheel of the car.
"But you have to make it work for your driving style. If you're a guy that really wants the rear end locked down, you can do that with the setup, but you have to work to get there.
"And vice-versa. If you're a guy that likes to have a really sharp entry and the car is kind of free and loose, you have to work to get there but have that balance that will allow you to get through a tire run and through a tank of fuel. So, there's a lot of challenges on making that right for each different driver."
The long off-season wait for St. Petersburg is nearly over, but it's a race that has added meaning for Hunter-Reay.
"I've been on the podium at St. Pete three times, second- and third-place finishes," he said. "But I really want to win that race. It's my home race and I would really love to win that race.
"We made some pretty good progress at Sebring (in testing), but we know there's probably going to be some curve balls when we come to St. Pete. I can't really say what to expect yet. It's going to be kind of wait-and-see because we have no idea what we're going to get that first session. We could be right in the window, or we could be quite a ways off and we'll have to dig ourselves out of that hole over the weekend and try to make it up for qualifying."
And as for the overall 2018 season, Hunter-Reay adds, "it's going to be interesting to see how it all plays out with the new aero kit and how it races different at each and every track we go to, and who comes to grips with this universal aero kit first.
"Who knows, maybe somebody will make an early run, and that's where the championship is won, on the front end of the season. If that happens, hopefully, we're that team."