MONTMELO, Spain  — The third day of Formula One testing at the Circuit de Catalunya-Barcelona in Spain proved to be a washout as snow and rain kept most teams from venturing out on track.
Parts of the track near Barcelona were covered in snow when teams arrived, forcing cars to stay in the garage indefinitely. Only McLaren F1 Team's Fernando Alonso turned any timed laps – his quickest being a 2:18.545 – but with conditions proving too difficult, most of the teams elected to not send their drivers out.
Swedish driver Marcus Ericsson of the Sauber team said on Twitter, "Thanks for making me feel at home, Barcelona."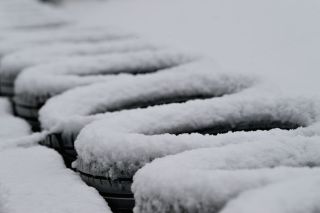 Cold weather also affected the first two days of testing, keeping teams from learning much about the new 2018 cars as the track remained without enough grip for proper runs.
There were talks about adding extra days of testing in Barcelona, but the decision would need to be unanimous among the teams.
Thursday is the last of the first four-day test session. The final four-day session in Barcelona starts Tuesday.
The season opens with the Australian GP in Melbourne on March 25.