This past week saw the FIA Formula 1 World Championship return to on-track action as pre-season testing kicked off at the Circuit de Barcelona-Catalunya.
However, the week was far from smooth, with weather conditions impacting two of the four days of testing, with Wednesday's sessions effectively wiped out because of a combination of snow and rain.
However, the final day of testing this week, on Thursday, saw the weather give way to much better conditions, and F1 teams finished out the week with the busiest day of testing so far. Three drivers turned in over 100 laps – McLaren F1 Team's Stoffel Vandoorne (110 laps), Scuderia Ferrari's Sebastien Vettel (120 laps), and Scuderia Toro Rosso's Pierre Gasly (147 laps), while Mercedes AMG Petronas' Lewis Hamilton turned in the fastest lap of the week at 1:19.333.
Other drivers to lead individual days were Red Bull Racing's Daniel Ricciardo (fastest on Day 1) and the aforementioned Vettel (fastest on Day 2).
McLaren also enjoyed a strong outing in the first week of testing, this after switching to Renault power units following a problematic three-year stretch with Honda. Both Vandoorne and Fernando Alonso ranked inside the top five on Thursday (Vandoorne second, Alonso fifth) while the team has enjoyed no significant mechanical problems so far, their only on-track issue coming on Day 1 when a broken wheel nut sent Alonso spinning off the track at the final corner.
Toro Rosso, which is now running Honda power units, has also enjoyed a trouble-free opening week, with Brendon Hartley and Pierre Gasly combining for over 300 laps of running between them.
Pre-season testing resumes on Monday.
Drivers Adapting to the Halo
The newly created halo that surrounds the cockpit of all 2018 Formula 1 cars has been a point of controversy ever since the concept was conceived.
However, while the look of it remains a point of much debate, the drivers are getting used to its presence and have found adapting to it relatively easy.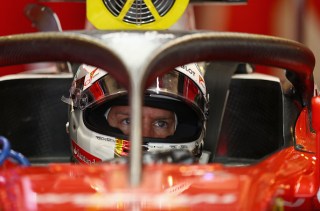 "When you are sitting there you only see the center pillar and a small part of the wider one, but you are not looking there anyway. It's a small thing in the middle and that's it, I'm completely used to it and it's fine," said Mercedes driver Valtteri Bottas. "It took a little bit of time to get used to it but it's OK. It's not been disturbing anything."
Concerns, then, about the drivers' ability to see appear to have been alleviated, although its appearance remains unpopular.
"I'm not impressed with the whole thing. If you give me a chainsaw I would take it off," Mercedes team principal Toto Wolff asserted. "I think we need to look after the drivers' safety but what we have implemented is aesthetically not appealing. We need to come up with a solution that simply looks better."
F1 to Launch an Over-the-Top Streaming Service
Liberty Media and Formula 1 confirmed that an over-the-top streaming service, dubbed F1 TV, will become available early in the 2018 season.
The service will be similar in nature to ones offered by the FIM MotoGP and Superbike World Championships, featuring coverage of all on-track sessions, both live and on-demand, as well as coverage of several Formula 1 support series, such as the FIA Formula 2 Championship and the GP3 Series.
The subscription service will be offered in two tiers, F1 TV Pro at a monthly cost of $8-$12, and the less expensive F1 TV Access. More information about F1 TV can be found here.