Sage Karam has endured a stop-start racing career ever since winning a championship in what is now called the Indy Lights Presented by Cooper Tires championship in 2013.
Karam only competed in one Verizon IndyCar Series event in 2014 – the Indianapolis 500 with Dreyer and Reinbold Racing – where he finished an impressive ninth after starting 31st. He contested 12 of 16 races in 2015 with Chip Ganassi Racing, highlighted by a third-place finish at Iowa Speedway, but he and the Chip Ganassi squad parted ways at the end of the year.
He was contracted to the new 3GT Racing Lexus program in the IMSA WeatherTech SportsCar Championship in 2016, but with their new Lexus RC F GT3 machines not ready for competition that year, Karam's only race in 2016 was again at the Indianapolis 500, back with Dreyer and Reinbold Racing, where he charged forward after starting 24th only to crash just after he entered the top five on lap 93.
He was able to have a full season of racing in IMSA in 2017 in the aforementioned 3GT Lexus program and returned to the Indy 500, again with Dreyer and Reinbold, but a battery failure saw him retire on lap 125 and he finished in 28th.
After parting ways with 3GT, Karam again finds himself without a full-time racing seat, though he has announced another Indy 500 effort with Dreyer and Reinbold, the fourth time driver and team will run together.
Though he is still quite young – Karam turns 23 on Monday – he is acutely aware that he needs to prove his worth in order to once again become a full-time driver.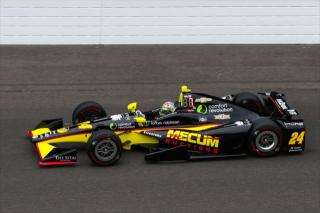 "This is my only race on the schedule this year so far. So for me, I come into this race thinking that I need to do well to show everybody that I belong," Karam revealed in a teleconference last week. "IndyCar is where my heart is. It's where I really do believe I belong, and in order for me to show that to everybody, I need to perform well."
Consequently, Karam says finishing well at the Indy 500 has his full attention at the moment, with the goal of using it as a springboard to run other races in 2018.
"I'm just going into Indy right now 100 percent focused and just trying to get the best result there, and then hopefully after that, if that goes the way we think it's going to go, that will parlay into maybe something else down the road and maybe later this year," said the Nazareth, Pennsylvania native.
And while he admits IndyCar remains his main goal, Karam is also keen to impress teams from other series as well.
"I'd obviously really like to maybe do some more IndyCar races, or if different opportunities in other series open up, of course I'd jump on it. I'm a racer; I'll race anything any time," he asserted.
Dennis Reinbold, co-owner of Dreyer and Reinbold Racing, is also keen to become a full-time IndyCar entrant again, having been an Indy-only entrant since 2014 (the team ran the first five races of 2013 with Oriol Servia, but stopped after that year's Indy 500 as a result of sponsorship issues).
"We've had these discussions (about going full-time), and that is definitely something that we've talked about with very great interest is trying to get back to full-time or even, to start off, a little bit part-time to get back into it," Reinbold explained. "But we're working on things. We've got some opportunities out there that we're exploring and trying to see where they go."
Reinbold added that running two cars at this year's 500, which he confirmed in the announcement of Karam's effort, is a part of that plan, as he believes it will give them an improved infrastructure to do so.
"To get to two cars this year for the 500 is on purpose, because that sets us up to have equipment, so we have extra wheel guns, we have extra tires, we have extra radios, all these things, spares," he detailed. "So that puts us in position to be able to try to expand in the future. And you would need all those pieces to be able to be a full-time team."
Karam echoed Reinbold's sentiments, adding that a full-time effort with Dreyer and Reinbold is something he would like to see happen, but he also asserted that Indy is currently the main focus for both driver and team.
"You know, I would love to be in a full-time seat with Dennis (Reinbold)," Karam added. "I think if we can have a strong showing here and hopefully we can get more partners to come on board, maybe that's something that will be discussed down the road. But as for now, I think he's just focused on doing the best job he can, I'm focused on doing the best job I can, and we'll let the rest just fall into place after that."