Once upon a time, Robert Wickens was an up and coming star in the American racing scene. A standout in Formula BMW USA and other junior categories, Wickens eventually landed in the old Champ Car Atlantic championship, winning once on his way to third in the championship in 2007.
But, from there, his racing ventures took him across the Atlantic Ocean to Europe. Consequently, many of his accomplishments may have flown under the radar for American observers. But, be careful of dismissing those accomplishments, as doing so masks a driver who has quietly developed a mighty impressive resume.
Wickens won races in Formula Renault 3.5 and Formula 3 Euro Series in 2008, finished second in the 2009 FIA Formula Two Championship, did the same in the 2010 GP3 series, and was the champion of the 2011 Formula Renault 3.5 Series, beating drivers like Jean-Eric Vergne, Daniel Ricciardo and Alexander Rossi in doing so.
Wickens' exploits caught the attention of Mercedes-Benz, who placed him in the German DTM series from 2012 onward, where he won at least one race every year between 2013 and 2017, finishing as high as fourth in the championship in 2016.
In short, Wickens' career in Europe is nothing to scoff at, though several were left to wonder how he might fare if he ever got a chance to return the open wheel ranks.
That fire was reignited in 2017 after Wickens and long-time friend James Hinchcliffe completed a "ride swap," with Hinchcliffe sampling Wicken's Mercedes DTM machine while Wickens sampled Hinchcliffe's No. 5 ARROW Electonics Honda for Schmidt Peterson Motorsports.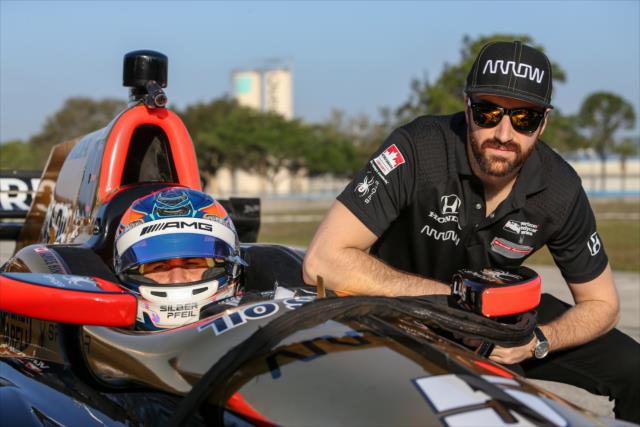 Wickens' performance was impressive enough that SPM called on him to fill in for Mikhail Aleshin at Road America last June, when Aleshin briefly ran into a problem reentering the U.S. after competing in the 24 Hours of Le Mans.
A rapport with SPM now fully established, Wickens quickly emerged as a candidate for a full-time seat alongside Hinchcliffe after the 2017 season concluded, and it was hardly a surprise when SPM confirmed him shortly after last season ended.
With the 2018 Verizon IndyCar Series season now only days away, Wickens is chomping at the bit to get going.
"I've been waiting for this moment for about six months now since the announcement came out that I was joining INDYCAR," Wickens quipped. 'We've worked a lot this winter getting me comfortable in the Lucas Oil car. We've gone testing, now what's next is to go racing."
Testing did not see the SPM squad near top of the time sheets – Wickens had the 16th fastest lap on ISM Raceway in February, while teammate Hinchcliffe was 22nd. However, Wickens does not appear concerned, asserting that testing has actually gone well, though St. Petersburg will give him and the team a clear sense of where they stand competitively.
"I think we've done a pretty good job so far through testing, but we won't really know for sure until we get into the first race," Wickens revealed. "I'm just really eager to get started and get to St. Pete. I've heard the track's great, the fans are great, and now I just want to live it for Sam (Schmidt). All around, I'm just very excited."
Hinchcliffe — who along with Toronto native Wickens have dubbed themselves "Team Canada" — shared similar sentiments, highlighting a series of changes that occurred with the SPM organization.
Along with the addition of Hinchcliffe, Todd Malloy was brought in as the new technical director, former Team Penske engineer Billy Vincent joins as a crew chief of Hinchcliffe's No. 5 entry, and Leena Gade, a three-time 24 Hours of Le Mans winning engineer with Audi's former LMP1 program, entering as an engineer for Hinchcliffe as well.
All told, the changes indicate the team has its sights set on improving upon back-to-back 13th-place finishes in the IndyCar championship.
"There's been a lot of change, not only with the 2018 aero kit but internally at SPM personnel-wise," Hinchcliffe said. "So we're really anxious to get ourselves into a race weekend situation to see how we all perform and start picking out how we can improve and build this team up to be regular contenders.
"I'm excited for (Wickens') first race, Leena's (Gade) first race, first race of the 2018 kit – there's a lot of stuff to look forward to."