Carlin is among the most accomplished racing operations you'll find anywhere in the world. But, with the majority of their exploits being in Europe, and in junior series at that, many in the U.S. may not be familiar with their prowess.
A quick glance at their resume will reveal a small powerhouse of sorts. They currently compete in seven championships, five in Europe – the FIA Formula 2 Championship, FIA Formula 3 European Championship, F4 British Championship, and Euroformula Open Championship – and two in the U.S. – the Indy Lights Presented by Cooper Tires (they're not entered at St. Petersburg this weekend, but expectations are that they'll grace the Indy Lights grid in more of a part-time capacity this year) and a new, two-car entry in the Verizon IndyCar Series with Max Chilton and Charlie Kimball.
Carlin has fielded entires for such notable drivers as Formula 1 champions Nico Rosberg and Sebastian Vettel, along with a number of other F1 stars, like Daniel Ricciardo and Kevin Magnussen. Even current IndyCar champion Josef Newgarden has raced with Carlin previously, along with the aforementioned Kimball and 2018 IndyCar rookie Robert Wickens.
Carlin has also won championships in European Formula 3, British Formula 4, and Indy Lights, and has taken victory at the prestigious Macau Grand Prix.
And now, they look to begin a new chapter in entering the Verizon IndyCar Series, their first venture in a headlining open wheel championship.
Both Chilton and Kimball, now IndyCar veterans entering their third and eighth seasons respectively, join the newly formed effort in hopes of quickly turning the program into an IndyCar frontrunner.
"I have 100 percent confidence in what Carlin can do as a team, and I'm just glad to be back on board with them for the 2018 season," said Chilton, who competed with Carlin in Indy Lights in 2015. "St. Pete is such a great street circuit that really offers top-notch racing for both the drivers and the fans, and it doesn't hurt that the city itself is so welcoming. I'm looking forward to getting the No. 59 Gallagher Chevrolet back out on track in St. Pete and hopefully bringing a good result back to Carlin for their first Indy car race."
Kimball, who joins Carlin after spending seven years with Chip Ganassi Racing, is also optimistic about their prospects ahead of the 2018 season and asserted that, if all goes according to plan, the team has all the potential to be up front from the getgo.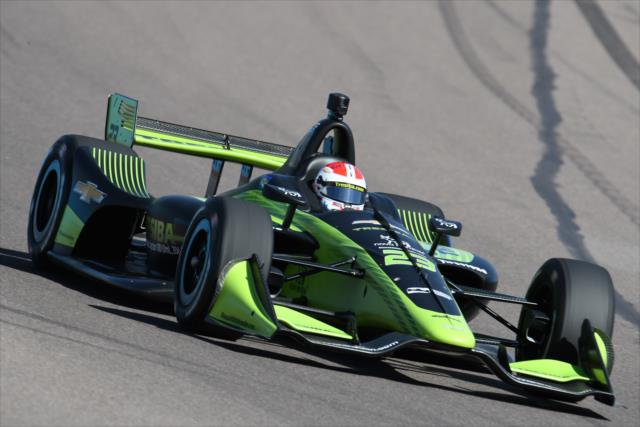 "We had a few test days last week and while time is always limited, I think the No. 23 Tresiba Chevrolet will be in the mix once we hit the track this weekend," Kimball detailed. "I've set high expectations for myself, and I know (team principal) Trevor (Carlin) and the team didn't join the Verizon IndyCar Series just to make up the numbers-they want to win, too."