Bridgestone Americas Inc., parent company of the Firestone Tire brand, announced Thursday that it has reached a two-year extension to sponsor the IndyCar season-opening race.
The Firestone Grand Prix of St. Petersburg, which will be held this Sunday on a temporary street course, will continue to have naming rights for the race now through 2020.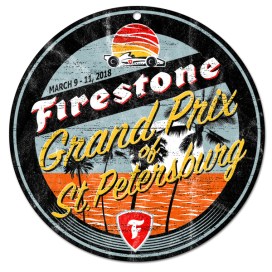 This weekend marks the fifth consecutive year that Firestone has sponsored IndyCar's St. Petersburg Grand Prix. It's also the seventh year that the St. Petersburg race has kicked off the IndyCar season.
"The streets of St. Petersburg are an ideal proving ground to showcase the durable, dependable technology built into Firestone tires," Lisa Boggs, director, Bridgestone Americas Motorsports, said in a media release. "The support from the city and its residents, along with the team at Green Savoree Racing Promotions (promoter of the Grand Prix), has made this one of the marquee events on the Verizon IndyCar Series circuit."
Firestone is now in its 19th consecutive year as sole tire supplier to the Verizon IndyCar Series. Last year, Firestone extended its partnership with INDYCAR, also through 2020.