The 2018 season kicks off for all three series in the Mazda Road to Indy Presented by Cooper Tires this weekend on the streets of St. Petersburg, Florida, and all three series will feature double-headers, with races on both Saturday and Sunday for the Indy Lights Presented by Cooper Tires, Pro Mazda Championship Presented by Cooper Tires, and the Cooper Tires USF2000 Championship Powered by Mazda.
All three series have seen many changes since their 2017 seasons wrapped up at Watkins Glen International last September, with all three featuring a degree of unpredictability as 2018 begins.
Below are previews of the opening weekend for all three series of the Mazda Road to Indy.
Indy Lights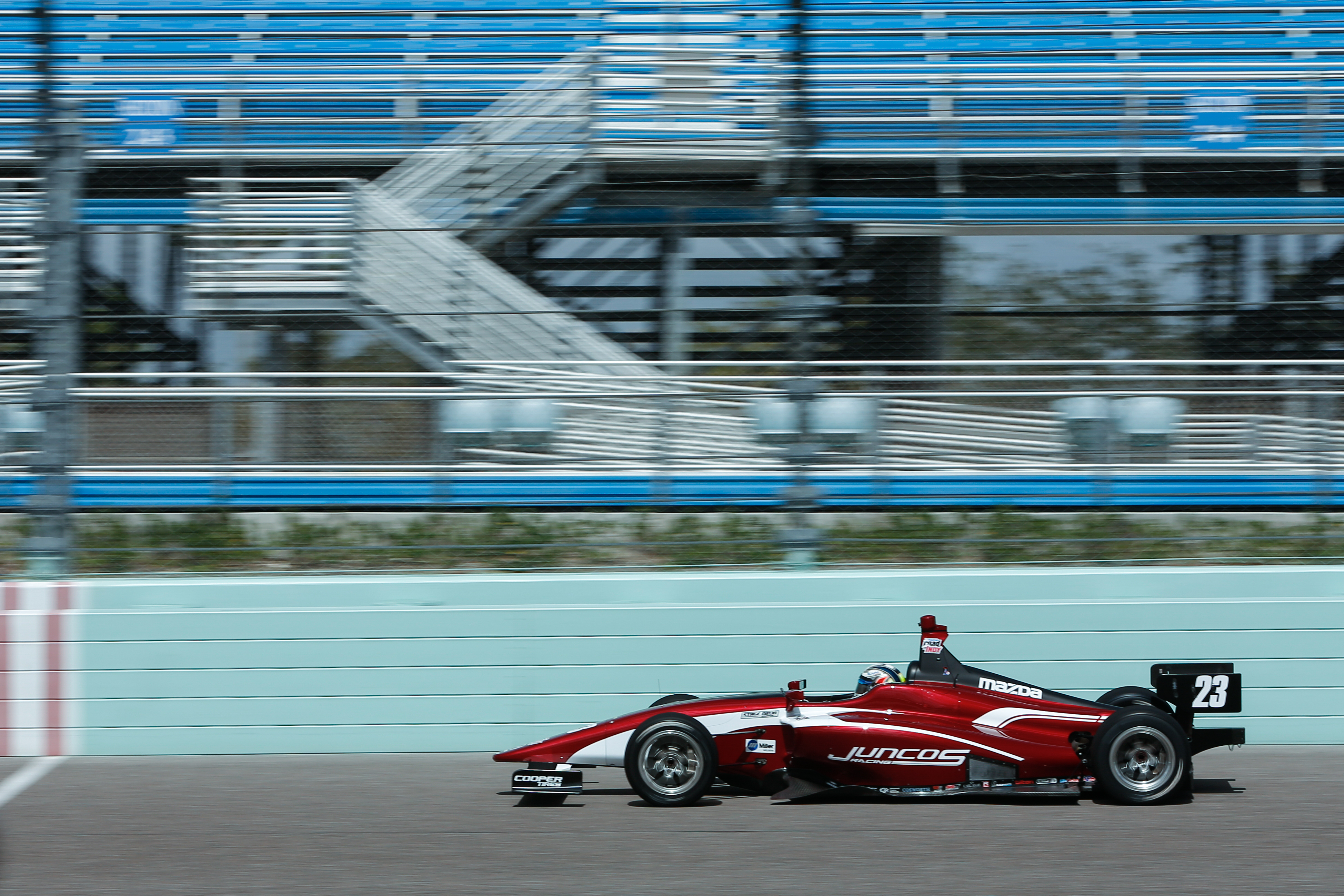 Indy Lights saw three race winners from 2017 move on to the Verizon IndyCar Series. Kyle Kaiser, the 2017 champion, and Zachary Claman DeMelo will have part-time IndyCar rides with Juncos Racing and Dale Coyne Racing respectively, while Matheus Leist moves into the No. 4 ABC Supply Chevrolet for A.J. Foyt Racing.
The drivers who return to Indy Lights in 2018 all experienced varying levels of success in 2017, but all had stumbling blocks that prevented them from taking home a championship.
Santiago Urrutia won two of the final four races in 2017, but also had five finishes of 11th or worse. Colton Herta won twice and had seven poles, but also displayed a level of inconsistency that saw him have a "feast or famine" first half of the season – his finishes in the first nine races were 2-1-10-1-12-10-13-12-3.
Aaron Telitz book-ended the season with wins in Race 1 at St. Petersburg and Race 2 at Watkins Glen, but he only had two other podium finishes all year. Ryan Norman and Nico Dapero finished outside the top ten in the championship, while Pato O'Ward only contested the first four races.
Last year's Pro Mazda champion Victor Franzoni moves up to Indy Lights in 2018 and figures to be in the mix for the championship as well.
All told, there are 10 entries as of writing for the Indy Lights season opener. Andretti Autosport will have Norman, O'Ward, and Dalton Kellet, with Colton Herta piloting the sister Andretti-Steinbrenner Racing effort.
Belardi Auto Racing will see Urrutia and Telitz return. Juncos Racing has two entries, one for Franzoni, and a second with a driver yet to be announced as of writing. Team Pelfrey will field cars for Neil Alberico and Shelby Blackstock.
Carlin is not on the entry list for St. Petersburg, but expectations are that they will return later in the year on a part-time basis.
Telitz and Herta both took victories last year at St. Petersburg, while Urrutia was fastest during testing at the Homestead-Miami Speedway road course in February. As returning race winners from the 2017 season, they will likely be the favorites heading into the weekend, but expect the field to be very competitive regardless.
Pro Mazda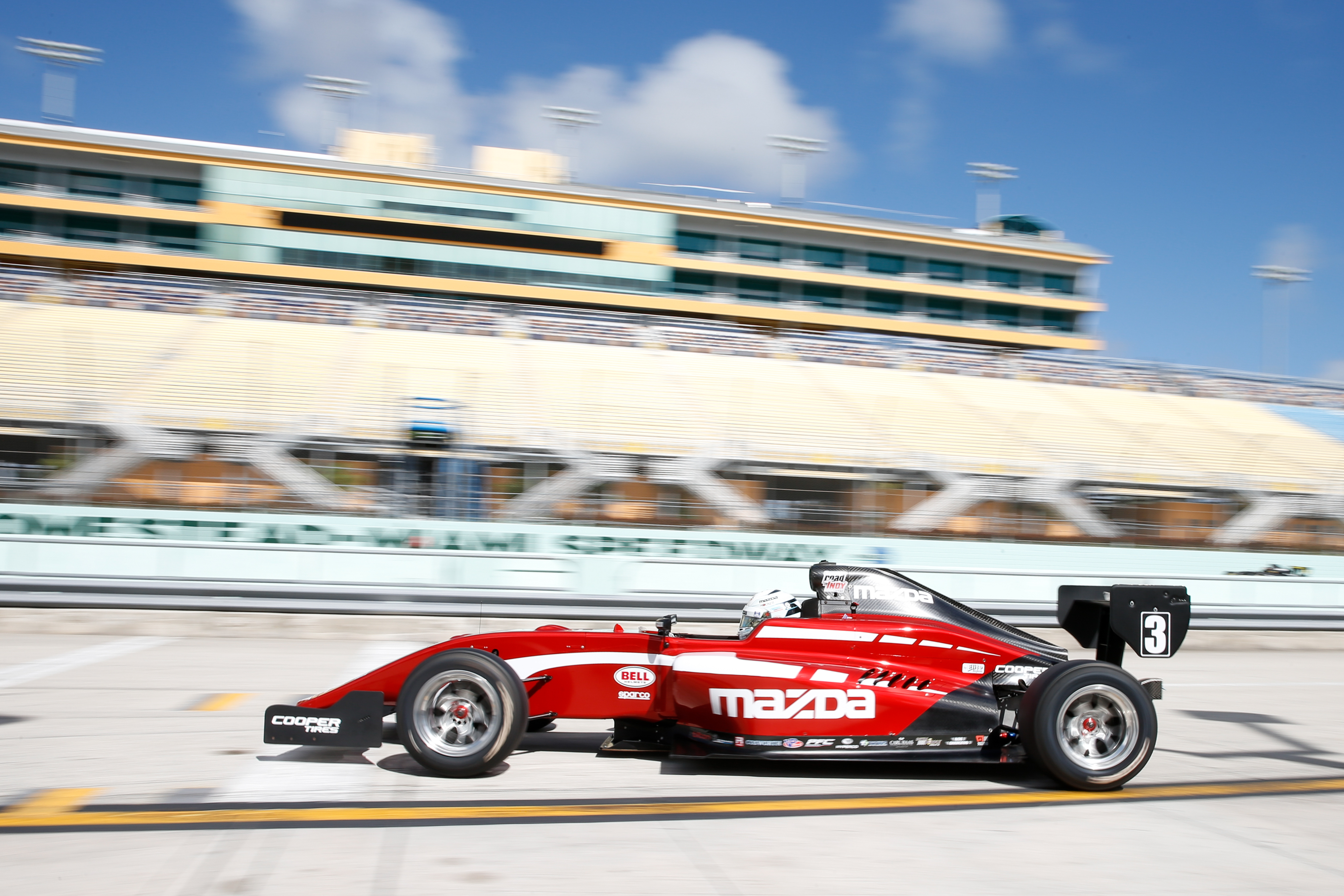 Pro Mazda has the potential to be the most intriguing series of the 2018 Mazda Road to Indy season. First and foremost, the Tatuus PM-18, with a new two-litre MZR-PM18A engine as well, makes its race debut after a year of testing and development.
And initial impressions are very positive, as IndyCar on NBCSN's Kevin Lee noted from the Homestead test.
The driver lineup is also an intriguing prospect. The top three from last year's USF2000 championship have all moved up to Pro Mazda. Defending USF2000 champion Oliver Askew is with Cape Motorsports (the team with whom he won the USF2000 crown), runner-up Rinus Veekay is with Juncos Racing, and third-place finisher Parker Thompson moves up with Exclusive Autosport.
Robert Megennis, the only other driver to win a race in the 2017 USF2000 season, joins VeeKay at Juncos as well.
Askew, VeeKay, and Thompson were fast during pre-season testing at Homestead and Barber Motorsports Park, but none of them actually had the fastest individual laps. VeeKay's other teammate at Juncos Carlos Cunha went fastest at Homestead, closely followed by Team Pelfrey's Sting Ray Robb, while BN Racing's David Malukas was quickest at Barber.
Last year's Pro Mazda season saw only two drivers take victory, the aforementioned Franzoni along with Anthony Martin – Martin also swept the weekend at St. Petersburg last year. The 2018 season looks to be completely different, however, and the stage looks set for an ultra competitive battle all year long.
USF2000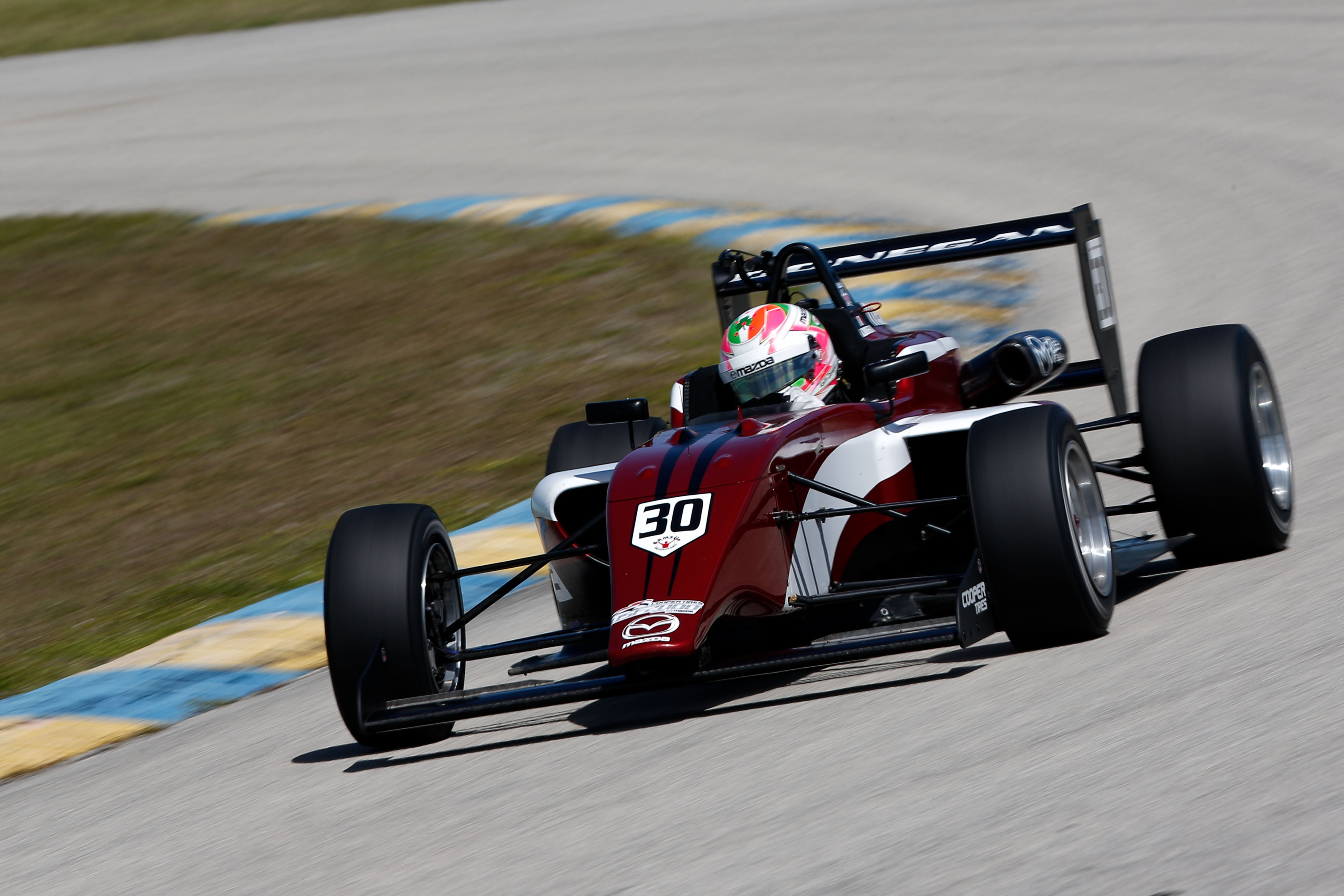 The four drivers won races in the 2017 USF2000 season – Askew, VeeKay, Thompson, and Megennis – have all moved on to Pro Mazda in 2018, leaving this year's USF2000 championship up for grabs.
Still, while many drivers are relative unknowns, there are a number of drivers who could be poised to emerge as title contenders. Below is a selection of drivers to watch in the USF2000 ranks.
Kyle Kirkwood: A former Team USA Scholarship recipient and last year's F4 United States Powered by Honda champion, Kirkwood joins the powerhouse Cape Motorsports outfit in USF2000. Cape drivers have won every USF2000 title since 2011, and Kirkwood's young but impressive resume indicates he has everything he needs – both in his driving skills and in the team he has behind him – to continue that dominance.
Kaylen Frederick: One of the pleasant surprises from last year, the 15-year-old Frederick quickly established himself as a contender with a pair of second-place finishes at Barber Motorsports Park. He added three more podiums on his way to fourth in the championship. Now entering his second USF2000 season, he joins Pabst Racing – Frederick was with Team Pelfrey in 2017 – and looks to secure his first USF2000 victory in 2018 and become a championship contender.
Rasmus Lindh: One of Frederick's teammates at Pabst, Rasmus Lindh joins USF2000 from the karting ranks in Europe. A native of Sweden, Lindh spent 2017 running in the OK Senior class of the karting World Championship, where he finished fifth. He showed impressive speed during testing at Homestead-Miami Speedway, turning the second fastest lap of the weekend, so Lindh could easily surprise people with his prowess in 2018.
Lucas Kohl: Another driver from the Pabst lineup, Kohl comes off a 2017 season that saw him get better as the year went on. He scored a podium in Race 1 at Road America on his way to seventh in the standings. He also impressed at the Homestead test, turning the third fastest lap of the weekend.
Calvin Ming: With a quiet run to fifth in the 2017 standings, Ming flew under the radar somewhat, but did score four podiums in a solid effort with Pabst. Back with the same team in 2018, Ming looks to build on that foundation and become a regular frontrunner.
Keith Donegan: The 2o-year-old Donegan is the recipient of the $200K Mazda Motorsports scholarship after winning the Mazda Road to Indy Shootout. Joining ArmsUp Motorsports for 2018, Donegan will look to emulate the success of last year's shootout winner Oliver Askew, who parlayed that scholarship into a USF2000 title. Donegan's debut with ArmsUp at the Homestead test did not stand out – he had the 13th fastest lap of the weekend – but it's not necessarily indicative of a struggling team or driver. Donegan will most certainly be one to watch this weekend.
Other drivers to watch include Kory Enders (DEForce Racing), Darren Keane (Newman Wachs Racing), and Sabre Cook (Team Benik).
All three series have practice and qualifying for Race 1 of their weekends on Friday, qualifying for Race 2 on Saturday morning, with their first races of the weekend scheduled for Saturday late in the morning (for USF2000) through the afternoon (Pro Mazda and Indy Lights).
Indy Lights will have its second race of the weekend on Sunday morning, with Pro Mazda and USF2000 running their second races later on Sunday afternoon after the Firestone Grand Prix of St. Petersburg.
Entry lists are linked as follows: Indy Lights, Pro Mazda, USF2000.
A weekend schedule can be found here.