Nearly 10 years after being severely burned and almost killed in her first sprint car race, Harli White is feeling more alive than ever.
And now, at 22 years old, her racing career is flourishing.
The Lindsay, Oklahoma native, who began riding motorcycles at the age of six, was 12 years old when she competed in her first race ever. It was a USAC Mini Sprint Restricted Class event on April 5, 2008 at I-44 Riverside Speedway in Oklahoma City.
It ultimately could have been her last race, too.
Her sprint car flipped and landed on its side, erupting in flames and trapping White, who could not get her belts released. Fellow racer Donnie Ray Crawford, who was competing in the following race, ran from the pits and managed to get White out of her car, but not before she suffered serious third- and fourth-degree burns over nearly half of her body.
"Donnie Ray Crawford is the reason I'm here today," White told MotorSportsTalk in an exclusive interview. "He's the one that pulled me from the burning car, and if it wasn't for his quick reaction I wouldn't be here today. He's truly my hero."
Following the accident, White was in intensive care for 21 days at Shriner's Hospital for Children in Galveston, Texas, and underwent three skin graph surgeries, followed by six months of recovery, therapy and healing.
Since that fateful day, White has endured another 20 reconstruction surgeries.
"My injuries were a lot worse than I thought they were going to be," Harli said. "I remember when the accident happened that I felt fine and I was ready to go back to racing but it was way worse than that.
"My injuries were on 45 percent of my body – deep third- and fourth-degree burns. The burns start at the back of my neck and go do down to my ankles, all on the backside, a little on the left side of my face as well."
After her first surgery at Shriner's Hospital, the first thing Harli did was tell her parents she intended to race again, something that obviously didn't go over very well.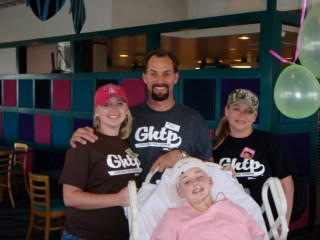 "Coming out of surgery, first thing she said was 'how's my car, can we fix it?'" recalled mother Michelle White. "I was totally against her racing again.
"There was no way it was going to happen. I told my husband to get rid of her equipment. When she brought it up, we would just change the subject."
Then about nine months after her wreck, Harli gave her parents the most compelling reason to allow her to get back in a race car.
Said Michelle, "One day we were talking and she says to us, 'You know what? I went through this accident, I'm the one who's been through the pain. I've worked hard to recover. If you don't let me race, I'm dead anyway.' As a parent what can you say to that?"
Added Harli, "Giving up racing was never a thought in my mind. From the time the accident occurred, I was ready to get back in the race car and go again. Every day during that time I begged (her parents) to let me race again. I wasn't going to take no for an answer."
Her parents reluctantly agreed to Harli's wishes. And there was no other place she wanted to return to race for the first time since her accident than the same track and the same racing class nearly one year later.
She wasn't going to let that track beat her – and her racing career has flourished ever since.
Among highlights of her career since then:
* In 2017, she became just the third woman in history to drive a full season in the Lucas Oil American Sprint Car Series. She plans on running another full campaign this season.
* In 2013 she won the Oil Capital Racing Series Non-wing and Winged Sprint Car championship.
* White is the only female racer in modern history to reach the B Main at the Chili Bowl in 2016. Bev Griffis made the B in 1989, but the field consisted of just 80 cars at the time, compared to in excess of 340 in 2016.
* In this year's Chili Bowl, she advanced to the D Main.
* She's continued to run a small family-owned team (Harli White Racing) and this year landed her first major sponsor. She is running the CatSpotLitter.com Sprint Car in the Lucas Oil ASCS National Tour Series in a 360 Winged Sprint Car.
In addition to racing and due largely in part to all that she's gone through in her life, White has also become an in-demand public speaker off the racetrack. She offers a message of spirit, perseverance and keeping the faith that obstacles can be overcome.
"I enjoy public speaking very much," she said. "I do it as often as my race schedule allows. I typically speak to schools, churches and youth groups.
"I also like speaking to safety events that pertain to racing as well. I love sharing my story and hopefully move people and try and make racing as safe as possible."
***********************************
This weekend, White will experience the biggest opportunity of her career.
White will compete in the "Shamrock Classic," the USAC P1 Insurance Midget National Championship season opener Saturday in DuQuoin, Illinois. She'll run the SiriusXM Toyota for Keith Kunz Motorsports, the most dominant and successful team in Midget racing.
KKM has helped launch the racing careers of numerous drivers, most notably NASCAR stars Kyle Larson and Christopher Bell and two-time Chili Bowl winner Rico Abreu.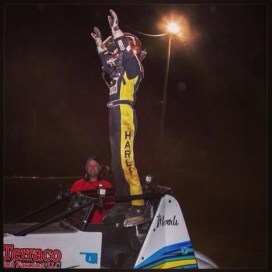 At this point, it's a one-off deal for White, who will be filling in for Holly Shelton, who is recovering from recent shoulder surgery. Yet at the same time, it could potentially become a life- and career-changing race if White does well.
"Getting to run for Keith Kunz Motorsports and Toyota is the biggest opportunity in my career thus far," White said. "It's an opportunity that I have been working for, for a very long time.
"Even though it is currently just one race, it is for sure one of the biggest races for me because it is with the best team in midget racing. I am honored to be able to work with KKM and Toyota, and I hope more opportunities will come after the Shamrock Classic."
Because she is a veteran dirt racer, it's not like she'll be coming in cold to Saturday's race. In fact, with her talent and KKM's equipment, she is positioned to do very well.
"I know as a driver the car will be the best it can be and it will be up to me to wheel the car and I know I am capable of doing so," she said. "The pill draw (where you start your heat race from) is pretty important this weekend and I am hoping it works in my favor, but as a driver I have to race my race. I am looking for a good finish and just to be working with the whole KKM crew."
White hopes to open enough eyes Saturday that could lead to a full-time ride with a top team, perhaps even KKM if the opportunity arises.
And while she loves sprint racing, Harli isn't ruling out running in NASCAR or other series. The key, she says, to make her happy would be just to make a living at racing.
"My goal in racing is to be racing everywhere and anywhere," White said. "As long as I can keep racing for a living, that is the ultimate dream."