There was a time when Americans dominated the Verizon IndyCar Series.
When the originally named Indy Racing League began in 1996, seven of the first eight champions (including co-champions Scott Sharp and Buzz Calkins in the first season) and eight of the first 12 champs were from the U.S.
But since Ohio native Sam Hornish Jr. captured his third Indy car title in 2006, there was been only one other U.S.-born driver that earned an IndyCar title over the following 10 seasons: Ryan Hunter-Reay in 2014.
That is, until 2017 when Tennessee native Josef Newgarden, in his first season with Team Penske, earned a series-high four wins en route to capturing the championship.
It marked Team Penske's third IndyCar crown in the last four seasons.
Now, as the IndyCar world prepares for Sunday's 2018 IndyCar season opener, the Firestone Grand Prix of St. Petersburg, one of the biggest questions is whether the 27-year-old Newgarden can earn his second straight title.
Things are somewhat different this season than last, not only for Newgarden but also for all the returning veterans as well as the nearly 10 full- and part-time rookies on the circuit.
First and foremost is a brand new race car, one that has been dramatically improved with significantly lower downforce. The last few seasons, the downforce and aero packages on what is now the former IndyCar body became the bane for many, if not most drivers.
The design of this year's new car and its more vibrant aero package that has reduced downforce places more control back in drivers' hands, while they pilot one of the sexiest and bold-looking open-wheel cars in at least the last two decades.
The new Dallara looks like a race car should: sleek and most importantly, racy. It's would not be an overstatement to say that Formula One has nothing on IndyCar's new ride for 2018.
And while F1 and NASCAR have continued to lose at-track attendees and TV viewers over the last several seasons, IndyCar at the same time has been on an upswing.
With the new car and a defending U.S. driver as champion, that upswing is likely to continue this season, starting on this weekend's traditional temporary street course along St. Pete's bayfront.
Without question or rival, Newgarden and his Team Penske counterparts were the best organization in the series last season, capturing 10 of the 17 races, led by Newgarden (4 wins), Will Power (3 wins), 2016 champ Simon Pagenaud (2 wins) and Helio Castroneves (1 win).
But Team Penske has downsized this season, going from four to three teams. Castroneves has joined former IndyCar driver Juan Pablo Montoya as the leaders of the new Penske IMSA sports car effort.
However, Castroneves won't be a complete stranger to the IndyCar ranks. He's the Grand Marshal for Sunday's race, and will rejoin the team for a single-race effort in the Indianapolis 500 on May 27.
Penske's No. 1 nemesis in IndyCar, Chip Ganassi Racing, has also downsized, going from three to two cars.
Several other teams are likely to once again be contenders this season, including Andretti Autosport, which has won three of the last four Indianapolis 500s, and Rahal Letterman Lanigan Racing with Graham Rahal and 2017 Indy 500 winner Takuma Sato, who was lured away from the Andretti camp after last season.
As if that isn't enough, there will be three new teams on the circuit this season, including full-time efforts from Carlin Racing and Harding Racing, and a part-time effort from Juncos Racing.
"I do think it will equalize things," Rahal said of the new race car and how the dynamic of some teams has changed for 2018. "If you do your job and you nail the setup, you will be right there contending for wins.
"Before, there were certainly cases and tracks where that wasn't the way it was for us, and it is nice now to feel like we can be rewarded for lots of hard work."
Rahal could very easily have spoken for many, if not all IndyCar drivers when asked his thoughts about this weekend's race.
"We are all refreshed," he said. "We are all anxious and excited for what's to come."
**************************************
Let's get back to Newgarden more specifically.
He knows he has a target on his back; that all 20-plus fellow competitors will be gunning to dethrone him.
Heck, even Newgarden still has a hard time believing he comes into this weekend as the series' defending champion.
"I still have to pinch myself when I think about going to St. Pete as the Verizon IndyCar Series champion," he said. "Any driver that gets an opportunity, like the one I got with Team Penske, will tell you they expect to win right away.
"I certainly did as well, but I think we were all surprised at how quickly we gelled together and made it happen. But that is last year. The drive for the 2018 championship starts at St. Pete, and it's a track where I've never won before. That is our only thought this weekend: going to Victory Lane."
But at the same time, having a brand new car could present a bit of a challenge getting used to, especially at St. Pete.
"I think street courses will be the biggest change," Newgarden said. "Short ovals I would say will probably be right behind that. Those are the two biggest places.
"There's a lot going to be different. You have to look out for the cars differently, you have to drive the car different."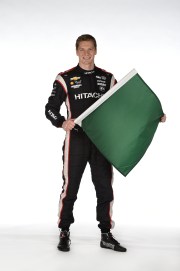 But that doesn't mean Newgarden expects neither he nor many of his fellow competitors will need long learning curves to get used to the new ride.
"I think with the good drivers, they do it pretty fast," he said. "You're always sort of evolving your style, whether it's the tire that's changing or the engine just changing.
"This year, it's a big change, quite a big change. … (It) really depends on the circuit. So street circuits and certain places you go, I think your driving style will change a lot, but you adjust very quickly.
"I've always told people, too, when they ask about the car, you can't just watch St. Pete and see where everyone stacks up, get a snapshot for the year. I think you're going to have to watch all year to see how it evolves because people are going to be figuring things out as the year goes on, getting better and better.
"It will be fun to watch who figures it out the quickest. As far as like the broad strokes, figuring out driving style, yeah, really quick, then it's just down to the little details throughout the year, refining. Whoever gets those little details quicker is the one who is better at the end of the year."
Contributing: The Associated Press