Saturday saw the first races of the weekend for the Indy Lights Presented by Cooper Tires, Pro Mazda Championship Presented by Cooper Tires, and Cooper Tires USF2000 Championship Powered by Mazda, with all three series kicking off their 2018 seasons.
Indy Lights and USF2000 saw displays of dominance by a pair of drivers who took their first wins in both series, while Pro Mazda saw a late-race duel between two drivers expected to battle for the championship.
Reports on all three series are below.
Indy Lights: O'Ward Dominates Race 1 for First Career Indy Lights Win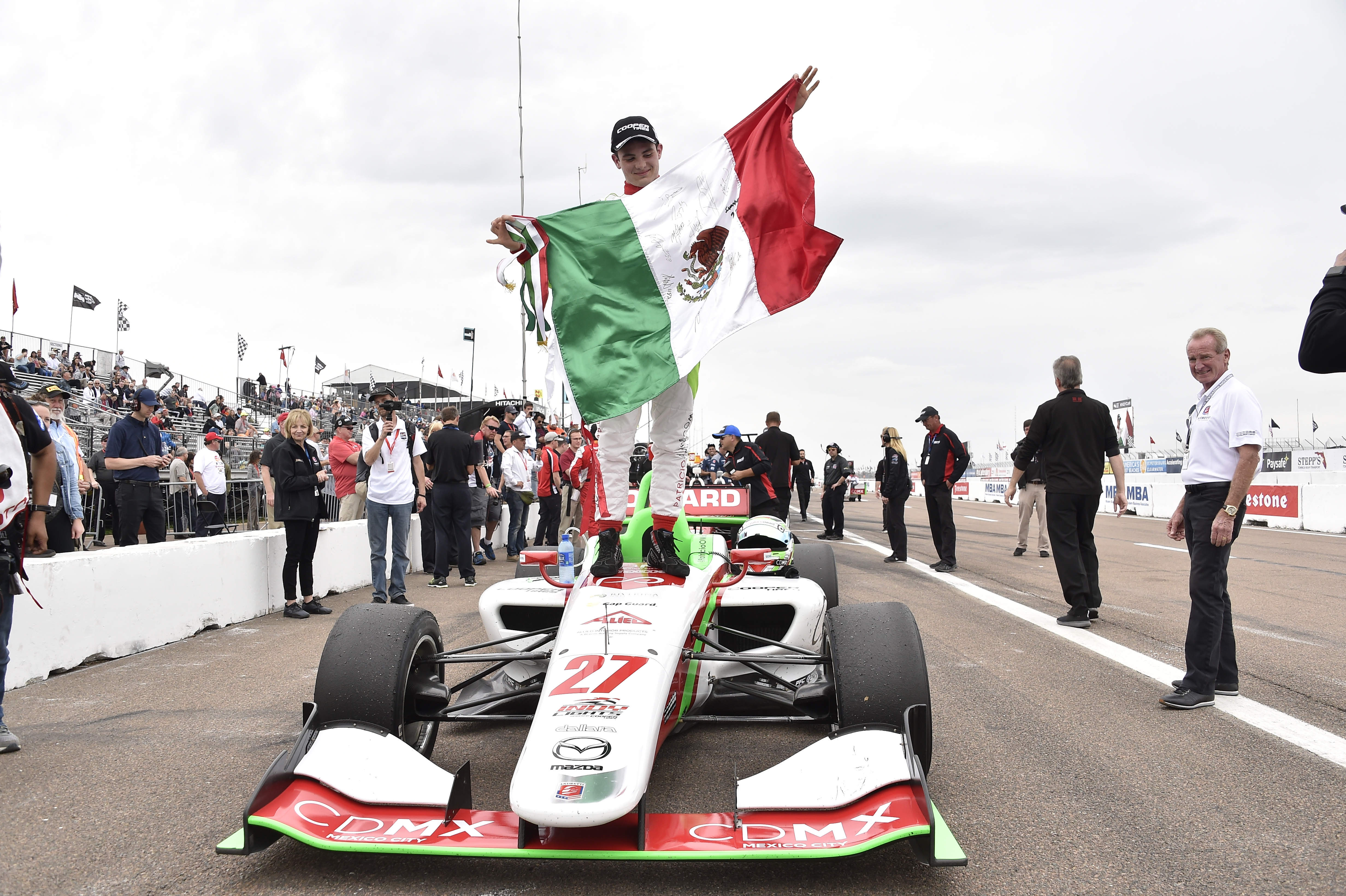 Andretti Autosport's Pato O'Ward assumed the pole for Race 1 after Belardi Auto Racing's Aaron Telitz, who had been the polesitter, crashed on the final lap of qualifying for Race 2, and his No. 9 Dallara IL-15 suffered too much damage to be repaired in time for Race 1.
O'Ward took advantage of the change in fortune and rocketed into the lead off the initial start and led the entire 35-lap race on his way to his first career Indy Lights victory.
"I'm so happy for everyone who has helped me, who have believed me and helped me get here," said an elated O'Ward. "I want people to see that if you have the right factors in the right moment, you can do it. The Andretti guys and girls gave me an awesome car, my CDX Mazda was great. I just kept it on the black stuff, didn't tag any walls."
O'Ward's dominant display saw him lead Santiago Urrutia, Telitz's teammate at Belardi, by over six seconds at the checkered flag. Andretti-Steinbrenner Racing's Colton Herta finished in third, outdueling Juncos Racing's Victor Franzoni. Team Pelfrey's Shelby Blackstock rounded out the top five.
Results from race 1 are below. Race 2 rolls of at 10:45 a.m. on Sunday morning, with O'Ward starting on the pole.
Pro Mazda: VeeKay Outduels Thompson for Race 1 Victory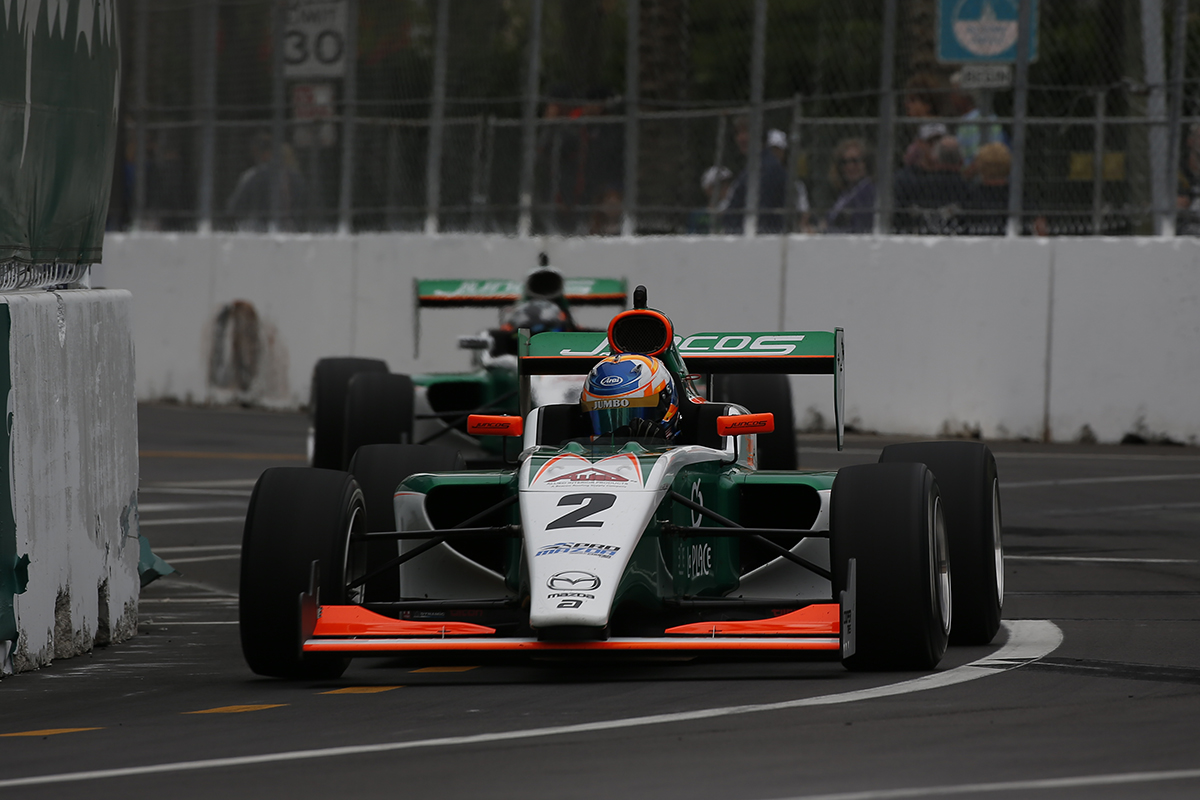 The opening race of the Pro Mazda season saw Exclusive Autosport's Parker Thompson and Juncos Racing's Rinus VeeKay engage in a thrilling late-race duel for the win
Thompson led most of the way, taking the lead off the start from polesitter and Cape Motorsports driver Oliver Askew.
Thompson then dominated the race from there until a caution flew for DEForce Racing's James Raven, who impacted the wall between Turns 8 and 9.
The subsequent restart put second place runner VeeKay right on Thompson's gearbox, and he was quickly able to work his around Thompson to take the lead.
VeeKay held the lead from there to win Race 1, with Thompson coming in second. VeeKay's Juncos teammates Robert Megennis and Carlos Cunha finished third and fourth, while Oliver Askew was shuffled back to fifth at the finish.
"I knew Parker was fast and that I could not pass him in dirty air, so I knew my only chance was on the restart under braking," VeeKay said of the late-race battle. "I set it up well and he was in the dust on the inside, and he kept it safe and let me go."
Results from Race 1 are below. Race 2 begins at 4:30 p.m. on Sunday afternoon, with VeeKay starting on the pole.
USF2000: Kirkwood Dominates Race 1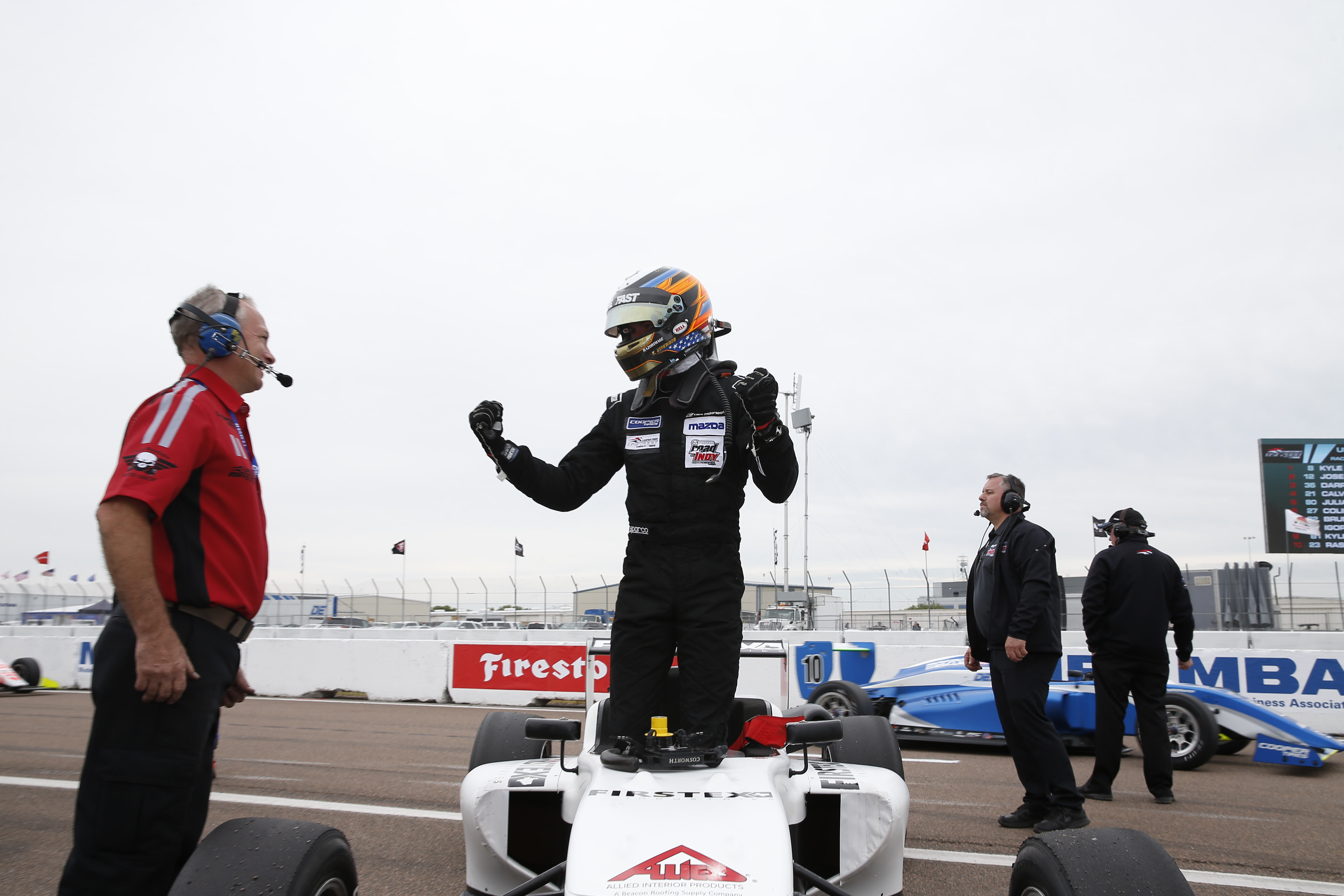 Cape Motorsports Kyle Kirkwood immediately jumped into the lead off the start, passing DEForce Racing's Jose Sierra on the outside in Turn 1 just after the green flag waved.
Kirkwood's move ended up being perfectly timed as an incident behind them necessitated a full-course caution. Two of the Exclusive Autosport entries, Igor Fraga in the No. 91 and Manuel Cabrera in the No. 90 both spun simultaneously in separate incidents, with the Newman Wachs Racing No. 38 entry of Oscar Deluzuriaga also getting collected.
Fraga was fortunate to escape without damage and continued on after getting restarted, with Deluzuriaga doing the same, only suffering a broken wing. Cabrera, however, was not as fortunate and suffered too much damage to continue.
When racing resumed, Kirkwood took off and immediately began increasing the gap to Sierra, who had his hands full with BN Racing's Jamie Caroline in an intense battle for second. Caroline ended up passing Sierra for second, but quickly found himself in the pits after wall contact damaged the right-rear of his No. 28 entry, and he was forced to retire.
Several other drivers also struggled in Race 1. Pabst Racing teammates Kaylen Frederick and Lucas Kohl, Swan-RJB Motorsports' Alex Baron, and DEForce Racing's Kory Enders all incurred drive-through penalties early in the race, with all four finishing outside of the top ten.
Up front, Kirkwood cruised home for the victory ahead of Sierra. Darren Keane finished third for Newman Wachs, followed by Pabst's Calvin Ming and Team Pelfrey's Julian Van der Watt.
"The plan I had worked out perfectly, which was to get a good jump at the start," Kirkwood said in Victory Lane. "On the first green, I didn't expect to fall back to the inside lane, but it worked when Kaylen fell back and created a gap. Jose got a good jump so I really needed that gap. I out-braked them going into Turn One but the yellow came out before I could get a run. On the restart, I went as soon as I was allowed, and Jose didn't expect it so I got a good run on him going into Turn One so no one could draft up on me."
Results are below. Race 2 begins at 5:25 p.m. on Sunday, with Alex Baron leading the field to the green.