A.J. Foyt has been involved in racing since he first climbed into a midget car in 1953 at the age of 18.
Now 83, Anthony Joseph Foyt has been chasing the checkered flag and championships as both a driver and team owner for 65 years.
Along the way, he built arguably the most legendary career of any race car driver, including becoming the only man to win the Indianapolis 500 (tied with Rick Mears and Al Unser with four wins each), the Daytona 500, the 24 Hours of Daytona (now the Rolex 24 Hours), the 24 Hours of Le Mans and the 12 Hours of Sebring.
And let's not forget the 12 national open-wheel and stock car championships (plus 2 IROC titles) he earned from 1960 through 1979.
You'd think at 83 that Foyt would retire to his Houston-area ranch and fondly reflect back on his illustrious career. At his age, why does he need to put up with all the headaches of owning, operating and managing a team, constantly chasing sponsors, attracting and keeping employees, as well as the too-few highs and far more lows of IndyCar racing?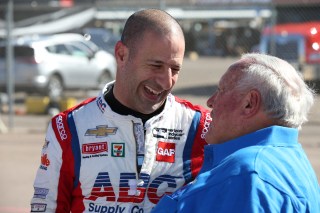 But no, Foyt stays young by being as hands-on and as involved as he's ever been. Sure, he's slowed down a little over the years and maybe can't do all the mechanical work he used to, not to mention having to deal with some concerning medical issues in the last few years.
But one thing will never change:
* Even though he's been solely a team owner now for more than a third of his professional life, A.J. has been, is and always will be a racer first.
* Likewise, while he hasn't been behind the wheel himself for a quarter-century (last race was in 1992; retired prior to 1993 Indy 500), Foyt has never given up on earning more wins and more IndyCar championships, even if he rides the pit box now rather than behind the wheel.
It's been 20 years since Foyt's last IndyCar championship, won with Kenny Brack as his driver in 1998, preceded two years earlier when another of Foyt's drivers, Scott Sharp, shared the inaugural Indy Racing League title with Buzz Calkins.
Since then, though, A.J. Foyt Racing has had a number of ups and downs – sadly, much more of the latter than the former. As much as I hate to say it, the numbers don't lie: Foyt's success as a race car driver has far outweighed his success as solely a team owner.
After last season, as he closed in on his 83rd birthday on January 16, Foyt reflected back upon a season that was, again, yet another disappointment. Of the series' 20 full-time regulars, Foyt's drivers – Carlos Munoz and Conor Daly – finished 16th and 18th, respectively.
It continued a more-of-the-same, year-after-year trend that sadly continued to detract from the overall Foyt legacy:
* Since Brack's fifth and final win for Foyt in 1999, the organization has seen just two wins since: 2002 (Airton Dare at Kansas Speedway) and 2013 (Takuma Sato at the Toyota Grand Prix of Long Beach).
* Since the 2000 season, the Foyt organization has had just 12 podium finishes in 282 races, its last coming in 2015 (Sato, 2nd at Detroit).
* Since Brack won the 1998 Indy Racing League championship, Foyt's drivers have earned just four top-10 season finishes in the following 19 years: 2nd (Brack, 1999), 4th (Eliseo Salazar, 2000), 5th (Salazar, 2001) and 9th (Dare, 2002).
In a sense, A.J. Foyt Racing had become a forgotten entity. This was not the way A.J. wanted his own legacy to end.
But that may all be changing for the good.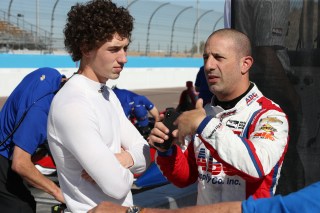 Last season's dismal showing prompted Foyt to invest a significant amount of new capital into his organization during the Verizon IndyCar Series offseason. He invested heavily in new equipment, new cars, new personnel and new drivers, bringing Brazilian Tony Kanaan into the fold alongside countryman and IndyCar rookie Matheus Leist in place of Munoz and Daly.
Given what we've seen in the first two days of practice and qualifying for Sunday's season-opening Firestone Grand Prix of St. Petersburg, Foyt has already seen a big return on his investment: Leist will start Sunday's race third on the 24-driver grid, while Kanaan will start 10th.
It's not a fluke by any stretch:
* In Friday's opening practice, the 19-year-old Leist was quickest, while Kanaan was ninth-quickest.
* In Friday's second practice, Kanaan was again ninth-quickest, while Leist dropped to 12th.
* In Saturday's lone practice before qualifying, Leist was back up to fifth, while Kanaan was 10th.
And then there was qualifying, and we know how that turned out. Leist out-qualified some of the best in the sport, including Ryan Hunter-Reay (6th), James Hinchcliffe (7th), four-time champion Scott Dixon (9th), 2016 series champ Simon Pagenaud (11th), defending series champion Josef Newgarden (13th) and Graham Rahal (24th).
That's pretty heady stuff for a 19-year-old kid from Brazil. But Leist showed no fear, didn't let the slight drizzle during qualifying significantly impact him, and he drove like a veteran rather than the rookie he is.
And then there's Kanaan, who is approaching his mid-40s but has driven this weekend as if he's once again back in his prime. The new venue and team has definitely helped inspire him and up his game.
Some have said at 43, Kanaan should retire. Yet, Foyt didn't think that way, signing Kanaan to a multi-year deal after he was cut loose by Chip Ganassi Racing after four seasons.
Just like his young teammate and fellow Brazilian, Kanaan not only out-practiced several big names this weekend, he also out-qualified them, as well.
And now, as we prepare for Sunday's first race of the season, suddenly A.J. Foyt Racing doesn't look like an also-ran any longer. It looks like not only a bonafide competitor, but also a potential winner – something it hasn't been considered for quite some time.
Sure, three practices and one qualifying session – let alone one race out of 17 – does not a season or championship make. But given what we've seen thus far from Leist, Kanaan and the entire Foyt organization, there's a great sense of optimism and excitement that hasn't been seen for a long time.
Heck, things may get so good – and here's hoping they continue to do so – that old Tex may want to get back into a race car himself. After all, he doesn't want the young guys having all the fun. He deserves some once again, too.