Oh, Canada!
Rookie driver and Canadian native Robert Wickens overcame rain and slick track conditions during Saturday's qualifying for Sunday's Firestone Grand Prix of St. Petersburg, the season-opening event for the Verizon IndyCar Series season.
Entered into the first IndyCar race of his career and first qualifying effort, Wickens, grabbed the pole on the last lap of qualifying for Schmidt Peterson Motorsports, and will start from the front after an effort of 1:01.6643.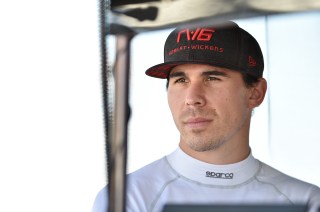 "I'm a little speechless," Wickens said. "My goal going into today was to make top 10. It was tough … but we kept our cool, made changes for the wet and we got it. I'm super happy. I hope we can take this pole position tomorrow and get a good result."
Added Wickens' teammate, James Hinchcliffe, "I knew he could do it. This kid's got talent. He proved the car's quick. It's the first pole of his first career in his first race. It's just awesome. I'm real happy."
Wickens is one of three rookies to make the Firestone Fast Six.
Will Power will start second (1:01.7346), followed by rookie Matheus Leist (1:01.7631), rookie Jordan King (1:01.7633), Takuma Sato (1:01.8821) and Ryan Hunter-Reay (1:02.0385).
"It was really unpredictable, especially the way the paint was so slippery in Turn 1," Power said of the qualifying conditions.
Added Leist: "That's awesome. It's a dream come true for me. First IndyCar race, first IndyCar season. I'm so happy. The A.J. Foyt team did a great job and I'm really, really happy."
Here's the full final qualifying grid:
***************************
Qualifying Notes:
* Rookie Jordan King broke Will Power's old track record (1:00.0658) with a run of 1:00.0476 in Round 1.
* Drivers that advanced from Round 1 to Round 2 in Group 1 were:
Jordan King: 1:00.0476
Alexander Rossi: 1:00.0936
Robert Wickens: 1:00.0999
Tony Kanaan: 1:00.2828
Simon Pagenaud: 1:00.3242
Ryan Hunter-Reay: 1:00.4087
* Those that did not advance to Round 2 from Group 1 were: Josef Newgarden, Zach Veach, Ed Jones, Jack Harvey, Charlie Kimball, Rene Binder
* Drivers that advanced from Round 1 to Round 2 in Group 2 of qualifying were:
Will Power 1:00.5969
Mattheus Leist 1:00.6331
Scott Dixon 1:00.8435
James Hinchcliffe 1:00.8441
Gabby Chaves 1:00.8507
Takuma Sato 1:00.9580
* Those that did not advance to Round 2 from Group 2 were: Spencer Pigot, Marco Andretti, Sebastien Bourdais (who started 21st and last one year ago, but then rallied to win), Graham Rahal, Max Chilton and Zachary Claman De Melo.
* In the second round of qualifying, Wickens was quickest (1:00.5428), followed by Will Power (1:00.5911), Ryan Hunter Reay, Jordan King (1:00.7305), Matheus Leist (1:00.7679) and Takuma Sato (1:00.8470).
* Failing to make the Firestone Fast Six were: Alexander Rossi (due to penalty), James Hinchcliffe, Gabby Chaves, Scott Dixon, Tony Kanaan and Simon Pagenaud.
* It was somewhat surprising that Team Penske had just one driver in the top 12 (Power), while Chip Ganassi Racing also only had one (Dixon).
***************************
There were several incidents of note throughout all three rounds of qualifying:
* Rain began to fall slightly during Group 2's qualifying session, but it quickly stopped. However, it appeared Graham Rahal's loop around in Turn 10 may have been due to the sprinkles.
* Rain returned a few moments later with a slight mist as the Fast 12 second round of qualifying got underway.
* Spencer Pigot and Marco Andretti were involved in an incident that Race Control was reviewing.
* Takuma Sato looped his car around in Turn 2 with about 2:45 left in the Fast 12 round of qualifying.
* Just a few moments later, Scott Dixon had to get on the brakes hard in Turn 2, but managed to keep going. Ditto for Simon Pagenaud, who spun on three consecutive laps while fighting to get into the Fast Six, costing him a chance to advance. It also brought out a red flag to end the session slightly early.
* In the Firestone Fast Six battle to earn the pole, just after Will Power almost lost it on the front stretch, Ryan Hunter Reay slid coming into Turn 1, followed by Jordan King and Takuma Sato.
***************************
Here's some selected driver quotes about qualifying:
James Hinchcliffe: "It went away quick (said of the conditions once the drizzle began). Once the paint gets wet, it gets incredibly slippery and we saw so many cars going off there in Turn 1. Some days you're the windshield, some days you're the bug. I'm happy Robby made it in, which is good for the team."
Scott Dixon: "I guess we probably thought it was going to get drier as that session went on. It's extremely slippery. We just misread it there. We were fast, quickest this morning, have good speed in the car. … We came here to win. I think the car is fast enough. We just have to see how we race."
Gabby Chaves: "I would say we're pretty happy, looking at where we started in practice yesterday. We took it very calmly, looked at the data, made the right changes and improved the car so much. … We knew with a little bit of luck and the right changes that we could make the final group and we did."