Sebastien Bourdais won Sunday's Firestone Grand Prix of St. Petersburg for himself, for Dale Coyne Racing with Vasser-Sullivan and for primary sponsor SealMaster.
It was the second straight year that Bourdais won the IndyCar season-opening race along Tampa Bay and the edge of St. Pete's downtown.
There was one other group of individuals that Bourdais also thanked in victory circle, but for more than just being there to witness his win.
Bourdais may have been born in Le Mans, France, 39 years ago, but he's called St. Petersburg his adopted hometown for the nearly the last seven years.
It's been nothing short of a love affair between the Frenchman and the St. Petersburg community. They welcomed him and his family with open arms, and he in turn reciprocated by becoming involved in the community in several capacities.
But the best capacity is how he's now won the St. Pete IndyCar season opener two years in a row. In addition to friends and family, Bourdais had his own built-in cheering section all weekend.
Namely, his neighbors and others who live in the area, the same folks that have embraced him and are especially proud to call him one of their own.
"It's awesome, and the response of the community, the support, the pulling together from everybody, the sponsors for the Kart4Kids race, the IndyCar community, drivers, sponsors, partners, people in general," Bourdais said of how much the race weekend means to him and the St. Petersburg community.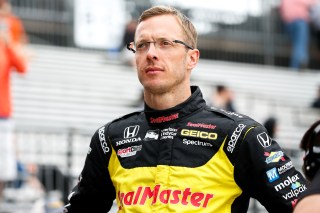 That's especially true after Firestone extended its sponsorship of the St. Pete Grand Prix this past week through 2020.
"Yeah, they've embraced me, and this morning more stuff coming with the city and trying to promote and grow the event with (race promoters Green Savoree Race Promotions), and everybody is doing a great job," Bourdais said. "They're putting a lot of heart in it, and I'm just trying to help
"And obviously when you win in front of friends and family, it's very special. I couldn't really be any happier about that."
When Bourdais was seriously injured in a crash at Indianapolis last May while preparing for the Indy 500, there was initial fear that he would miss the rest of the season, let alone possibly never race again.
After all, at 38 years old then, he's been racing in open-wheel Indy cars for nearly two decades.
But Bourdais not only came back, he came back early, back racing just 2 ½ months after one of the worst wrecks of his career.
"At the end of the day, this is my life," he said. "This is what I want to be doing, and as long as I'm competitive, this is what I'll be doing.
"It's just a great feeling to be able to restart that way and make a statement really, because it was obviously not a given, and that new aero kit was — everything was up in the air.
"Nobody really knew how it was going to shake out, who was going to have what, and we were competitive. We didn't have the fastest car, but we were in the mix, so just a great way to get the season going again."
Bourdais got a lot of support while rehabbing at home from the Indy crash from friends and neighbors, helping to spur him on and recover faster. They helped make him stronger, perhaps not physically, but certainly emotionally.
And that's why when Bourdais celebrated in victory circle Sunday, he shared his win with those same friends and neighbors.
This one was for them.
"Yeah, I was very emotional in the car on the (cool down) lap," Bourdais said. "It's tough to put into words, that's for sure. I think you get the questions from people – 'Is he going to be the same, is he going to come back, is he this, is he this?'
"I really try not to leave any room for uncertainty as far as what I was going to do and how forward I was going to go by coming back to Gateway (Motorsports Park outside St. Louis) last year, two and a half months later.
"It's been bumpy, it's been tough, it's been everything in between, but I've gotten a lot of support from the CEO to my family to everybody on board. It's been pretty hard for myself in some ways, obviously, but more for people around me and certain people, for my wife.
"It's quite an achievement to be able to restart the season and settle the matter right away (whether he could win again) and get back on the horse and win another one."
Of course, there was a bit of luck involved with Sunday's win, Bourdais and team owner Dale Coyne both agreed.
"I saw Robert (Wickens) and Alex (Rossi) just going at it," Bourdais said. "They both wanted it really bad, and I have no idea whose fault it (their collision) is or if it's just a racing thing.
"But when I saw both of them starting to drift going toward the apex and getting themselves in the marbles, I thought, 'Oh, boy.' And then, sure enough, they both skated off, one spun, the other one recovered, and I was through, and then it went yellow, and that was that. Just a crazy day. I couldn't dream of that ending."
Added Coyne quite astutely, "We had an eighth-place car today. (Bourdais') consistency makes that a fourth-place car, and luck made it a winning car."
When Bourdais and his family moved to St. Petersburg in 2012, they had plenty of room in their house. Their house is a short drive away from the temporary street course that the Grand Prix is contested upon.
But after all the success he's had in his adopted hometown, as well as Daytona and Sebring and other venues in both IndyCar and sports car racing, the Bourdais family may have to look at either building an addition or buying a larger home.
Still in the St. Pete area, of course.
"Yeah, the shelving is starting to be a little crowded in St. Pete," Bourdais said with a smile. "When we came back in '12, we didn't bring anything. We just came with all the luggage, I went to Ikea, and that was that.
"There was nothing in the house, and the collection is getting bigger quite nicely. Not the place it was when I was in the Champ Car days, but there's some Daytona trophies and Sebring trophies and Road Atlanta's and IndyCar trophies.
"Yeah, we've managed to win one pretty much every year since '14. I'm pretty happy to keep that streak alive."
So is Coyne.
"Sebastien said the mayor is going to name a street after him now because he's won two in a row," Coyne said. "Hopefully it's his home street."
Coyne then added a bit more levity to the post-race party shortly after Bourdais said he was 39 years old.
"We're very excited about (winning)," Coyne said, before turning to Bourdais and adding with a laugh, "Did you say you were 39? You told me 34."