Canadian driver Robert Wickens started from the pole, led the most laps (71), overcame two late cautions/restarts and then wrapped things up by winning Sunday's IndyCar season-opening Firestone Grand Prix of St. Petersburg.
That's how the story SHOULD have ended.
Unfortunately for Wickens, making his first career start in an IndyCar race – and what a start it was – his dream weekend ended in a nightmare.
With two laps remaining, Alexander Rossi slid into Wickens in Turn 1, sent the race leader hard into the wall and out of the race – while Rossi continued along to a third-place finish.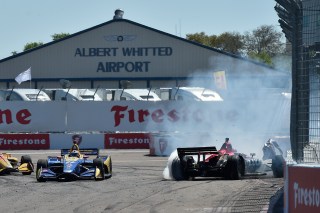 Surprisingly, IndyCar officials ruled no harm, no foul on Rossi's part, allowing him to end up with a podium finish behind race winner Sebastien Bourdais and runner-up Graham Rahal.
Wickens, meanwhile, after driving nothing short of an exceptional race – and who deserved a win for that effort – was left to go home to Canada with an extremely disappointing 18th-place finish.
And to add insult to injury, Wickens was scored two laps down to the winner, Bourdais.
Wickens did everything right in his IndyCar debut. He picked his spots, made clean passes, let others go by (primarily when he was on pit road), and raced like an IndyCar veteran rather than a series rookie.
It's a very clear observation from just one race that Wickens is a very cerebral driver, he keeps his emotions in check and will make an excellent teammate to James Hinchcliffe and an equally excellent fit with Schmidt Peterson Motorsports going forward.
But Rossi's move — whether it was a mistake or not — prevented Wickens from finishing his Cinderella story with what he deserved: a win.
I can understand Rossi was fighting for the spot and contact was incidental to the battle between him and Wickens.
But at the same time, some might disagree with IndyCar officials on the Rossi verdict.
Here's part of what Rossi had to say in his defense afterwards:
"(Wickens) defended the position, which he has the right to do, but in doing so, in moving the reaction, he put me into the marbles pretty late into the corner," Rossi said. "It's difficult with these cars and with how much we're sliding around in the first place, even on the racing line.
"When you're put in the marbles, it's hairy. Super unfortunate. Like you never want to see that happen. I feel bad because I feel like I could have won and he could have gotten second. You never want to see that happen, but nevertheless, it was a great job by the whole team all weekend."
So, was Rossi's action right? That's debatable.
Watch the replay of the incident and after Wickens briefly tried to block before deciding otherwise, it appears Rossi came into the turn too hot, hit the rumble strip, slipped off it and slid right into the right side pod of Wickens' car, sending him spinning.
When you make an aggressive move – in this case over-aggressive at that point in the race and at that part of the racetrack – that takes out another driver, especially the race leader, it just doesn't seem right.
Rossi fans will counter that he was trying to win the race and with two laps left, HAD to be over-aggressive. And also that particular place on the track was arguably one of the few (and best) places to pass Wickens.
If the contact had not occurred, we likely would have had one of the best race finishes that the Verizon IndyCar Series has seen in a long time.
Rossi knows Wickens is ticked at him. It should be interesting how the conversation goes when the two finally discuss what happened Sunday – even though it could take nearly four weeks until the next IndyCar race (at Phoenix) for that to happen.
"I will (talk to Wickens) at some point, and obviously express my feelings," Rossi said. "I'm sure he's upset, and he has a right to be.
"If you were in the lead of the race with two to go and you didn't finish, you'd be upset, yeah."
At the same time, that's not to discount Bourdais waiting for the right opportunity, seizing upon it, passing Wickens and Rossi and motored on to his second consecutive win at St. Petersburg, his adopted hometown.
Bravo to Bourdais. He let the race come to him. Also bravo to Wickens. What he showed us Sunday could be the sign of a new star in the making for the IndyCar Series.
As for Rossi, here's how Wickens so astutely put it after the race, "(Rossi) just went too deep, locked the rears and slid into me. There's really no other explanation to it. The only pity is he carried on to a podium, and I ended up in the fence."