Sebastien Bourdais might want to change his name to Johnny – as in Johnny on The Spot or maybe Johnny Come Lately – with the way Sunday's IndyCar season-opening Firestone Grand Prix of St. Petersburg played out.
Bourdais bided his time, waited until race leaders Robert Wickens and Alexander Rossi clipped wheels, knocking Wickens out of the race with two laps to go, and Bourdais snuck by, seemingly saying, "See 'ya later, boys" en route to taking the checkered flag.
It was Bourdais' second consecutive win at St. Petersburg, his adopted hometown. He lives less than two miles from the 1.88 temporary street course.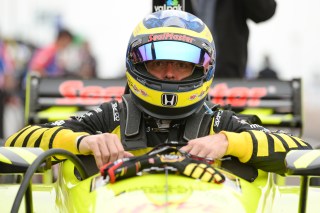 "This one is emotional because we had to overcome a few bumps, rolls, a ball of fire and a few broken bones to come back in this victory circle," Bourdais told ABC, referring to his wreck at Indianapolis last May. "I couldn't be any happier for Dale Coyne Racing with Vasser-Sullivan and the whole Sealmaster (primary sponsor) and everybody on board and all the boys.
"It's a tiny group but they worked their tails off. We didn't have the fastest car today, but we had consistency and we just pulled it together to get a podium, which was awesome. I was real happy for Robert (Wickens, who appeared headed for the win) and also heartbroken for him. But for us, it's just such an overcome, such an upset, I can't put it into words."
It was Bourdais' sixth career win on the IndyCar circuit and his 37th overall in an Indy car, including his prior tenure in the CART and Champ Car World Series leagues.
When asked if there was ever any doubt that he'd not come back from last year's devastating crash, Bourdais was quick to put that to rest.
"No, not really," the French native told ABC. "When I got the verdict of what was broken and that it was going to heal pretty well, there was never a question in my mind whether I should continue or stop."
He added with a smile on his face, "I guess I'm glad did continue."
After Max Chilton brought out the final caution of the race when he spun on Lap 108 and then stalled his motor, setting up the final restart for a two-lap shootout, Wickens held point ahead of Rossi. But when they made the hard right on Turn 1, Rossi clipped the rear tire of Wickens' car, sending him hard into the wall and ending his race and chance of winning.
Rossi was able to continue on, but not before being passed by Bourdais and eventual runner-up Graham Rahal, who rallied for a podium finish after starting the race from the back of the 24-driver field.
IndyCar race officials and stewards reviewed the contact between Wickens and Rossi to see if there might be a penalty, but ultimately ruled it was nothing more than race contact between two drivers going for the lead.
Rossi wound up finishing third, James Hinchcliffe was fourth and Ryan Hunter-Reay was fifth.
Scott Dixon was sixth, followed by Josef Newgarden, Ed Jones, Marco Andretti and Will Power.
The rest of the field from 11th through 24th were Tony Kanaan, Takuma Sato, Simon Pagenaud, Gabby Chaves, Spencer Pigot, Zach Veach, Wickens, Max Chilton, Charlie Kimball, Jordan King, Rene Binder, Jack Harvey and Matheus Leist.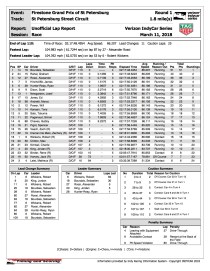 RACE NOTES:
* Helio Castroneves was grand marshal of the race and gave the command to start engines while climbing the fence, his hallmark whenever he'd win a race.
* Will Power spun on Turn 2 of the opening lap and backed the car into the wall. He came into the pits on Lap 4 and had both tires and rear wing changed.
* Tony Kanaan went around near the end of Lap 1 and had problems getting it into reverse. He finally did and got going.
* Ryan Hunter-Reay went to pit road after the first lap. His team had to change the ECU (Engine Control Unit) and he was back on track.
* Charlie Kimball stalled in the runoff area in Turn 13 of Lap 3. Also on Lap 3, Zach Veach made contact with someone and lost part of his front wing, but continued on.
* On Lap 7, Graham Rahal dove into Turn 1, made contact with Spencer Pigot, both cars spun. While Rahal continued, Pigot stalled his motor, bringing out a caution flag.
* On Lap 15, Matheus Leist suffered an issue heading into Turn 1 and had to limp his car all the way around the track before getting to the pits, where he replaced all four tires and then his team prepared to replace his transmission.
* On Lap 29, rookie Matheus Leist wrecked at the exit of Turn 3, ending his day. Leist qualified third and gave hope for A.J. Foyt Racing for a good finish in the race. Now, that leaves only teammate Tony Kanaan to carry the torch for the team.
* On Lap 36, Scott Dixon and last year's Indy 500 winner, Takuma Sato, got together in Turn 1. Dixon brought his car onto pit road for his team to examine it and he went back on-track without any changes.
* On Lap 40, Jack Harvey wrecked in a single-car issue in Turns 13 and 14, bringing out a full-course yellow. At the same time, defending series champion Josef Newgarden suffered a flat tire and got into pit road before the fifth full-course yellow of the race came out (before even the halfway mark). Harvey's car had to be towed away.
* Race leader Robert Wickens, who has dominated the race up to this point, stops for tires on Lap 61. Alexander Rossi took over the lead, only to pit two laps later on Lap 63. Sebastien Bourdais, last year's race winner, takes the lead, followed by last-place starter Graham Rahal and pole-sitter Robert Wickens.
* Wickens had an exceptionally quick pit stop on Lap 82 of just over seven seconds. Rossi came in on the following lap, but his stop was about 1.5 seconds longer.