Rookies rose to the occasion on Friday and Saturday at the Firestone Grand Prix of St. Petersburg, with three qualifying in the six – Robert Wickens, who started on the pole, Matheus Leist, who started third, and Jordan King, who started fourth.
However, all three came crashing back down to Earth on race day, suffering big problems that knocked them out of contention, or out of the race entirely.
Things got off to a promising start, as Wickens, King, and Leist ran 1-2-3 in the early laps, with King even briefly leading after passing Wickens on a Lap 6 restart.
However, before too long, things started to fall apart. Leist was the first victim, with a gearbox issue causing the A.J. Foyt Racing driver to get stuck in third gear. While he eventually rejoined, Leist's day went from bad to worse, as he drifted wide in Turn 3 on Lap 28 and smacked the outside wall, ending his race on the spot. He finished 24th.
"Today it was unfortunate," Leist lamented before subsequently going into more detail about his day.
"We had a shifting problem when I was running fourth, so I couldn't change gears up or down. I stayed in pit lane for like 10 laps trying to solve the problem. Then we had another problem and came back to the pits. The third time I went back on the track, I had a mega understeer going into Turn 3 and I missed the corner and hit the wall."
King was the next victim, as the Ed Carpenter Racing driver suffered a cut tire and then suspension damage that forced him to pit for repairs. He did rejoin the race, but was three laps down and languished in 21st at the end.
"After the first stop, we picked up a puncture and slid against the wall and had some damage. It was frustrating more than anything to be hindered by that," King revealed.
King did express confidence after showing impressive form, but couldn't help but be disappointed that circumstances didn't let him and ECR cash in.
"Overall, I am happy from the sense that the speed is there, but disappointed to throw away a result," King finished. "I know not every weekend is going to be like this, but it was great to be fast and challenging for the race win. It just hurts a bit when you throw away a good result like that."
And, finally, Wickens' day came undone in the final laps after dominating most of the race from the pole. The 28-year-old Schmidt Peterson Motorsports driver needed to fend off Andretti Autosport's Alexander Rossi on a pair of late-race restarts as he looked to secure a win on his Verizon IndyCar Series debut.
The first restart, with four laps to go, went well for Wickens. The second restart, with two laps remaining, did not, as Rossi got loose under braking while trying to pass Wickens. The two made contact, sending Wickens into a spin and into the Turn 1 wall. Wickens, after leading the most laps, had to settle for 18th.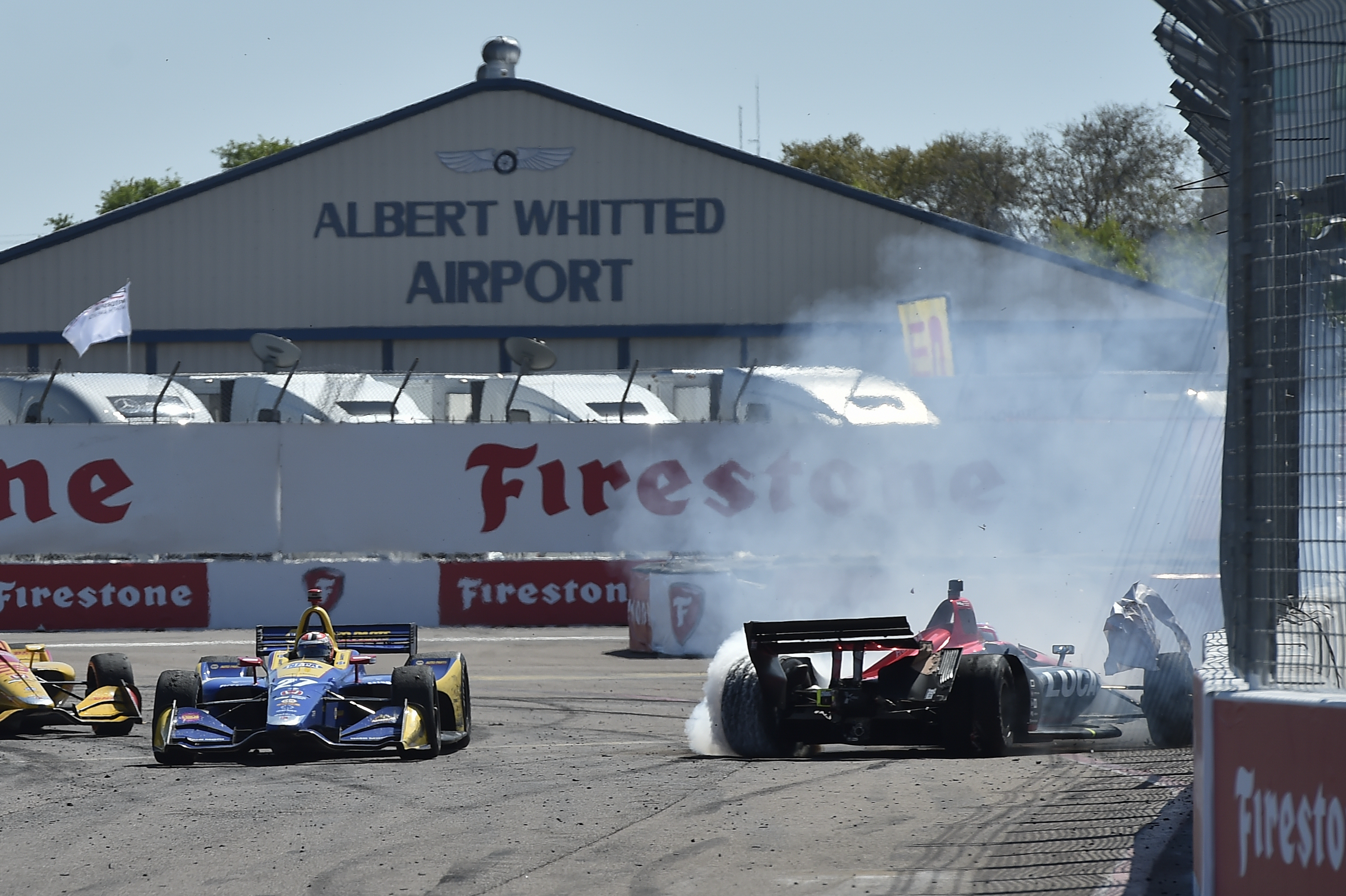 "I gave him space around the outside. I broke late. I made the corner and then we had some contact, and obviously it put me into a spin into the wall. I ended my day with one lap left in the race. Not the way I imagined the day going for the No. 6 Lucas Oil SPM Honda," explained a gutted Wickens afterward.
Wickens added that confusion over the final restart – the pace car was not called in until a few corners before the green flag flew – made matters worse for him, and may have set up the chaos on the ensuing restart.
"It was all a little bit confusing because I was told on the radio we were going green, but they didn't turn the lights off the pace car, so I didn't get the best restart I could have done. Probably the worst one of the whole day," he explained. "I want to kind of speak to the officials to see why they didn't turn the lights off the pace car before we went green but I don't know."
Of note: Juncos Racing's Rene Binder endured a tough day as well, nosing into the Turn 1o tire barriers with eight laps remaining, essentially setting the late-race chaos into motion in the process. He finished 22nd.
Of the other two rookies, Andretti Autosport's Zach Veach Dale Coyne Racing's Zachary Claman De Melo, finished 16th and 17th after relatively quiet days, while Michael Shank Racing and SPM driver Jack Harvey crashed out due to a cut tire on Lap 39.