The Firestone Grand Prix of St. Petersburg had storylines aplenty entering the weekend. And exiting the weekend, there is even more to salivate over ahead of next month's Phoenix Grand Prix at ISM Raceway (April 7, NBCSN).
The streets of St. Petersburg have hosted the season opener for the Verizon IndyCar Series every year since 2011 – the track also hosted the season opener in 2009, and kicked off the 2003 season for the old CART series as well, meaning it has been the season-opening event ten times in total. And there may not have been a more memorable event than the one we saw on Sunday.
An analysis of several big storylines from the weekend is below.
Rossi/Wickens Battle Takes an Ugly Turn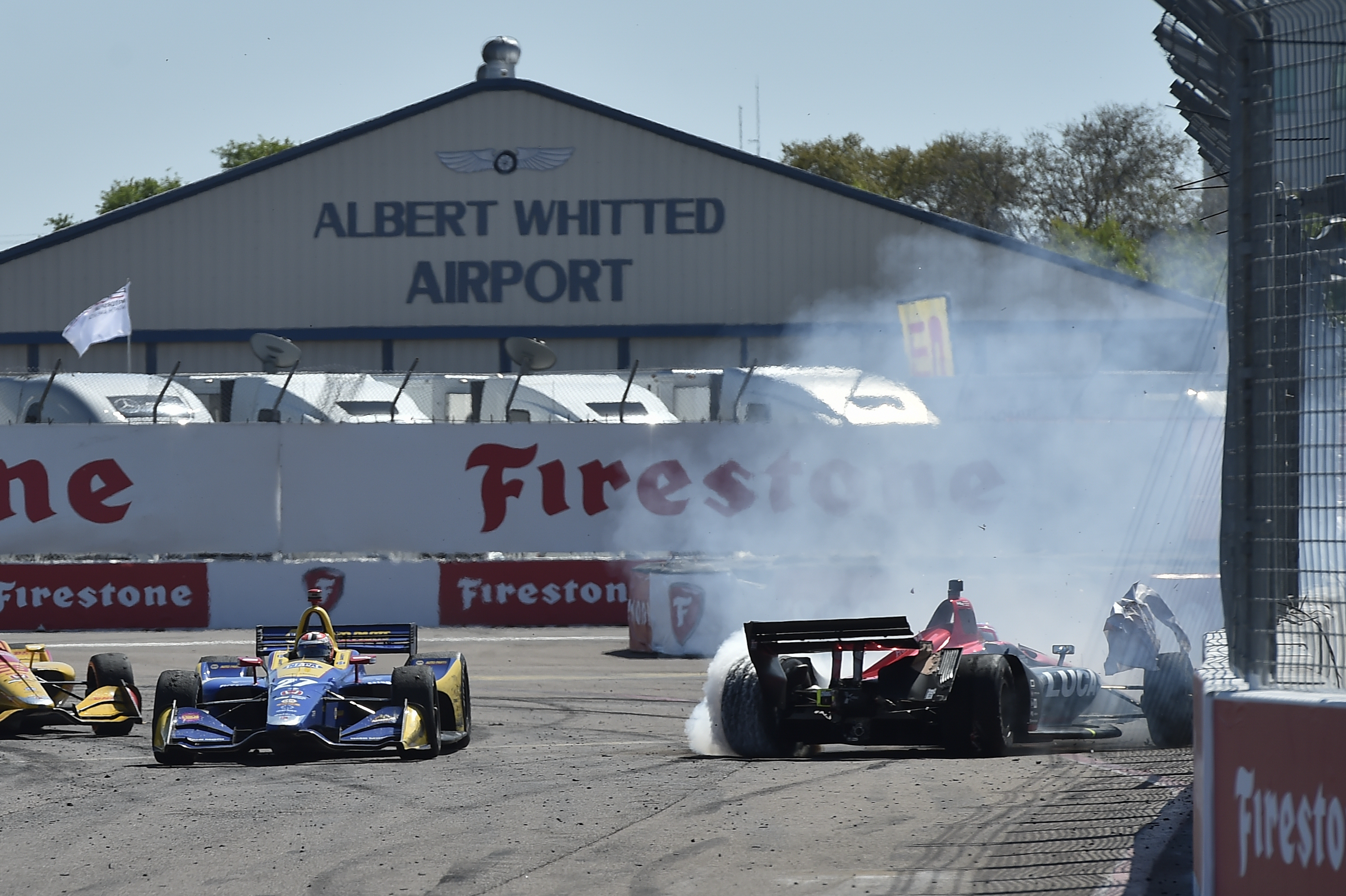 It is hardly a surprise that the most talked about incident of the day is the one between Robert Wickens and Alexander Rossi, when Rossi tried a dive up the inside, but got loose and collided with Wickens, sending the 28-year-old into a spin and into the wall.
But, like any incident, there are multiple layers to it, and an examination of them makes it difficult to assign blame to only one party.
First: the Wickens angle.
To describe the contact as heartbreaking for the Schmidt Peterson Motorsports driver is a massive understatement. Put simply, Wickens deserved to win. He sat on the pole, led the most laps – only losing it on pit stop cycles – and was keeping Rossi at bay before the final two cautions came out. It was a stellar effort that deserved a victory.
However, there is at least one, and arguably two areas where Wickens could have been at fault.
First, Wickens' restart with two laps remaining was not nearly as well-timed as his others. He had been diamonding the final hairpin – Turns 13 and 14 – to launch off the corner exit and get a run down the front straightaway. Such a move gave him a nice jump on a restart two laps prior.
However, he did not diamond it as much on the final restart, allowing Rossi to be much closer to his gearbox when racing resumed.
The second "error" is one that's difficult to classify as an error, in that it requires hindsight, a luxury not available in the thralls of battle.
Once Rossi was alongside, Wickens' best chance to defend may have been to brake slightly early, knowing that Rossi was going to enter Turn 1 very deep and could go wide on the exit, allowing Wickens to dip back inside and retake the lead.
Teammate James Hinchcliffe used a similar move against Takuma Sato in a famous finish on the streets of Sao Paulo, Brazil in 2013, so it is a move that most certainly could have worked.
However, Wickens also entered Turn 1 very deep, and the end result was the contact we saw.
Now, the Rossi angle: Indeed, the Andretti Autosport driver made a mistake in outbraking himself, getting loose, and bumping Wickens. But, it was an honest mistake from a driver trying to win. Not an intentional "dump" or anything similar, simply a buy-product of an admittedly aggressive move.
And Rossi was not the only one to get caught out by such a move. Graham Rahal suffered a similar fate when diving inside of Spencer Pigot on Lap 7, with both cars spinning in the aftermath. Scott Dixon was also caught out in similar fashion when he slid into the back of Takuma Sato on Lap 35, with Sato spinning and Dixon stalling.
But, what makes Rossi's incident more egregious, particularly for those critical of him, is that he didn't suffer much misfortune. Dixon was stalled behind Sato after their contact, and received a drive-through penalty, while Rahal spun himself after his run-in with Pigot.
Conversely, Rossi ended up finishing third, while Wickens languished back in 18th.
Perhaps the biggest shame is that the controversy masks otherwise great days for both drivers. Rossi was on the charge from the outset, going from 12th to sixth by Lap 3, and then up to fourth by Lap 7. He then stayed in the top five for most of the race, only falling out during pit stop sequences.
And Wickens' IndyCar debut was historically great. Maybe not since Nigel Mansell, at Surfers Paradise in 1993, has a driver had a more landmark debut. That year, Mansell won both the pole and the race in his first IndyCar start.
Wickens echoed Mansell's pole accomplishment in qualifying on Saturday, and was set to echo Mansell's race result prior to the Rossi contact.
Regardless, the incident clouds outstanding days for both drivers, and it's a genuine shame that things played out the way they did.
Honda Dominates Chevrolet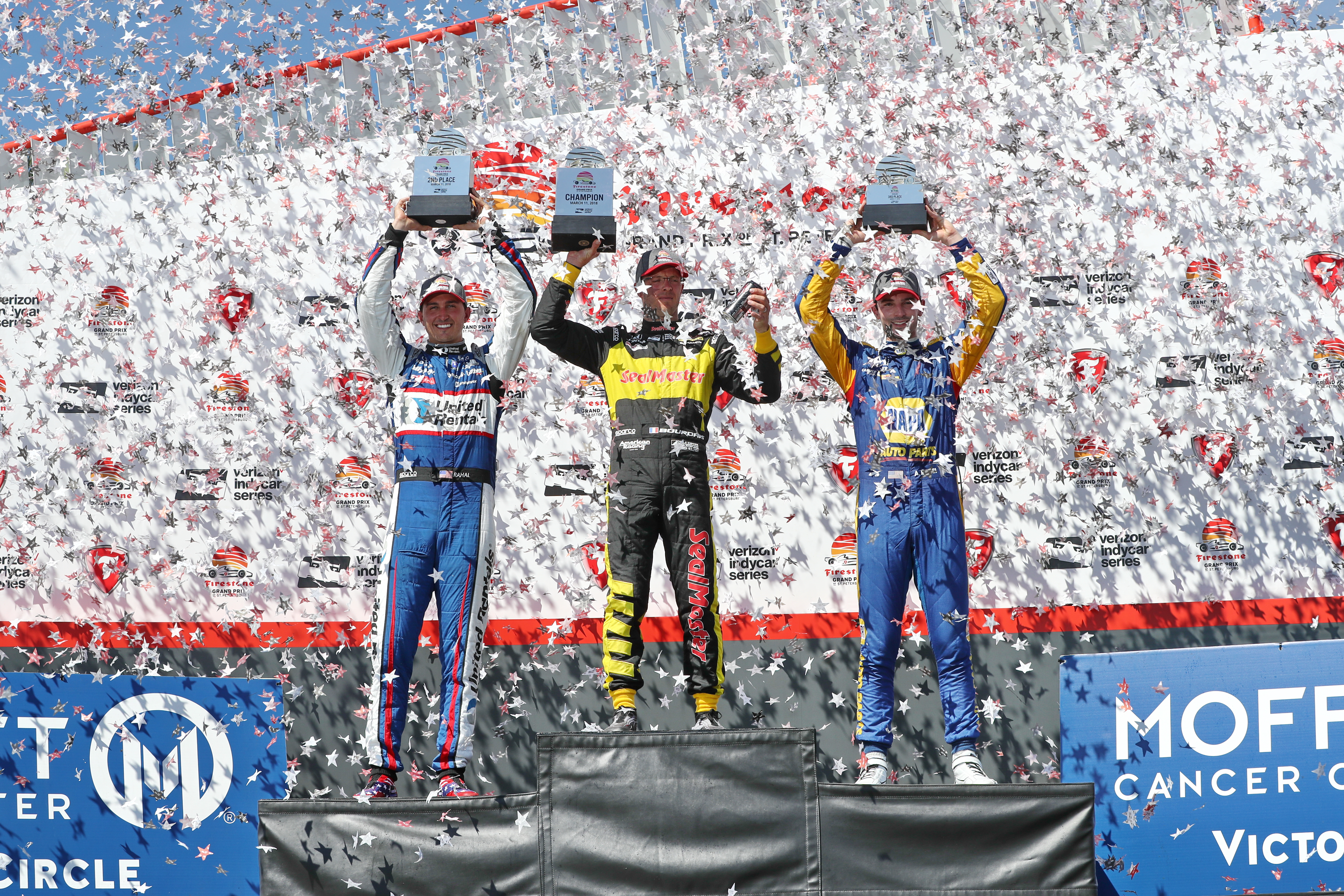 For the previous three seasons, informally recognized as the "Aero Kit Era," Chevrolet had a big advantage over Honda. And even though Honda teams closed the gap last year – they won seven races in 2017 – Chevrolet still seemed to have the upperhand.
But, Sunday's race, the first for the universal aero kit, flipped the script, and Hondas dominated. Honda teams led all but five of the 110 laps – with Ed Carpenter Racing's Jordan King the only Chevrolet driver to lead – and claimed eight of the top 10 finishers, including a sweep of the first six positions.
"That was a great way to start the season!" quipped Art St. Cyr, president of Honda Performance Development, afterward. "It's always nice to see all the hard work put in by the HPD associates rewarded after a very busy off-season. Congratulations to Sebastien Bourdais for his repeat victory at his hometown event; to the Dale Coyne organization, and to new Honda team co-owners Jimmy Vasser and James Sullivan. Also congratulations to Graham (Rahal) for his run from last at the start to second at the checkers."
Chevrolet was not helped by the struggles of Team Penske, which saw Josef Newgarden, Will Power, and Simon Pagenaud all hit significant problems – Power spun on the first lap, Newgarden suffered a cut tire, and Pagenaud just didn't catch the strategy breaks.
With King suffering a cut tire himself and suspension damage after wall contact, and A.J. Foyt Racing's Matheus Leist having gearbox issues before crashing out on Lap 28, there was little Chevrolet could do to stop the Honda freight train.
It will be intriguing to see how the engine battle will shake out over the next 16 races, but Honda has come out of the gates fast in 2018.
Perseverance Is the Word of the Day
If viewers needed proof that you should never give up in a race, Sunday's affair in St. Petersburg was it. Several top 10 finishers overcame major problems to finish well at the end of the day.
Race winner Sebastien Bourdais suffered a cut tire in the opening laps and dropped to the back, but regained his track position by going off strategy and not pitting during a Lap 28 caution for Leist.
Rahal's aforementioned spin with Pigot dropped him deep in the field, and he too went off strategy, going the same route as Bourdais, to get up front, where he stayed the rest of the way and finished second.
Ryan Hunter-Reay was in the pits as the race started with an electrical problem, an identical fate to one he suffered last year, but regrouped to finish a strong fifth.
Sixth-place finisher Scott Dixon overcame contact with Sato and a penalty to end up back in the top 10 at the end.
Seventh-place Josef Newgarden rebounded from a cut tire following a Lap 39 restart.
Will Power came back from a Lap 1 spin and wall contact to finish 10th.
Sunday's roller coaster of a race was more proof that perseverance can take you a long way, even if you encounter a major hiccup.
Misc.
Ed Jones, on debut with Chip Ganassi Racing, was classic Ed Jones. Starting 17th, Jones simply kept his nose clean and nary a peep was heard from him until he emerged in sixth place in the final stint. Ganassi teammate Dixon did get by, along with Team Penske's Newgarden, but eighth place is a solid debut effort for Ganassi's newest driver.
Harding Racing finished the best out of the new IndyCar teams on Sunday, with Gabby Chaves bringing the No. 88 Chevrolet home in 14th. It was a quiet day, but one that did see them run inside the top 10 at times. With Larry Curry as the team's manager and Brian Barnhart as the team's president, this group has a lot of talent behind the scenes and will be one to watch going forward.
Conversely, Carlin Racing had a debut to forget. Charlie Kimball's day never got going, as he slid off entering Turn 13 on Lap 3 and was never a factor on his way to 20th, while Max Chilton only finished one spot better in 19th. But, given the team's pedigree, better days should be ahead.