It was a packed weekend to begin the 2018 season for the Mazda Road to Indy Presented by Cooper Tires, with all three series completing two races apiece to kick off their respective seasons.
It's also somewhat of a preview of the 2018 season as a whole, with Indy Lights Presented by Cooper Tires and the Pro Mazda Championship Presented by Cooper Tires having seven double-header weekends each, while USF2000 has five double-headers as well as a triple-header at the Mid-Ohio Sports Car Course.
And the tightly packed weekend had more than its fair share of dramatics, including first-time winners and and problems befalling expected championship contenders.
Indy Lights: Urrutia Shows Maturity As Season Opens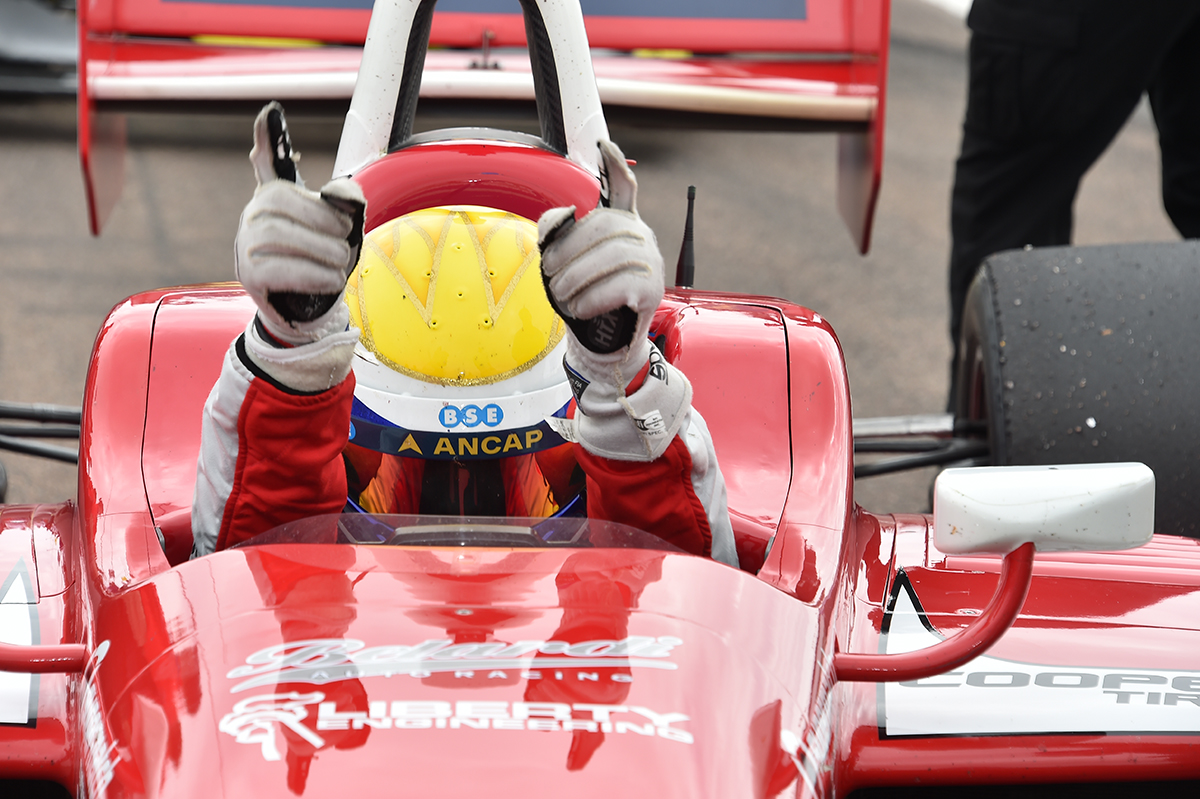 Typically, 21-year-old Santi Urrutia has struggled in at least one race during the season-opening weekend at St. Petersburg. In 2016, he finished fourth in Race 1, but 13th in Race 2. Last year, he was 13th in Race 1 before rebounding to finish second in Race 2.
This weekend, however, was a different story for the Uruguayan driver, who had finishes of 2-1 on the weekend and leads the Indy Lights championship leaving St. Petersburg.
What's more, Urrutia was not the fastest driver and did not appear to have the fastest car at any point during the weekend, yet he manufactured both results through smart driving while those around him faltered.
His Belardi Auto Racing teammate Aaron Telitz took the pole in Race 1, but was unable to make the start after crashing during qualifying for Race 2. The team was able to borrow a chassis from Carlin so Telitz could start the second race, but contact with Victor Franzoni saw Telitz spin into the Turn 2 wall right after the start, meaning his two races consisted of only two corners combined.
Pato O'Ward looked set to sweep the weekend after winning Race 1, but overshot Turn 4 late in Race 2, going into the runoff area and then stalling after re-entering the track. He ended up finishing seventh.
Colton Herta again showed speed, finishing third in Race 1, but still showed the inconsistency that plagued him in 2017, crashing while trying to chase O'Ward for the lead early on in Race 2.
It all added up to a favorable outing for Urrutia, who also had problems of his own during the weekend, crashing during practice on Friday. But, as he emphasized, strong teamwork from the Belardi group enabled him to bounce back.
"I'm especially happy for the team, after the way the weekend has gone – I had a crash on Friday, and of course, Aaron crashed yesterday. The guys have been working all night long and I feel so sorry for them and for Aaron. But we have a very good team and everyone has worked so hard so we'll keep working this way and hopefully, everything will be fine," Urrutia said following Race 2.
He leaves St. Petersburg on 55 points, eight ahead of O'Ward to lead the championship.
Pro Mazda: VeeKay Rolls to Weekend Sweep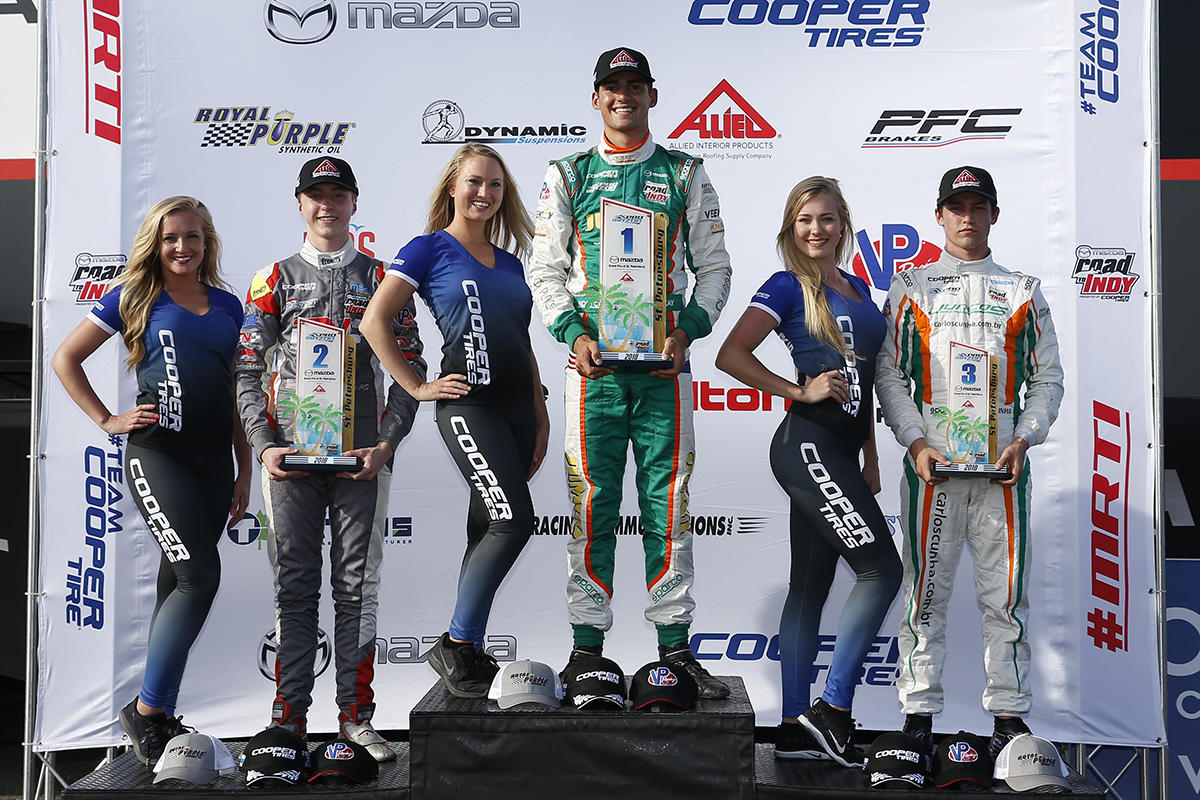 To bring back a phrase that was used very often in 2018, across all three Mazda Road to Indy Series, Rinus VeeKay had the broom out at St. Petersburg, winning both Pro Mazda races to seize early control of the championship.
And his victories came in different fashions. He had to outduel Parker Thompson for the Race 1 victory after the Exclusive Autosport driver led most of the way. Race 2 saw VeeKay start on the pole, but a starting error saw the green flag come out prematurely, and VeeKay dropped like a stone, falling back to ninth.
However, race control ultimately stopped the race, reorganized everyone back into their original starting positions, and tried again. VeeKay took advantage and rocketed away when the green flag waved, dominating Race 2, even surviving a late caution that allowed second-place David Malukas to close in, to complete the weekend sweep.
"This is amazing, just like last year when I won both races at Road America and was fighting with David (Maluka)! But both of us were confused at the start because the green came so early, so everyone passed us. I'm happy that the series saw the mistake and gave us a chance to recover. I had a comfortable gap through the race and when I saw the yellow flag I thought 'oh, no!' I knew the restart had to be very good and I did get enough of a jump to stay in front," VeeKay said of the Race 2 battle.
With a whopping 62 points to his name, VeeKay leads Thompson, who had finishes of 2-5 for the weekend, by 19 points. Of note: USF2000 champion Oliver Askew had a quiet weekend, taking finishes of 5-6, and sits sixth in the championship standings.
USF2000: Kirkwood Shines on Debut Weekend As Others Falter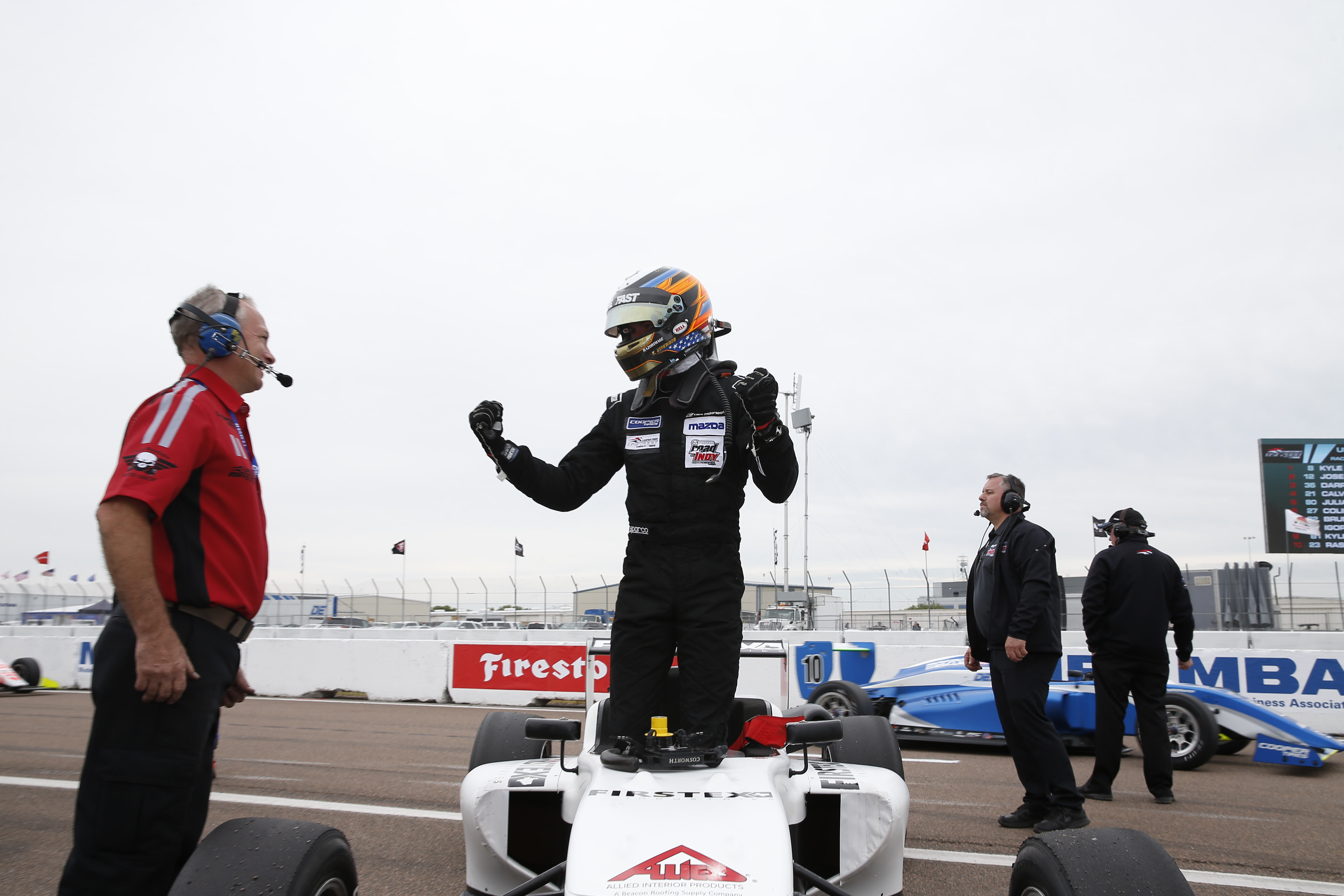 Cape Motorsports' Kyle Kirkwood did not dominate the weekend like VeeKay did in the Pro Mazda ranks, but Kirkwood's USF2000 debut was still plenty impressive.
Last year's champion of the Formula 4 United States Championship Powered by Honda, Kirkwood ran away with race 1 after starting on the pole, and drove a quiet but solid Race 2 to finish fifth.
Meanwhile, drivers expected to challenge for the 2018 USF2000 title struggled in at least one race over the weekend. Kaylen Frederick had finishes of 11th and ninth for the weekend, and was one of several drivers to receive a drive-through penalty in Race 2. Lucas Kohl scored a 13th and a third. Darren Keane was third and 12th. Jaime Caroline scored a 24th and a fourth. And Race 2 winner Alex Baron finished 22nd in Race 1.
All told, it gives Kirkwood the early championship lead on 48 points ahead of DEForce Racing's Jose Sierra, who sits on 41 points after finishes of second and sixth. Exclusive Autosport's Igor Fraga sits in third, ten points behind Kirkwood.
"There's a bit of relief! Our deal came together really late, but I know I'm in the right place at the right time," said Kirkwood following his Race 1 triumph.
Indy Lights and Pro Mazda return to action at Barber Motorsports Park in April, while USF2000 takes a two-month break before returning at the Indianapolis Motor Speedway Road Course in May.