The start of the 2018 Mello Yello NHRA Drag Racing Series has started off with a bang – make that two bangs – for 16-time Funny Car champ John Force.
Unfortunately, the bangs have not been the good kind, and Force has suffered in the Funny Car standings as a result.
Force had a 10,000 horsepower motor explode on him during qualifying for the season-opening Winternationals in Pomona, Calif., last month.
Two weeks after that in Phoenix, the same thing happened to Force, only this time he also got hung up in the parachute cords of Jonnie Lindberg and both chassis' crashed into the wall.
Force was taken by ambulance both times to local hospitals, checked out and returned to race another day in both instances.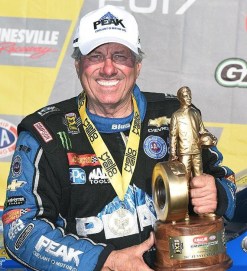 Now, as the NHRA prepares for this weekend's Amalie Motor Oil Gatornationals at Gainesville (Florida) Raceway, there's a lot on Force's plate.
First, he hopes his team has been able to figure out why the motors exploded so to prevent a third straight blow-up this weekend.
Equally as important, Force hopes to defend his win in last year's Gatornationals, the eighth time in his career that he's won that particular event, one of the most popular races on the 24-race NHRA national event schedule. It's the most wins by any Funny Car driver at Gainesville in the track's history.
And there's one other thing that is very uncharacteristic of Force: he's not even in the top 10 in the NHRA Funny Car standings.
He's 11th. You'd have to go way back in his career to find the last time Force was that far down in the rankings.
But there's also a caveat to that: he's 99 points behind Funny Car points leader Matt Hagan.
Translated, given we're only two races into the season, one win could potentially and quickly boost Force up to or certainly close to the top spot in the Funny Car ranks after this weekend's race in Gainesville.
"I am ready to get back to the race track," Force said in a media release. "We have had some struggles at the first two races but we are figuring it out.
"My team has been going over my PEAK Chevrolet Funny Car and we'll be ready. … I am ready to get back to the fans. It was good to have some time off but now the season is really going to get started.
"I really don't need any motivation. … I get excited every time I drive onto a race track. I won this race a lot but every year is a new year. I go after every win with the same fire in my belly. This race car does the running for me and I love being out at the track with the fans.
"I love going to all the race tracks. Gainesville has a lot of history. I won this race last year and I am looking to get another win this year."
While Gainesville Raceway has been the sight of many wins and overall strong performances, it also is a bittersweet location for Force and his entire John Force Racing family.
It was on March 19, 2007, during testing after that year's Gatornationals, that Eric Medlen, a Force protégé, crashed and died four days later after undergoing surgery and a valiant attempt by surgeons to save his life.
"We loved the kid," Force said of Eric Medlen. "His dad, John Medlen, worked to build a better race car to save lives. We learn from our wrecks.
"That is why I am still in the sport at 68. I ain't no hero, all I am trying to do is build better race cars and take my knowledge that I have learned and make it better for these kids coming up.
"That is what it is all about, especially with my girls (Funny Car driver Courtney Force and Top Fuel driver Brittney Force, who was involved in a hard crash herself at Pomona, as well, but has since returned to racing)."
Qualifying for the 49th annual Gatornationals are Friday at 2 and 5:45 p.m. ET, and Saturday at 12:30 and 3:30 p.m. Eliminations begin Sunday at 11 a.m.