If NHRA Top Fuel drivers Antron Brown and Steve Torrence are still a little bit sore in the saddle going into this weekend's NHRA Gatornationals, there's a good reason.
Brown and Torrence – they competed under the "Chocolate and Creme Race Team" moniker devised by Brown – took part in last Saturday's Mint 400 off-road race in Primm, Nevada.
There's good news and bad news on how their maiden off-road racing effort went.
The good news: Brown completed the whole 117-mile first lap of the three-lap event with no problem.
"Woo, that was a rough one," Brown said after completing his lap. "A to the B made it, though. I'm praying for Steve, he doesn't know what's ahead of him. That's some rough stuff out there."
Now the bad news: as it turned out, Torrence had problems when he took his turn behind the wheel of the Polaris RZR off-road buggy. Torrence got 13 miles into his 117-mile lap when the steering broke.
Steve and his co-driver were able to limp the car 16 miles into Pit B where they fixed the steering and sent Torrence back on his way.
Unfortunately, the steering broke again – and gave up the ghost for the remainder of the event – at the 58 mile marker.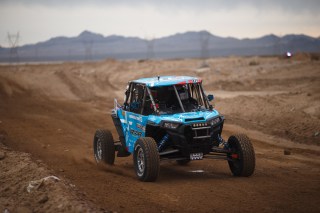 "What an awesome experience," Torrence said afterward. "It was a damn good time."
While it was the first time either Brown or Torrence competed in an off-road race, it won't be the last. Both drivers are ready to do it again later this year.
"Round 2 is going to happen this year," Torrence said. "I'm hooked. The meat hooks are in me for off-road racing."
Said Brown, "It beats you down, way down. But, I'm coming back. I'm going to get meaner and leaner. We're going to do some more testing. We had good speed. I need to work on my corners a little bit better. They were way better at the end, for sure. I know what to expect now."