Pippa Mann announced Tuesday that she plans to drive in her seventh Indianapolis 500 on May 27.
The native of Ipswich, England will once again return to race for Dale Coyne Racing, with new sponsorship by Donate Life Indiana.
She had previously been sponsored the last four years in the 500 by the Susan G. Komen organization. She'll continue to carry logos of that organization on the front wing of her car in the 500, Mann said.
Mann, 34, has raced six times in the 500, with a best finish being 17th in last year's race.
Mann will fill out the four-car Dale Coyne Racing field for the Greatest Spectacle In Racing. She'll be teammates with Sebastien Bourdais (No. 18 Team SealMaster Honda in a partnership with Vasser-Sullivan), Pietro Fittipaldi (No. 19 The Paysafe Car Honda) and Conor Daly (No. 17 U.S. Air Force Honda in a partnership with Thom Burns Racing).
Mann will make her first practice laps for this year's 500 on Tuesday, May 15. Qualifying is May 19-20.
Mann's No. 63 Honda will have a significantly different look than in the last few years. Instead of pink, her car will feature a silvery blue and light green paint scheme wrapped around a Donate Life Indiana logo.
"I am honored to have been asked to drive the Donate Life car this May and to partner with Donate Life Indiana as an ambassador to raise awareness on our mission to help reach even more Hoosiers through our education efforts," Mann said in a media release. "This is obviously a campaign with a pretty deep personal meaning for me, and I am humbled to have the opportunity to join the racers carrying this cause forward.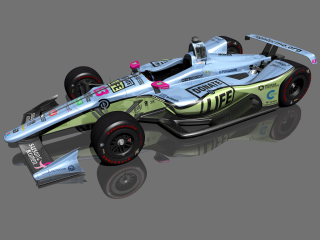 "I also want to thank Dale and Gail Coyne for once again giving me this opportunity to pilot one of their entries this May. This will be my sixth year with Dale Coyne Racing and I'm truly grateful that they allow me to do this every year."
Mann will also serve as a spokesperson for the organization and to raise awareness for youth education initiatives in Indiana, most notably organ, tissue and eye donor registration.
In addition to her driving duties in the 102nd running of the 500, Mann will also visit schools across the Hoosier State to speak about the importance of organ donation and transplantation.
"Our education team is committed to partnering with Pippa and students and teachers across the state to bring the message of organ donation and transplantation to as many students as possible," said Steve Johnson, board chairman for Donate Life Indiana.