If you like racing two-wheel style, make sure you catch the debut of a new multi-year TV broadcast deal featuring the American Flat Track motorcycle racing series on NBCSN.
The 18-round series debuts this Sunday at 2 p.m. ET on NBCSN with the season-opening race that was held at Daytona International Speedway on March 15.
Going forward, all 18 rounds of the series will be televised on NBCSN in highly-coveted weekend afternoon programming slots without two weeks of each event.
Last season, AFT drew nearly two million viewers on NBCSN with regular primetime coverage on Thursday nights.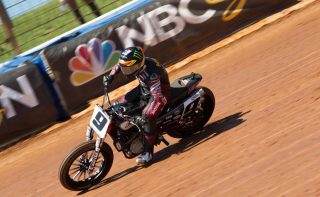 This season, the one-hour, tape-delayed telecasts will be part of NBCSN's regular weekend programing, following or preceding coverage of NASCAR, INDYCAR and Pro Motocross.
AFT is now in its 65th season, with two distinct classes: powerful, twin-cylinder rides in the AFT Twins presented by Vance & Hines division, and the competition in the 450cc AFT Singles division.
"We are very excited to kick-off our second season of AFT on NBCSN," NBC Sports Group Senior Director of Programming Jeff Macaluso. "The 2017 season provided us with some incredible racing and showed us how passionate the riders and fans are of this historic sport.
"The move to weekends this year, around other marquis motorsports properties, is sure to raise the level even higher."
Here's the 2018 AFT schedule on NBCSN:
| | | | | | |
| --- | --- | --- | --- | --- | --- |
| Round | Track, Location | Track Type | Premiere | Time (ET) | Time (PT) |
| 1 | Daytona International Speedway, Daytona Beach, FL | TT | Sun, 3/25 | 2:00 PM | 11:00 AM |
| 2 | Dixie Speedway, Woodstock, GA | Short Track | Sat, 4/14 | 5:30 PM | 2:30 PM |
| 3 | Texas Motor Speedway, Fort Worth, TX | Half-Mile | Sun, 5/06 | 4:00 PM | 1:00 PM |
| 4 | Calistoga Speedway, Calistoga, CA | Half-Mile | Sun, 5/20 | 12:00 PM | 9:00 AM |
| 5 | Turf Paradise, Phoenix, AZ | Mile | Sat, 5/26 | 3:00 PM | 12:00 PM |
| 6 | Cal Expo, Sacramento, CA | Mile | Sun, 6/03 | 2:00 PM | 11:00 AM |
| 7 | Illinois State Fairgrounds, Springfield, IL | Mile | Sat, 6/09 | 5:00 PM | 2:00 PM |
| 8 | Red Mile, Lexington, KY | Mile | Sat, 6/16 | 12:00 PM | 9:00 AM |
| 9 | Remington Park, Oklahoma City, OK | Mile | Sat, 6/23 | 5:00 PM | 2:00 PM |
| 10 | Allen County Fairgrounds, Lima, OH | Half-Mile | Sat, 7/07 | 2:30 PM | 11:30 AM |
| 11 | Weedsport Speedway, Weedsport, NY | Short Track | Sun, 7/15 | 6:00 PM | 3:00 PM |
| 12 | Buffalo Chip Campgrounds, Sturgis, SD | TT | Sat, 8/11 | 12:30 PM | 9:30 AM |
| 13 | Black Hills Speedway, Rapid City, SD | Half-Mile | Sat, 8/18 | 2:00 PM | 11:00 AM |
| 14 | Peoria Motorcycle Club, Peoria, IL | TT | Sat, 9/01 | 3:00 PM | 12:00 PM |
| 15 | Illinois State Fairgrounds, Springfield, IL | Mile | Sat, 9/22 | 2:30 PM | 11:30 AM |
| 16 | Williams Grove Speedway, Mechanicsburg, PA | Half-Mile | Sun, 9/23 | 5:00 PM | 2:00 PM |
| 17 | Canterbury Park, Shakopee, MN | Mile | Sun, 10/14 | 5:00 PM | 2:00 PM |
| 18 | Meadowlands Racetrack, East Rutherford, NJ | Mile | Sun, 10/21 | 2:00 PM | 11:00 AM |