In the immediate aftermath of the Firestone Grand Prix of St. Petersburg, Andretti Autosport's Zach Veach gave a highly critical assessment of his debut race with the team, describing it as "messy."
Now a couple weeks removed from St. Pete, Veach's analysis has softened somewhat, and he explained that the weekend had its positives, especially leading into the race.
"Our goals going into the weekend were to try and transfer to the Fast 12 in qualifying and then just work our way to get a top 15 finish and just get the first race out of the way," he explained to NBC Sports. "We missed out on transferring by four hundredths of a second after a little bit of contact on my fast lap, so I feel pretty good about (that). We would have definitely transferred to the Fast 12 if that didn't happen."
However, he continued to assert that his race not as clean as he wanted, highlighting early-race contact with A.J. Foyt Racing's Tony Kanaan as an example.
"The race was just a little messy on my part," Veach said. "I made a mistake there with Tony (Kanaan) thinking…he got off Turn 8 a little slow so I figured I had an opening there, but that didn't work out well for either of us."
Veach added that spending time away from racing – he ran only two races in 2017 – was a big factor in his rustiness.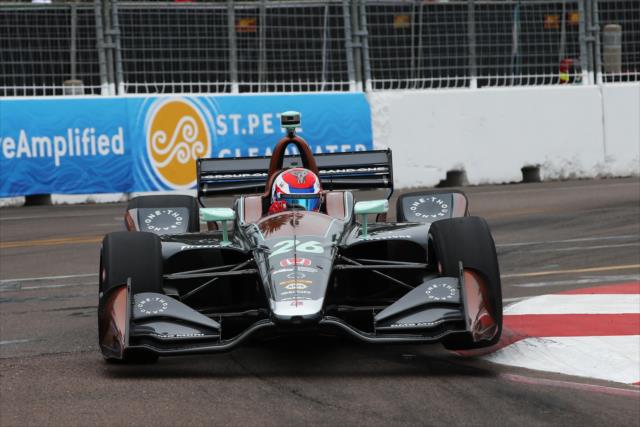 "I'm trying to hone everything in again," Veach revealed, adding that a pair of recent tests at Barber Motorsports Park and the Indianapolis Motor Speedway road course are evidence of progress.
"I think St. Pete was kind of the transition on that, because since then we've had two really strong tests (at Barber and Indianapolis), both kind of half days from weather, but we were tenth quick at Barber and had the speed to be in the Top 5 at the Indianapolis road course and made a small mistake. So, it's getting easier and the progression is where we want it to be."
Breaking back into the regular routine of racing has not been an easy task for Veach, whose career has been start-and-stop in recent years
In 2014, he was a race winner and championship contender in the Firestone Indy Lights Presented by Cooper Tires championship with Andretti Autosport, but did not have a full-time race seat in 2015.
He returned to Indy Lights in 2016, with Belardi Auto Racing, winning another three races on his way to fourth in the championship, but again could not secure a full-time seat in 2017, doing one-off races with Ed Carpenter Racing – he subbed for JR Hildebrand at Barber Motorsports Park, and A.J. Foyt Racing at last year's Indianapolis 500.
In terms of getting back into a rhythm, Veach thinks his 2016 Indy Lights season gives a hint about how long it could take.
"I noticed it firsthand in 2016 when I came back to Indy Lights with Belardi," Veach said. "We kind of struggled until we got our first win of the season and pole at Road America at the halfway point, and then from that point on we were leading laps and challenging for wins, going on to win two more races at the end of the year."
However, Veach is hopeful that the greater number of race weekends for the Verizon IndyCar Series means that progression will go much more quickly.
"I'm expecting, because we have a lot more races in IndyCar, that time should be about the quarter-way through the season than the half, but it definitely a takes a little bit of work to try to get that ball rolling again once it's been stopped," he expressed.
And that process has multiple layers.
"It's getting that physical condition," he said. "Just understanding how long these races are. It's getting that mindset that you need for long races. Just like your body, you have to have that mental conditioning, just getting into the habits of it."
He added, "And a lot of it comes down to that muscle memory. When you're driving the car, you're not necessarily thinking about driving the car when things are flowing perfectly. And I think, before you really get that momentum on your side, you're still thinking about driving a little too much. And that tends to hold you back a little bit, because you're just trying to reprogram all the reactions and the timing of brake releases and turn-ins and such. It's just sharpening everything."
Veach has been hard at work on the physical side for a while now and dramatically increased his muscle mass – he was previously one of the lightest drivers in the paddock – in preparation for 2018.
"We were able to gain close to 20 pounds (between) the Indy 500 and the very first test in January. It's taking less of my maximum effort to get the car around, which is helpful. All through testing, we felt great."
Veach's progress could also be helped by the nature of the 2018 aero kit, which he explains makes the car feel more like an Indy Lights car, in that it gives the driver much more feedback than the previous aero kits from Honda and Chevrolet.
"The new car races a lot like the Indy Lights car," he said. "And I say that from a standpoint of the old IndyCar was really hard to get that ultimate lap time out until you just had a lot of seat time in it because you had so much downforce, it was really hard to feel where the limit was."
He continued, "The new car, much like the Lights car, it's always dancing around from the get-go. So it's giving you a lot more feedback from the sense of you really kind of know where that line, that limit is. And you're just trying to manipulate it the best way possible."
As for expectations, Veach is using 2018 as a learning year, but does have some tangible goals he'd like to achieve by the end of the year. His next step in that direction is Saturday night's race at Phoenix and at Long Beach a week later.
"The big expectation is trying to just get that time and get that ball rolling again," he said. "But the end of the year goal is I want to at least have a couple of (Firestone Fast Sixes) under our belts. I'd like to finish in the Top 5 or even get a podium by the end of the year."