A busy month of April for the Verizon IndyCar Series kicks off this weekend with the Desert Diamond West Valley Casino Phoenix Grand Prix (April 7, 9:00 p.m. ET, NBCSN) at the newly rechristened ISM Raceway (formerly known as Phoenix International Raceway).
What's more, as the first oval race of the year, it will provide a glimpse into how the 2018 aero kit will perform on circuits that feature left turns exclusively.
Talking points ahead of Saturday's 250-lap affair under the lights are below.
New Aero Kit Meets its Toughest Task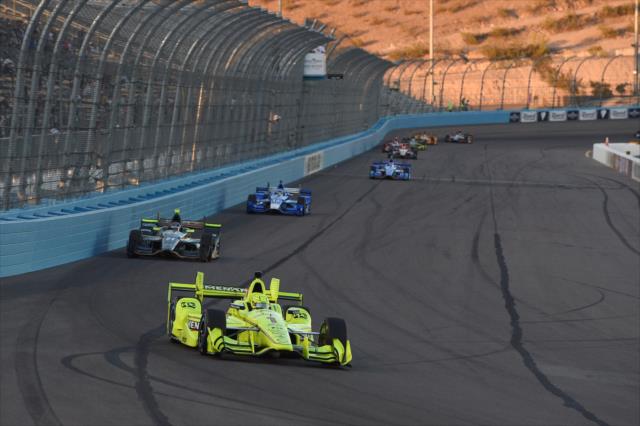 Perhaps no track was more negatively impacted during the aero kit era than ISM Raceway, with the events from 2016 and 2017 featuring a lot of single-file racing as drivers struggled to get close enough to each other for overtaking to be a regular facet.
However, two days of pre-season testing at the one-mile oval gave way to optimism that the new 2018 universal aero kit would improve matters, with tire wear also becoming a factor as drivers practiced long runs over the two days of testing.
Rahal Letterman Lanigan Racing's Graham Rahal firmly believes this year's race will be much better than the previous two.
"The new aero kit will make it much more competitive," Rahal asserted. "Everyone knows the struggles of the past, and somewhat of a split grid. That won't be the case this time. I think you are in for a long night and a very competitive race weekend."
Still, this week will likely be the toughest test for the 2018 aero kit in terms of its impact on the on-track product and its ability to improve overtaking. The season-opening Firestone Grand Prix of St. Petersburg was one of the best street course races in years, and if a similar race is presented at ISM Raceway, then it will be "mission: accomplished" in terms of improving the show.
Rahal Letterman Lanigan Look to Build on Fast Pace from Testing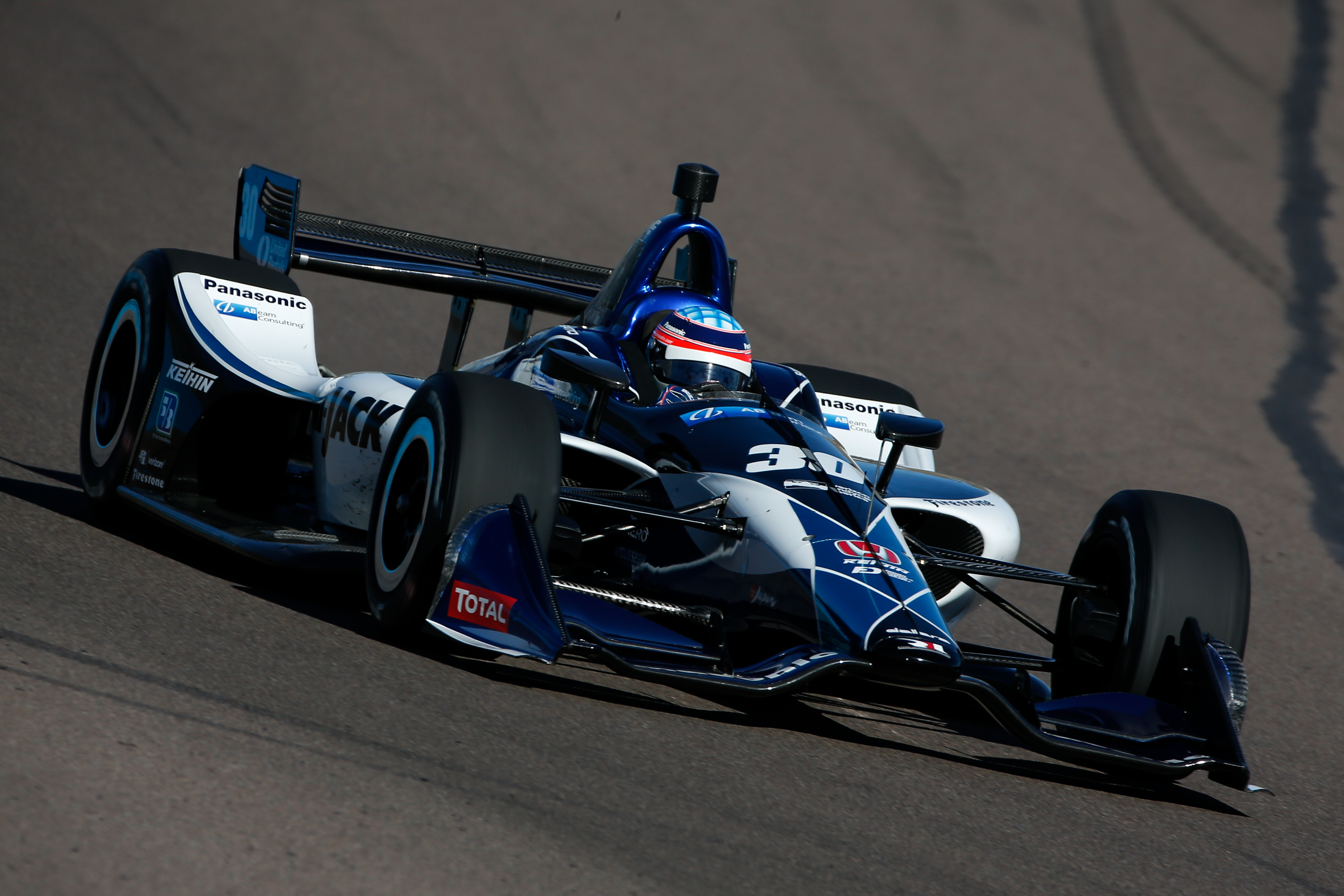 The RLL duo of Takuma Sato and Graham Rahal surprised quite a few people with their astounding pace in the aforementioned pre-season test. Rahal topped one session, while Sato topped the other three, with both demonstrating dominant speed that few saw coming.
"The car has pace. Both cars have pace, and so that's awesome," Rahal said after Day 1 of testing in February. "Trust me, to come here, Takuma and I were talking (the night before) and we were like, 'You know, I don't really like this place.We haven't had a lot of luck here the last few years, we're used to coming here and getting our butts kicked.' To be able to come here and be competitive with this aero kit is awesome. Obviously Honda has done a good job with the engines, but I mean it's competitive."
Teammate Sato shared a similar enthusiasm about their results at the test, and thinks that it gave them a great baseline on which to build entering the weekend.
"We had quite a successful open test in February. Obviously, the temperatures and conditions will be different but it gave us a very good indication of the new aero kit on the track there and we had a very productive test," Sato detailed ahead of this weekend's race.
How that testing pace will look over the course of a race weekend remains an unknown, but the RLL squad will be one to watch all weekend long.
Team Penske Looks to Rebound After Tough Start to 2018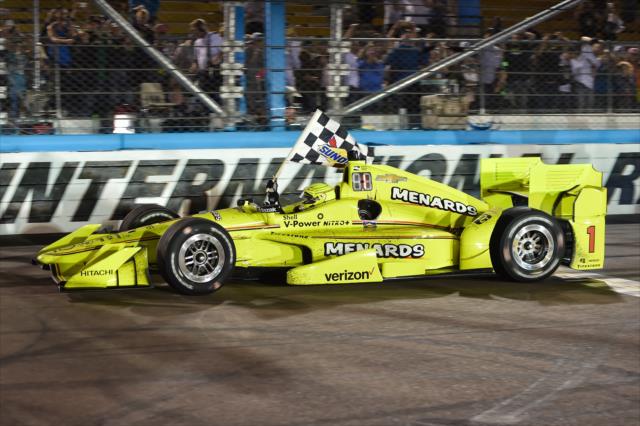 The powerhouse Team Penske stumbled out of the gates at the season-opening Firestone Grand Prix of St. Petersburg.
Defending IndyCar champion Josef Newgarden failed to advance out of the first round of qualifying, taking 13th on the grid, but was the highest finishing Penske car in seventh, overcoming a cut tire to do so.
Will Power qualified second, but spun in Turn 2 and bounced off the outside wall, damaging his rear wing and forcing an unscheduled stop for repairs. Power eventually finished tenth.
Meanwhile, Simon Pagenaud had an uncharacteristically quiet race that saw him finish 13th.
However, last year's Desert Diamond West Valley Casino Phoenix Grand Prix was a dominant one for the Penske operation, with Pagenaud leading Power in a 1-2 for the team, while Helio Castroneves finished fourth to make it three Penske cars in the top three. Newgarden finished ninth after sustaining damage to his front wing, but was a frontrunner the entire night.
Consequently, the Team Penske outfit is ready to right the ship after St. Pete.
"We didn't have the finish we wanted at St. Petersburg so I'm really looking forward to the weekend at ISM Raceway," said Power. "We found some great speed at our test there back in February and feel like we're going to bring a strong oval No. 12 Verizon Chevrolet for the race."
Teammate Newgarden echoed Power's desire for better results this weekend.
"We had a decent start to the season at St. Petersburg with a top-10 finish but we're hungry for more," Newgarden asserted. "We tested recently at ISM Raceway with the new aero kit and learned a lot that we can apply to our oval program for the season. Phoenix is a really fun market and the fans there always are really excited for the race weekend. Last season we had a decent finish there but we're ready to find a better result this year for the No. 1 Verizon Chevrolet."
Misc.
Sebastien Bourdais and Dale Coyne Racing made it back-to victories in St. Petersburg in March. Can they go one step further and go two-for-two in 2018 by winning at ISM?
Schmidt Peterson Motorsports had as strong of a weekend as they've ever had in St. Petersburg, with James Hinchcliffe finishing fourth while Robert Wickens dominated the race from the pole and looked set for victory before late-race contact with Andretti Autosport's Alexander Rossi. The SPM outfit should be a regular force on road and street circuits. But, will that form carry over onto short ovals?
Rookies Pietro Fittipaldi (with Coyne) and Kyle Kaiser (with Juncos Racing) make their IndyCar debuts at ISM Raceway this weekend. How will they do in their maiden IndyCar efforts?
The Final Word
From the defending race winner, Simon Pagenaud:
"I'm really excited to go back to Phoenix. While St. Petersburg did not go as we expected, I feel after testing at ISM Raceway earlier this year that the new aero kit is going to make some really exciting racing and I believe we prepared the No. 22 Menards Chevrolet really well for that event. Winning there last (year) with the Menards Chevrolet team was terrific. Phoenix is a fantastic market for INDYCAR and has really great support from the fans, so I can't wait to go racing full speed on this thrilling oval at ISM Raceway."
Here's the IndyCar Weekend Schedule:
At-track schedule (all times PT and local):
Friday, April 6
2-3 p.m. (5-6 p.m. ET)- Verizon IndyCar Series practice, Livestreamed on RaceControl.IndyCar.Com
5 p.m. (8 p.m. ET) – Qualifying for the Verizon P1 Award (single-car format, two laps each), LIVE on NBCSN
8-9 p.m. (11-12 p.m. ET) – Verizon IndyCar Series final practice, Livestreamed on RaceControl.IndyCar.Com

Saturday, April 7
6 p.m. (9 p.m. ET) – NBCSN on air
6:35 p.m. (9:35 p.m. ET) – Desert Diamond West Valley Phoenix Grand Prix (250 laps/255.50 miles), NBCSN (Live).
Here's last year's top 10:
1. Simon Pagenaud
2. Will Power
3. JR Hildebrand
4. Helio Castroneves
5. Scott Dixon
6. Tony Kanaan
7. Ed Carpenter
8. Charlie Kimball
9. Josef Newgarden
10. Carlos Munoz