Schmidt Peterson Motorsports' short oval program has typically not been their strong suit. Case and point: James Hinchcliffe's best finish in two starts at ISM Raceway was 12th last year – he was 18th in 2016.
The team car, driven by Mikhail Aleshin the last two years, hasn't faired much better, finishing 17th in both races, with Aleshin also spinning in Turn 1, Lap 1 to spark a pileup in last year's race.
Hinchcliffe and new teammate Robert Wickens also struggled at the ISM Raceway open test in February, turning in the 16th fastest (Wickens) and the 22nd fastest (Hinchcliffe) speeds across the weekend.
Combine that with the knowledge that Wickens is making his Verizon IndyCar Series oval racing debut this weekend, and it would have been understandable to overlook the SPM outfit.
However, both drivers ranked in the top ten in opening practice – Hinchcliffe was sixth while Wickens was tenth – and things only got better in qualifying, with Hinchcliffe taking fifth and Wickens right behind him in sixth.
In all, it was a solid start to the weekend for a team that has notoriously struggled on short ovals.
"A huge credit to the Schmidt Peterson Motorsports guys, because we did not have a great test here back in February," Hinchcliffe explained after qualifying. "Obviously, things have changed a lot conditions-wise, but we went back, had a big think about it, a big look inside ourselves. I just can't thank those guys and gal (engineer Leena Gade) enough for getting us good cars and getting us both up there – it's awesome."
Teammate Wickens even led qualifying briefly after his run, and revealed that he played it safe, meaning there may be more speed in the tank.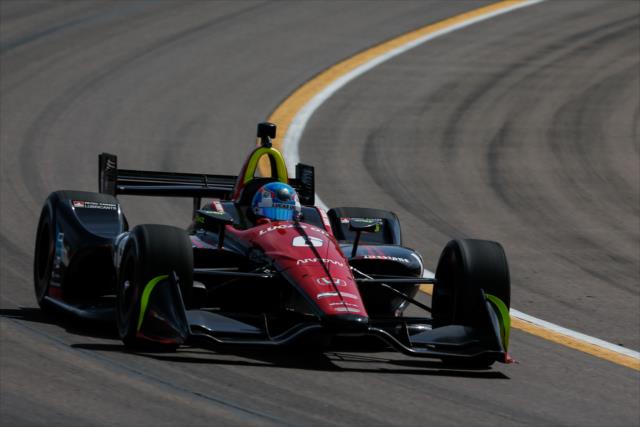 "I had my moment of fame there for a couple of moments (sitting in P1), but I'm pretty happy with the job that we did. The Lucas Oil car was good… it was my first oval qualifying. I was a little too safe on the first lap, especially when that kind of sets the mood for the whole run. I feel pretty good (on the oval). To be honest, that qualifying was the best I've felt so far, so I just wish I could give it another go," he revealed.
Both drivers will look to give SPM their best short oval result since Iowa Speedway in 2016, where the aforementioned Mikhail Aleshin finished fifth.