The 2018 edition of the Desert Diamond West Valley Casino Phoenix Grand Prix was the third Verizon IndyCar Series race on the one-mile ISM Raceway since the series made its return there in 2016. And while the previous two felt like blips on the radar of the 2016 and 2017 seasons, the 2018 version feels like it left a longer-lasting mark, not just for 2018 but possibly for beyond as well.
The race saw a powerhouse team reassert itself after stumbling at the Firestone Grand Prix of St. Petersburg, one driver confirm himself as a new star – and the team with which he competes also assert itself as a contender at every type of track, and a bit of late-race dramatics that produced a second consecutive thrilling finish.
Below is a recap of the big stories to emerge from the second IndyCar race of the 2018 season.
Newgarden's Victory Serves as a Strong Penske Rebound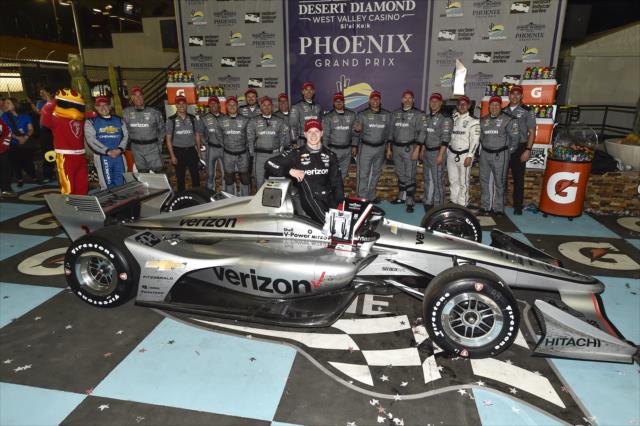 As has been previously written, Team Penske struggled mightily at the Firestone Grand Prix of St. Petersburg, with Josef Newgarden finishing seventh, Will Power tenth, and Simon Pagenaud 13th.
However, indications were that St. Pete was an anomaly, and that the Penske squad would assume its place near the front of the grid very soon.
It took exactly one race for that to happen.
Pagenaud qualified second, and ran there the entire first stint, and Power led a race-high 80 laps. While both stumbled later in the race – Pagenaud finished tenth after suffering a problematic first pit stop that dropped him to the back of the field, while Power brushed the wall and fell out of the race on Lap 153 – Newgarden flew the Penske flag high in Victory Lane.
Pit strategy netted Newgarden the lead in the last stint – the Penske team pitted Newgarden on Lap 176, the beginning of the final green flag pit stop cycle, and the fresh tires gave Newgarden a pace advantage that put him into the lead when stops concluded – and then he took advantage of more new tires following a caution for Ed Jones' crash on Lap 230 to retake the lead from Robert Wickens with four laps remaining.
The Victory is Newgarden's eighth of his career, and his fifth since joining Team Penske last year.
Newgarden was quick to defer all credit for the victory to his team.
"I think it was a team win tonight," he asserted in the post-race press conference. "I don't know that I deserved to win the race tonight, but I think the team did. They did a really good job on strategy, pit stops were unbelievable. I think I gained like five or six positions on just the first stop, which was awesome. They did a great job."
The victory also moves Newgarden, the defending IndyCar champion, into the championship lead with two races down in 2018. While it's still very early days in the season, it's hard not to envision Newgarden battling for a second consecutive championship all year long.
Wickens Confirms He Is IndyCar's Newest Star as SPM's Stock Continues to Rise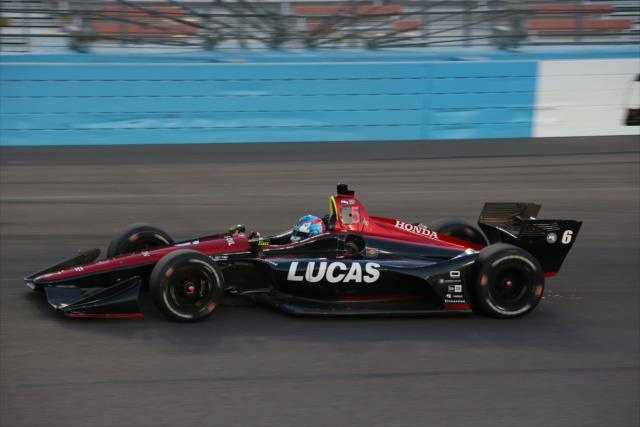 The saying goes that "Once is an accident, twice is a trend, and three times is evidence."
Given that Robert Wickens has demonstrated front-running pace for two races in a row – and at two completely different circuits – it establishes a trend that he is a rising star in his IndyCar rookie season.
As the most experienced and most decorated of the 2018 rookies, it is no surprise that Wickens is leading the way of the that group. However, the fact that he has demonstrated race winning potential this early – he is a combined six laps away from having wins in each of his first two IndyCar starts – is a genuine surprise.
And even though he has a twinge of disappointment in having missed out on victory for the second race in a row, Wickens is very happy with how his IndyCar career has begun.
"My goal coming into this (weekend) was to finish every lap. Even on that last restart, leading, knowing there is only the three of us (Wickens James Hinchcliffe, and Alexander Rossi) that stayed out, my thought process didn't really change. Even if I finished fifth, I would have been kind of, well, a little bit disappointed but still happy that I got even a top five on my first oval race," Wickens detailed in the post-race press conference.
He added, "I feel like I'm setting the bar a little bit high for myself. But I never would have expected the first two races to go as well as they did. Hopefully we can get our season going now."
And his prowess is quickly getting the attention of his competitors, including the most prominent drivers in the series, like race winner Newgarden.
"Robert has been one of the best drivers in the world I think for many years," Newgarden said of Wickens. "He probably should have been in IndyCar a lot sooner than this. People will argue that. He's a North American guy. One of the best out of Canada that we've had over the last 10 years, in my opinion. It's good to have him in the series. He deserves to be here."
What's more, Wickens' rapidly rising star is matched by the rapidly rising prowess of his Schmidt Peterson Motorsports team.
Perhaps no team went through as many changes as SPM did in the off-season, with several staff changes throughout the organization. For example, James Hinchcliffe's No. 5 Arrow Electronics Honda sees new faces like Leena Gade as his race engineer and Billy Vincent as his chief mechanic.
Add in Todd Malloy as the team's new technical director, and a number of other staff changes as well, and early-season expectations may have been somewhat muted outside the organization as they established chemistry with their new staff.
Yet, in addition to Wickens' success, James Hinchcliffe has quietly had a very strong start to the season, with finishes of fourth at St. Petersburg and sixth at ISM Raceway – and his ISM result could have easily been better had the strategy played out more in his favor.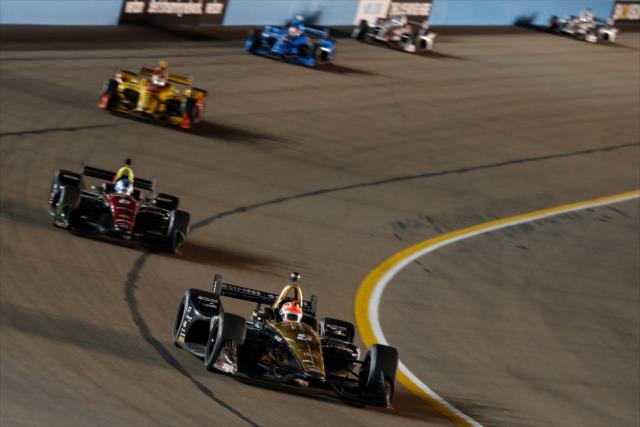 "Schmidt Peterson Motorsports have done an incredible job since the test here in February when we were at the bottom [of the time sheets], to get two cars in the top six in both qualifying and the race," Hinchcliffe said of the team's performance over the weekend.
For this team to be this strong immediately out of the gates after so many staff changes is an ominous sign for the rest of grid.
If they can keep this momentum going, both Wickens and Hinchcliffe will be genuine championship threats all year long.
New Aero Kit, Tire Wear Help the ISM Show, But Room for Improvement Remains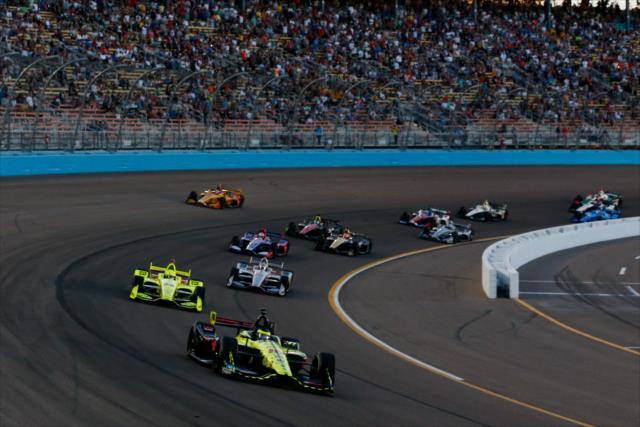 Rest assured, the 2018 event at ISM Raceway was the best of the three races that IndyCar has run there since 2016.
And the numbers indicate as much. There were 279 passes in this past weekend's race, 140 more than from 2017, and 50 more than from 2016.
Andretti Autosport's Alexander Rossi helped demonstrate the improvements in overtaking, as he put on a clinic in the second half of the race as he battled back from an early drive-through penalty after sliding into his pit stall and clipping a couple pit crew members on his first stop.
Relegated to outside the Top 20, Rossi was able to get back on the lead lap and rip through the field to end the race in third, making an astounding 53 passes along the way.
Further, an increase in tire wear created intriguing pit strategies that saw teams try to undercut each other during cycles of green flag pit stops.
Such a strategy presents an enormous gamble on short ovals as drivers will lose at least one lap, and likely two laps, by pitting under green, and an untimely caution can put paid to any hopes of a strong result.
However, no cautions ever interrupted the pit stop sequences, and the differing strategies jumbled the order in each cycle. Schmidt Peterson used it to put Hinchcliffe and Wickens into first and second on Lap 129, with Wickens then taking the lead on Lap 149.
Team Penske and Chip Ganassi Racing then used the same strategy on the next pit cycle, each pitting Josef Newgarden and Ed Jones as soon as the window opened on Lap 176, and they ran 1-2, with Newgarden leading, after that round of stops was complete on Lap 206.
And, of course, tire strategy set up the thrilling finish, with Wickens, Hinchcliffe, and Rossi staying out, while Newgarden, Ryan Hunter-Reay, Scott Dixon, and others pitted for fresh tires under the final caution.
Still, despite the improved on-track product, there remains room for more improvement, evidenced by the leaders' struggles to pass lapped traffic. And, once the order stabilized after the rounds of pit stops, passing still proved difficult for several drivers.
It remains unknown whether or not IndyCar will return to ISM Raceway in 2018 – their contract with IndyCar only ran through this season – but the hope is that the track will be on the 2019 calendar.
In the end, however, while the racing at ISM Raceway still has room for improvement, Saturday night's race was genuinely intriguing in several respects and is more evidence that the current package is most certainly a step in the right direction.
Misc.
Chip Ganassi Racing's Scott Dixon quietly had a stellar drive from 18th on the grid to finish fourth. It's been a quiet start to the season for the "Ice Man," but count out Dixon at your own peril. He'll be in Victory Lane soon enough, and it may come this weekend at the Toyota Grand Prix of Long Beach.
While Wickens starred in his first IndyCar oval race, fellow rookies Pietro Fittipaldi and Kyle Kaiser struggled and both of their nights ended after wall contact – Fittipaldi on Lap 40 and Kaiser on Lap 174. It was a tough baptism for both, but better days are surely ahead for them.
The testing prowess that Rahal Letterman Lanigan Racing had on display in February did not seem to translate over the weekend. Neither Graham Rahal nor Takuma Sato were factors at the front of the field, with Sato finishing 11th while Rahal ended up ninth.
The Verizon IndyCar Series continues a busy month of April this weekend with the Toyota Grand Prix of Long Beach (April 15, 4:00 p.m., NBCSN).