North of the border, it would not be a surprise if numerous IndyCar fans have proudly said recently, "Hey, how about that Wickens guy, eh?"
Indeed, what about this Wickens guy? He's not just a hot topic of conversation in his native Canada, but he's also got IndyCar fans in the U.S. talking a lot about the Toronto, Canada native.
The reason is simple: Robert Wickens has come out of the gate in his rookie season on the Verizon IndyCar Series in near-explosive fashion.
Sure, it's just been two races into the 17-race IndyCar schedule, but Wickens has performed better than many IndyCar veterans.
Consider:
* In his first-ever IndyCar race, last month in the season-opening Firestone Grand Prix of St. Petersburg, Wickens made it look easy as he grabbed the pole position.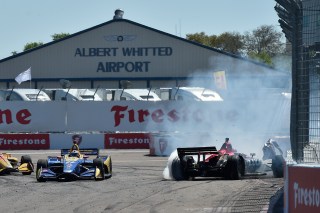 Then, he led 69 laps in the actual race and likely could have gone on and won it if Alexander Rossi hadn't punted him into the wall with two laps remaining, leaving him with an 18th-place finish that was nowhere indicative of the outstanding race he had run until those final two laps.
Again, remember that this was his first-ever IndyCar race, because there's another first that's coming up.
* This past Saturday night at Phoenix, in his first race ever on an oval track in any form of racing, Wickens started sixth and finished an outstanding second, leading 44 of the race's 250 laps.
Had Josef Newgarden not pitted for fresh tires late in the race, Wickens likely could have held on to the lead in the final seven laps to earn yet another first: his first IndyCar win.
"It's a dream come true," Wickens, driver of the No. 6 Lucas Oil Schmidt Peterson Motorsports Honda, said after Saturday's finish. "All I wanted to do was finish every lap of my oval debut.
"So, to come home P2 and even lead tonight, you can never expect that as a rookie. It's so hard here, but the team did a great job. The car was great all day. James (Hinchcliffe) and I were quick so I think it's really encouraging for things to come."
The 29-year-old Wickens did his best to hold off the approaching Newgarden. He blocked, he zigged and zagged, but there just was no way to keep Newgarden and his fresher rubber from taking the lead with four laps to go and then sail on to victory lane with a nearly three-second advantage over Wickens.
"I did as much as I could without crashing both of us, so I don't think there's any stopping him. I think once he built up the courage to just out brake me around the outside, it was pretty easy. Congratulations to him. … But I'm still happy with how it turned out."
Now, as the series moves on to this Sunday's Toyota Grand Prix of Long Beach, it would not be a complete surprise – based on what he's already done in the first two races – to see Wickens make quick work of getting that first IndyCar win.
Trust me, that first win is well within reach. If Wickens doesn't get his first win by, say, Indianapolis, I'll be very surprised.
Even more, if he keeps performing in the fashion he has done in the first two races, it would not be a complete shock if Wickens were to win the 102nd Running Of the Indianapolis 500 on May 27th.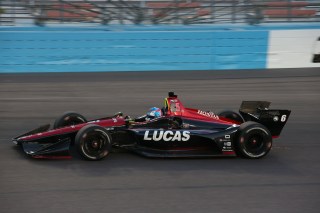 It's been a long time since IndyCar has seen a rookie be so successful so quickly. But it's not just success, it's how he's made it look so easily so often.
Wickens and Schmidt Peterson Motorsports teammate – and fellow Canadian James Hinchcliffe – have quickly developed a strong teammate rapport that has only made an already strong team even stronger.
Wickens and Hinchcliffe have been friends for most of their life, dating back to when they first started racing as young mites in their native land.
When Wickens first came to Indianapolis, he crashed with Hinchcliffe for a while before he found his own place.
They also have a great rapport off the track, cracking jokes and definitely making the aura around the team loose, easy and real friendly.
And it definitely appears that Wickens is rubbing off on Hinchcliffe and vice-versa.
Hinchcliffe finished fourth at St. Pete and sixth at Phoenix.
"Schmidt Peterson Motorsports have done an incredible job since the test here in February when we were at the bottom [of the time sheets], to get two cars in the top six in both qualifying and the race," Hinchcliffe said after Saturday's race. "Huge congrats to Robbie (Wickens) on his first podium."
It's kind of ironic at how well and quickly Wickens has adapted to IndyCar racing. He spent the previous eight seasons racing primarily in Europe.
Typically, when a driver decides to come over to the U.S. and IndyCar, they struggle – oftentimes a lot. Let's face it, adapting to U.S. open-wheel racing is a unique animal in and of itself, unlike anything else a driver has ever experienced, except maybe if they had an apprenticeship first in Indy Lights.
Wickens didn't have that, coming straight from Europe to IndyCar.
When Schmidt Peterson Motorsports first announced that they had signed Wickens to drive a second car for them alongside Hinchcliffe, it's very likely that many when they first heard the news responded, "Who?"
But Wickens has quickly shown that SPM made a near-genius move in signing him.
It's nothing short of ironic how things have turned out. Wickens was supposed to be a rookie and spend much of the 2018 season learning the IndyCar style of racing.
Instead, Wickens is taking many of the sport's veterans – guys like Scott Dixon, Will Power, Simon Pagenaud, Tony Kanaan, Graham Rahal, Ryan Hunter-Reay and Takuma Sato – to school and teaching them some very valuable lessons in the process.
Wickens is here to stay, to win races and potentially win championships.
What more can you say other than, yes indeed, how about that Wickens' guy, eh?
Follow @JerryBonkowski