Verizon IndyCar Series star driver James Hinchcliffe is known for doing a lot of unconventional things, but this could be the most unconventional thing of all.
Hinchcliffe on Wednesday night held an IndyCar first: a news conference that took place underwater, originating from the Aquarium of the Pacific in Long Beach, California, which borders part of the street course that will host Sunday's Toyota Grand Prix of Long Beach IndyCar race.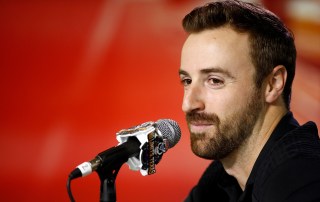 The Canadian driver is an accomplished and certified scuba driver. He took routine questions about what he hopes for and expects at this weekend's race, albeit in an anything but routine setting.
The news conference was open to be viewed by the public on Explore.org in a continuous live stream from Aquarium of the Pacific's Honda Blue Cavern.
Hinchcliffe, driver of the No. 5 Arrow Electronics SPM Honda, has been an avid scuba diver for two decades.
"I went diving when I was 10 on a family vacation, and fell in love with it right away," the 31-year-old Canadian told IndyCar.com. "It took a couple years to get back to it just due to opportunity, but once I had the freedom to do it, I got certified, got a couple advance certifications as well.
"For me, it's the ultimate escape. It's the exact opposite of my life at the racetrack. It's exciting for me to get to be part of something like this."
Hinchcliffe wore a microphone and a listening device inside his wet suit and answered media questions posed to him. When he was originally asked to do the unique promotion, Hinchcliffe quickly replied in his own inimitable fashion:
"I jumped in with both fins," he said.