A busy month of April that features three consecutive race weekends for the Verizon IndyCar Series continues this weekend on the famed streets of Long Beach, California for the Toyota Grand Prix of Long Beach (Sunday, 4:00 p.m. ET, NBCSN).
The most iconic street race on the schedule, Long Beach is second in prestige only to the Indianapolis 500 in the IndyCar ranks, so a win at Long Beach is a big feather in the cap to get.
Like all street courses, passing can be a challenge at Long Beach. Unlike other street courses, cautions can be few and far between – the 2017 race had only three, and the 2016 race ran without any yellows at all.
The two facets combine to put a premium on qualifying.
The race has also seen six different winners in the last six years: Will Power, Takuma Sato, Mike Conway, Scott Dixon, Simon Pagenaud, and James Hinchcliffe, and plenty of other big names have yet to add theirs to the list of Long Beach winners.
Talking points ahead of Long Beach are below.
Two Stops or Three? That Is the Question.
At 85 laps in length, the Toyota Grand Prix of Long Beach presents two distinct options for pit strategy: two stops, in which you'll need to save a little bit of fuel but can save a pit stop, or three stops, with which you can run at a much faster pace in hopes of making up for time lost with the extra pit stop.
Last year's race saw most of the field opt for three stops, though a handful, namely drivers running at the very front, went with two. For example, James Hinchcliffe used a two-stop strategy to get to Victory Lane last year, while second and third place finishers Sebastien Bourdais and Josef Newgarden used three stops.
It should also be noted that Ryan Hunter-Reay and Alexander Rossi were podium contenders with two-stop strategies before mechanical gremlins befell both of them.
Using 2017 as an indicator, it would appear those at the very front of the field may go with two stops, while those outside of the Top 5 could go for three.
Which strategy will work depends on if and when cautions fall, but Long Beach again appears to be set for a battle of strategic wits.
Schmidt Peterson Looks to Continue Early-Season Form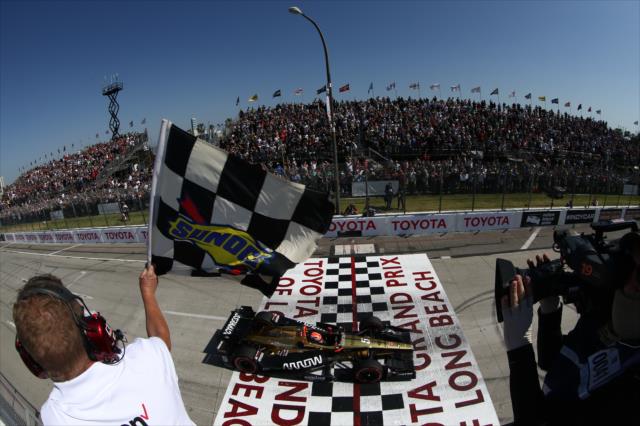 The early-season prowess of Schmidt Peterson Motorsports has been well-documented.
Robert Wickens has emerged as a rising star in his first IndyCar season, while James Hinchcliffe has amassed finishes of fourth and sixth in the opening two races – and he could have finished higher up in both races under different circumstances.
"Life right now in INDYCAR is pretty good," Wickens quipped about his early IndyCar success. "I definitely can't complain with how competitive we've been in the first two races. Long Beach is going to be a new challenge. We're going to have to start from zero again, but I'm really happy with where we are as a team and how we're working together. Hopefully, we can keep this little run of performance going and try to score some good points in the Lucas Oil car."
What's more, Hinchcliffe and SPM are the defending Long Beach winners, and come into the weekend riding a wave of momentum and confidence.
"I always say this, but we look forward to Long Beach every year. It's one of the greatest events on the calendar, one of the longest-running events, one of the best attended… it's definitely a highlight of the year," Hinchcliffe said of his enthusiasm for Long Beach.
"Last year was obviously pretty special taking the win! The entire team has had a really strong start to the season, and St. Pete went well for us, so we're cautiously optimistic that our street course package is going to be strong. That said, Long Beach is a different racetrack than St. Pete, and with this new car, everyone is constantly improving, so we're certainly not taking anything for granted."
Both drivers appear to be early championship contenders, and they'll look to continue their strong form at Long Beach.
Andretti Autosport Looks to Rebound from 2017 Long Beach Heartbreak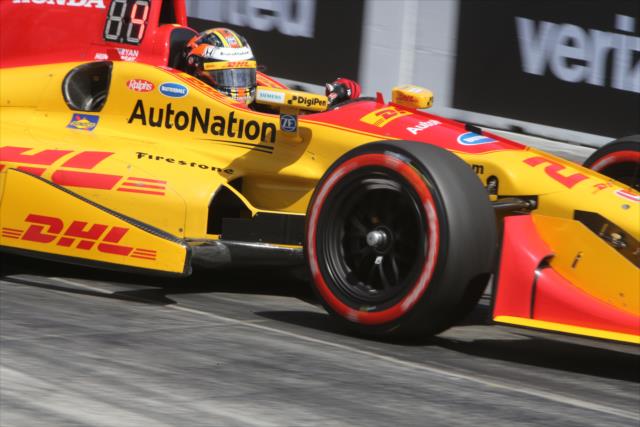 Long Beach in 2017 looked set to be a strong showing for the Andretti Autosport squad, with Ryan Hunter-Reay starting third, Alexander Rossi starting fifth, and Marco Andretti starting tenth. Then Andretti driver Takuma Sato qualified 18th, but as a former Long Beach winner, Sato was certain to be a factor.
But, everything fell apart in the race as all four dropped out with mechanical trouble: Marco Andretti on Lap 17, Rossi on Lap 62, Sato on Lap 78, and Hunter-Reay in the final laps as he ran second behind James Hinchcliffe.
In 2018, Andretti Autosport hopes to take their speed from 2017 and turn it into something much better, as Hunter-Reay described.
"Long Beach is one of my favorite races of the year," said Hunter-Reay, a former Long Beach winner. "It's one of the cornerstone events for the series with a great fan base and great racing. We have a win there from 2010, started on pole in 2014 but still feel like we have unfinished business after last year with the car shutting off on us while running up front. We have some work to do. We have two top-five finishes so far this year, but we're not satisfied with that, which is a good thing."
Teammate, and California native, Rossi echoed Hunter-Reay sentiments about realizing last year's potential.
"It is hard to beat the atmosphere and energy of Long Beach. With it being a Southern California race, it is sort of a home race for me, so I will have lots of friends and family down for the weekend. We will be looking to finish what we started last year and hopefully, we can put the NAPA AUTO PARTS Honda on the top step," Rossi explained.
Misc.
A handful of rookies who did not run at ISM Raceway return to the grid at Long Beach. Zachary Claman De Melo, Jordan King, and Jack Harvey will all look to build on foundations laid on the streets of St. Petersburg as they make their second IndyCar street race starts. Elsewhere, Kyle Kaiser makes his first IndyCar start on a street circuit this weekend.
Both Spencer Pigot and Graham Rahal will have new liveries this weekend. Pigot's No. 20 Chevrolet will feature the blue paint scheme of Preferred Freezer Services, a long-time partner with Ed Carpenter Racing, while Rahal's No. 15 Honda is adorned with Total Motor Oil's red, black, and white.
Conversely, the Team Penske duo of Josef Newgarden and Will Power will again feature identical silver liveries on their Nos. 1 and 12 Verizon Chevrolets.
The Final Word…
From Sebastien Bourdais, who is the winningest active driver at Long Beach, with three victories on the famed streets to his name.
"Long Beach is historically a track where I have had a lot of success and I have always enjoyed racing there. It is a great event. It's going to be a matter of finding the two or three tenths of a second we were missing at St. Petersburg. Obviously, we're in it (the championship race) so we just need to keep digging and see where we can take things, but it seems pretty clear that we have a good shot. We were obviously competitive at St. Pete, but I really wasn't expecting us to be that strong at Phoenix. So we will just keep working and see how far we can go."
Here's the IndyCar Weekend Schedule:
At-track schedule (all times PT and local)
Friday, April 13

10-10:45 a.m. (1-1:45p.m. ET)- Verizon IndyCar Series practice 1, Livestreamed on RaceControl.IndyCar.Com
2-2:45 p.m. (8 p.m. ET) – Verizon IndyCar Series practice 2, Livestreamed on RaceControl.IndyCar.Com
Saturday, April 14
10:45-11:30 a.m. (1:45-2:30 p.m. ET) – Verizon IndyCar Series practice 4, Livestreamed on RaceControl.IndyCar.Com
3:30 p.m. (6:30 p.m. ET) Qualifying for the Verizon P1 Award (single-car format, two laps each), LIVE on NBCSN
Sunday April 15
9:00-9:30 a.m. (12:00-12:30 p.m.) – Warm-up, Livestreamed on RaceControl.IndyCar.Com
1:00 p.m. (4:00 p.m. ET) – NBCSN on air
1:40 p.m. (4:40 p.m. ET) – Toyota Grand Prix of Long Beach (85 Laps)
Here's last year's top 10:
1. James Hinchcliffe
2. Sebastien Bourdais
3. Josef Newgarden
4. Scott Dixon
5. Simon Pagenaud
6. Ed Jones
7. Carlos Munoz
8. Spencer Pigot
9. Helio Castroneves (pole)
10. Graham Rahal
Here's last year's Firestone Fast Six:
1. Helio Castroneves
2. Scott Dixon
3. Ryan Hunter-Reay
4. James HinchCliffe
5. Alexander Rossi
6. Graham Rahal