LONG BEACH, Calif. (AP) — James Hinchcliffe made no secret of who he wanted as his new IndyCar teammate, lobbying hard for his childhood friend from Canada.
It wasn't an easy sell because Robert Wickens had zero IndyCar experience, and after racing six seasons in Germany, he was hardly a household name. Hinchcliffe fought hard, though, and got his buddy at Schmidt-Peterson Motorsports this season.
After two races, Hinchcliffe has proven to be an impeccable talent scout.
"I keep telling everyone `I told you so,"' Hinchcliffe told The Associated Press.
Wickens has had an unbelievable start to his IndyCar career and could have gone into round three, Sunday's race on the streets of Long Beach, with two victories already. He won the pole in his debut at St. Petersburg, led 69 laps and was on his way to the win until Alexander Rossi spun him on a late restart. He was the leader last Saturday night in Phoenix on the final restart until Josef Newgarden passed him for the win on fresher tires.
Wickens has a pole, a podium finish and has led 113 of IndyCar's 360 laps this season.
"Everyone thought I just wanted my buddy on the team, no one believed me when I said `No, this guy is really, really good,' " Hinchcliffe said.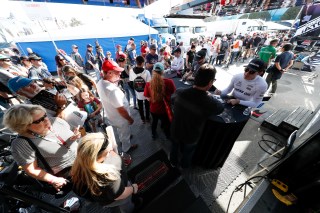 The all-Canadian lineup has been a hit for the Schmidt team, which has shown through two races to have strong, fast Honda-powered cars. Hinchcliffe is sixth in the standings and Wickens is eighth, just 20 points behind leader Newgarden.
"It's been a dream start, minus two laps at the end of St. Pete," Wickens told AP. "But you can't take this as this is how it's going to be all year. Motorsports changes so quickly. We've been in the hunt, we've been in the fight, and I think it's caught a lot of people by surprise, including myself. But I'm not lying when I say I am learning as a I go."
So who is this Wickens guy?
He met Hinchcliffe in Toronto when the two were racing go-karts but his career took him to Europe, where he spent the last 12 years. Six of those were in DTM with a factory-backed Mercedes team and Wickens was a star.
But he was homesick and found himself flying from Germany to Toronto every chance he could get.
"Living in Europe for 12 years, it took a toll. I was spending more and more time in Canada. I was flying 10 hours home to Toronto for five days, then flying back to the next race," Wickens said. "My whole core of my life was still over there and I was more or less commuting to work."
His goal was to return to racing in North America and move into an endurance series with a less hectic lifestyle, he just wasn't sure when that day would come. When Mercedes said it was leaving DTM at the end of this year, it gave Wickens his opening.
Hinchcliffe had already started his recruiting job – the two had done a ride swap in early 2017 that gave Wickens his first time in an Indy car, and when Schmidt needed an emergency replacement driver last year at Mid-Ohio, Wickens got the call for the practice day – and Wickens was interested. Now he's got the job and the Schmidt team finally has a strong and balanced two-car team.
Wickens doesn't discount his friendship with Hinchcliffe as a source for the success.
"James and I grew up karting together and had a friendly relationship of `Anything you can do, I can do better,' " Wickens said. "Our off track relationship over our careers has definitely made us better drivers. We are super competitive on track and we fight for every inch. But driver debriefs, engineering meetings, we like the same race cars, which is a dream situation within a team so we don't have work on certain things for him, certain things for me. We can just build a race car. It's just a really good situation."
As Wickens spoke, Hinchcliffe crept up behind him and blew in his ear. Wickens continued speaking, not even turning to see who was breathing on his face. He was unshaven, he said because the Maple Leafs had an NHL playoff game, and confirmed Hinchcliffe's declaration that "like all true Canadians, Rob can open a beer bottle with whatever is on his person."
The duo went to a sporting goods store in Long Beach to purchase hockey sticks in honor of the 16 Canadian members of a junior hockey team killed last week in a bus crash traveling to a game. The two plan to have all the drivers in Sunday's race sign the sticks, then auction them to raise funds for the victims. It's part of their Canadian spirit and hit close to home for both drivers.
"We were in Phoenix and I went to sleep Friday night and woke up to devastating news the morning of the race," Wickens said. "They were all on that bus for their passion for hockey, doing what they love. Canadians are so supportive and passionate about what they love and we are a hockey nation. But you can think, in any situation, James and I have traveled to races on chartered buses and chartered flights, and it can happen to any sport. That it happened in hockey is just luck of the draw. It's hard to swallow."