If Josef Newgarden starts on the front row for Sunday's 44th Toyota Grand Prix of Long Beach, don't be surprised if he looks for Dario Franchitti when he goes into Turn 1 after the green flag drops.
Newgarden is still kind of haunted by how his first attempt at Long Beach in an Indy car went back in 2012. Newgarden started on the front row for that race, alongside pole-sitter Franchitti, when Newgarden attempted to make a bold move to the outside heading going into Turn 1 to try and pass Francitti and take the early lead.
It proved, in hindsight, to be a very bad move, as Newgarden went into the turn too hard, too fast and too wide, touched wheels with Franchitti, and bounced into a tire wall.
End of story, end of race for Newgarden, who finished last in the 26-car field, managing to go just several hundred feet before his day was done.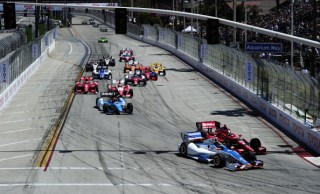 Franchitti, meanwhile, saw his day spoiled by the contact, but still managed to finish 15th, three laps down to race winner Will Power.
Even though that incident happened six years ago, Newgarden, who drove for Sarah Fisher Hartman Racing in his rookie IndyCar season, still remembers it as if it happened yesterday.
During Friday's media availability between the two IndyCar practice sessions, Newgarden was asked what he remembered about his run-in with the now-retired Franchitti.
"The number one thing I learned there was do not try and pass Dario Franchitti," Newgarden said. "It was my inexperience and not knowing that was a bad decision.
"The more you drive, the more you get to learn your competition, the more you know what to do and what not to do around certain people, and obviously that was a bad decision against Dario.
"He obviously didn't look at it very well, and you saw what happened. If I learned anything, it's that, know your competition."
Newgarden obviously did go on to not only know his competition well, he achieved the sport's highest honor by winning the 2017 IndyCar championship, and won last Saturday's second race of the 2018 season at Phoenix.
Here's a refresher for Newgarden, in case he needs it for Sunday's race (the contact comes at about 37 minutes and 35 seconds):