Alexander Rossi was a man on a mission, wasting little time to capture the pole for Sunday's Toyota Grand Prix of Long Beach during Saturday's qualifying on the 1.968-mile, 11-turn street course on the streets of Long Beach.
But then again, there wasn't really a lot of time left to waste for Rossi and his Honda to record the top elapsed time of the field (1:06.5528).
While other drivers went out on-track earlier in the Firestone Fast Six session, Rossi waited until less than two minutes to go to take to the track for his pole attempt, hoping to capitalize on the track cooling off in the later stages of the afternoon – and that strategy worked.
It was Rossi's second career IndyCar pole position. In his previous pole (at Watkins Glen last year), he went on to win the race. Will history repeat itself on Sunday?
"The team's just doing a great job," the Andretti Autosport driver told NBCSN. "Hats off to all of them, to Honda, to everyone who's put in so much effort. The big job is tomorrow, so we have to execute that. We feel like we've given up two potential wins (in the first two races of the season), so let's not to try and do that tomorrow."
Will Power qualified P2 (1:06.9054), followed by teammate Simon Pagenaud (1:06.9107), Scott Dixon (1.07.0483), Graham Rahal (1:07.1275) and Josef Newgarden (1:07.1922).
"I'm happy to be on the front row," Power said. "You almost have to scrape the wall on every exit to get the most out of the car. It's a lot of fun, the car's moving around, who needs downforce (he said with a chuckle)."
Added Pagenaud, "That's the first time I've had the car I want it to be (in the first three races). We're creeping up and slowly learning the limits. I think there's a little bit more lap time in there. We're right there. If we take care of the tires in race time, I think it'll be an exciting race."
Dixon said, "It's been a tough weekend for us. We started really well and then had a few issues through the other sessions and made some pretty big wholesale changes to the car. … I think we were looking good for second, maybe shooting for the pole, but locked up going into (Turn) eight and lost all the time and had to abort the lap. I'm looking for a good result tomorrow."
Rahal had a much better qualifying effort than his last-place start in the season-opening race at St. Petersburg last month. His effort Saturday gave him his best qualifying start at Long Beach since his first-ever race there back in 2007, when he also started fifth.
"Yeah, it's been a while," Rahal told NBCSN. "We obviously were awful at St. Pete. If that's your last baseline on a street course, you never know what you're going to get when you come into a weekend like this. We didn't have the ultimate pace like others did, but we have tires for days tomorrow.
"Strategy-wise, I think the race will be a lot more fun for fans to watch. This isn't going to just be a fuel mileage race as it historically has been. This new car is so much more fuel efficient, you're going to be able to do this thing on two stops. So I think it's going to be a lot more fun and we'll be able to go to battle right away."
Late in the final Fast Six session, Newgarden hit the wall ahead of Rossi, bending his suspension, but wisely moved out of the way to allow Rossi to go by.
"I just ran out of talent momentarily," Newgarden told NBCSN. "I was trying to maximize that first lap, even though I knew the second lap was really the lap we needed to hit. I got a bit of a slide in the entry and tried to stay in it, which was a mistake, and then I clipped the left rear. The toe was bent and we had to pit.
"It's tough making mistakes. We just have to try and work a little bit harder tomorrow. I made it a little bit tougher for where we have to start. … As long as we're smart at the start and execute our pit stops, I think we'll be fine."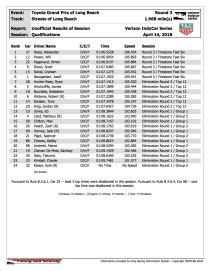 Also during the qualifying rounds:
* Rookie Robert Wickens fell short of making the final six for the Firestone Fast Six after grazing the wall. "I just pushed a little too hard and pressed the wall at the exit of Turn 4 and bent the rear toe-link, so we had to bring it back in," Wickens told NBCSN. "It's a shame but when you're pushing on the limit trying to get into the Fast Six, you risk everything. We went a little bit too far on that one."
* During qualifying for the Firestone Fast Six, veteran driver Ryan Hunter-Reay, who has had one of the quickest cars of the weekend, received a penalty for failure to go over a transponder for the timing loop while exiting pit lane.
* During Group 2 qualifying, rookie Kyle Kaiser hit the Turn 9 wall and caused significant damage to his suspension, including leaving debris on-track.
* At the end of Turn 1 during his qualifying turn, Marco Andretti spun with less than a minute to go and failed to make the 12-car field to run for the Firestone Fast Six. Former Andretti Autosport teammate Takuma Sato was not happy with Andretti, blaming him for Sato being unable to make the 12-driver field for the Firestone Fast Six qualifying.
* During the start of qualifying for the Firestone Fast Six, Will Power was not happy at how Rossi appeared to jump the crowd to get out on-track. Power and Team Penske reportedly called for a penalty, but none was issued.
The 44th annual Toyota Grand Prix of Long Beach takes place Sunday. The final driver warmup occurs at 12 p.m. ET/9 a.m. PT.
The green flag for the event is expected to drop around 4:40 p.m. ET/1:40 p.m. PT.
Catch all the action on NBCSN, starting with the pre-race show at 4 p.m. ET/1 p.m. PT.