Fans of the Mazda Road to Indy Presented by Cooper Tires had lots of reasons to cheer in the final stages of the Toyota Grand Prix of Long Beach, as two recent MRTI graduates featured prominently in a hard-fought battle for the final spot on the podium.
Chip Ganassi Racing's Ed Jones, the 2016 Indy Lights champion, dueled Andretti Autosport's Zach Veach, a multi-race winner in Indy Lights in his own right, late in Sunday's race for third place after both enjoyed quiet races, but strong finishes that saw them avoid all mishaps to run up front at the end.
Veach tried to pass Jones a couple times, even getting close with an outside move entering Turn 9, but Jones ultimately held him off to take his first podium finish since last year's Indianapolis 500, where he also finished third.
For Jones, it serves as a nice rebound from a tough Desert Diamond West Valley Casino Phoenix Grand Prix, in which he crashed late in the race while running in second.
"It's been an up-and-down start to the season for me with Chip Ganassi Racing," Jones said after the race. "It's a big move for me after my rookie season. We struggled this weekend early on, especially on Friday.
"We made some good jumps for Saturday, but we still qualified 13th, which wasn't good enough. But you know, the guys played a great strategy and did great pit stops, and a little bit lucky with the yellows, as well, to be able to end up third."
For Veach, despite just missing out on a podium, there was plenty to be happy about in finishing fourth.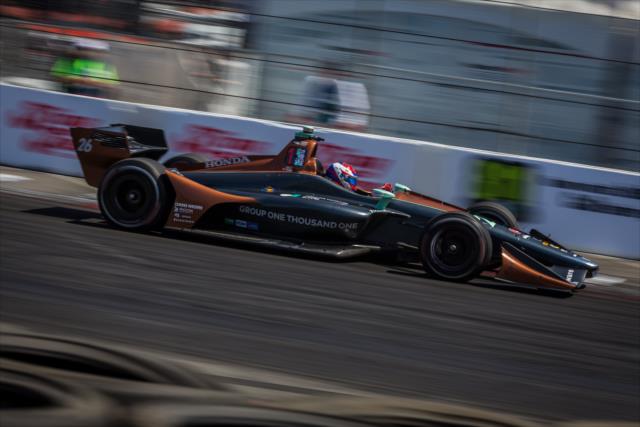 "(Fourth) feels like a win, to be honest," said an elated Veach, who credited the No. 26 Group One Thousand One Honda team for helping him rebound from a tough opening two races.
"The crew was pushing me pretty hard at the end to try to get on the podium but … after St. Pete, after Phoenix, we've just been chipping away on it and we took a big swing at it today," Veach said. "I've got to thank my Group One Thousand One guys, honestly.
"I kind of made a mishap in qualifying to put us 16th. Today we had great strategy, great stops. They got me to where I could capitalize on it so this is more for them than me."
Jones and Veach will look to build on their Long Beach successes next Sunday at the Honda Indy Grand Prix of Alabama at Barber Motorsports Park.