Sunday's 44th annual Toyota Grand Prix of Long Beach, the third race of the 2018 Verizon IndyCar Series season, was also the middle weekend in a strong of three straight races for IndyCar in the month April.
Last week's Desert Diamond West Valley Casino Phoenix Grand Prix kicked off the month of April with a bang, and that momentum continued in Long Beach, with the race winner adding yet another crown jewel to his still young IndyCar career, a slew of late-race dramatics creating a few surprises in the finishing order, and even a couple strong comeback drives.
Below if a recap of the major stories that surfaced exiting IndyCar's weekend at "The Beach."
Alexander Rossi Confirms Status as IndyCar Star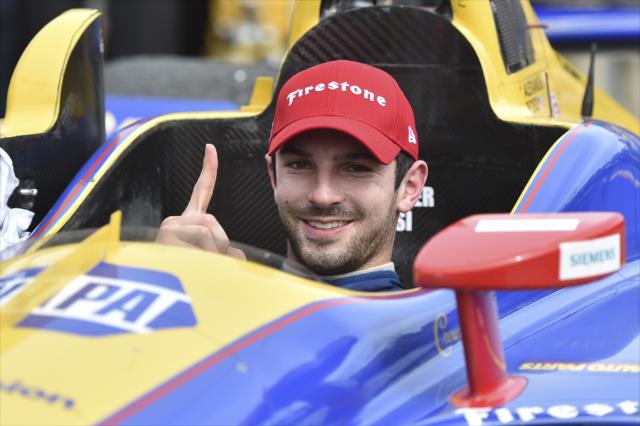 It's hard to believe that Alexander Rossi is only 26 years old. The California native got his first taste of Formula 1 in 2009 with the old BMW Sauber F1 Team (now the Alfa Romeo Sauber F1 Team) as a reward for winning the 2008 Formula BMW Americas championships.
Fast forward to 2015 and Rossi, a long-established race winner in what is now the FIA Formula 2 championship, got his crack at an F1 race seat with the Manor Marussia F1 Team.
In 2016, his first in the IndyCar ranks, he captured the sport's biggest crown jewel, winning the 100th running of the Indianapolis 500. In 2017, he followed that up with a victory at Watkins Glen International, another iconic racing venue in the U.S. that confirmed his status as a budding star.
And this past weekend, he confirmed that he has moved past the "budding star" moniker and is becoming as high-profile a driver in IndyCar as anyone currently on the grid.
Rossi's weekend at Long Beach was one of absolute dominance. He was fastest in two of the first three practice sessions – the one he didn't lead was opening practice on Friday, in which he ended up third – captured the pole for Sunday's race, was fastest in the final warm-up, and led 71 of 85 laps on his way to victory.
Further, he only surrendered the lead during cycles of pit stops, and at times held a lead of over nine seconds, with the field only closing up during a string of late-race caution periods. Yet, despite losing his enormous lead multiple times due to the aforementioned yellows, Rossi always managed to power away on every restart, and made his charge to victory look seemingly easy.
And to win in California, his home state, made his triumph all the sweeter.
"It's pretty hard to put into words honestly what it means," Rossi revealed in the post-race press conference. "This one, even though it's not my true home race, it really feels like one, and the crowds here and just the whole atmosphere is so welcoming and inviting that it's no surprise that this race has been on the calendar for so long. It's a pleasure to be able to come here and race, first of all, and to be able to win here is pretty special."
What's more, Rossi now leads the championship with 126 points, 22 ahead of second-place Josef Newgarden, doing so on the back of finishes of third, third, and first in the opening three races.
While the season is only three races old, Rossi has asserted himself as an early championship contender, and such competitors as second-place finisher Will Power have taken notice.
"I think (Rossi) is going to be tough to beat in the championship," Power said. "He's definitely what I'd call a standout of the field right now in every respect."
There is still plenty of racing left in 2018 (14 more races), but Alexander Rossi has quickly asserted himself as a championship favorite.
Surprises and Comeback Drives Abound in the Top 10
It was hardly a surprise that Alexander Rossi and Will Power, two of the best drivers on the IndyCar grid, finished first and second in Long Beach.
Behind them, however, a number of surprises came to the surface, especially in the Top 10.
Ed Jones and Zach Veach had quiet but solid races that also saw strategy and cautions fall their way, resulting in finishes of third and fourth for the pair of IndyCar young guns.
Graham Rahal rebounded from an early-race, drive-through penalty – incurred after contact with Simon Pagenaud on Turn 1, Lap 1 – to finish fifth after going off strategy and demonstrating strong race pace, along with being on the receiving end of some timely cautions to help he and Rahal Letterman Lanigan Racing's strategy.
Marco Andretti started a lowly 20th, but also capitalized on strong pace and timely cautions that helped his strategy to finish a strong sixth.
However, just as many drivers suffered misfortune that dropped them from contention.
Sebastien Bourdais had the speed to finish on the podium, and he may have had the pass of the car in getting by then second-place runner Scott Dixon and the lapped cars of Spencer Pigot and Matheus Leist in one move.
But Bourdais was ordered to give the spot back to Dixon after it was determined he crossed into the pit exit lane to complete the pass, and while he quickly regained the position, a Lap 60 caution for a crashed Zachary Claman DeMelo saw him fail to enter pit lane before it was closed, this after contenders like Rossi had already pitted, forcing him to drive through and complete his full-service stop under caution.
Bourdais restarted in 11th, and ended up getting spun off the nose of Jordan King in the Turn 11 hairpin with 14 laps remaining, and he dropped to 13th at the end.
Dixon, too, was bitten by the Lap 60 caution, and a miscommunication saw his No. 9 PNC Bank Chip Ganassi Racing team complete a pit stop under a closed pit lane, netting them a penalty when racing resumed. Dixon ultimately finished 11th.
Ryan Hunter-Reay, meanwhile, had a day to forget. Despite showing speed that could have seen him battle for a podium finish, Hunter-Reay was saddled with a string of misfortune. He clipped the left-rear of Dixon entering Turn 1 after the race start, damaging his front wing and forcing a nose change.
He climbed all the way back into the Top 5 before suffering a cut right-rear tire after a Lap 47 restart, and his day finally came to an end with four laps remaining after he made contact with the wall.
All told, Long Beach as its typical chaotic self, which resulted some new names finishing near the front, while expected contenders were left wanting for more.
Notes:
After a stellar opening two races, Robert Wickens came back to Earth somewhat in Long Beach. He qualified a somewhat disappointing tenth, suffered gearbox problems on Lap 25, and the No. 6 Lucas Oil Schmidt Peterson motorsports team spent a total of six laps in the pits repairing the problem. He finished 22nd.
Jack Harvey finished a solid 12th in the second race for the newly renamed Meyer Shank Racing effort in partnership with Schmidt Peterson Motorsports. Their next event will be the 102nd running of the Indianapolis 500 in May.
While IndyCar is famous for its international driver flare, three American drivers currently lead the championship in Alexander Rossi, Josef Newgarden, and Graham Rahal.
IndyCar's busy month of April continues this weekend at Barber Motorsports Park, with the Honda Indy Grand Prix of Alabama.