Starting Sunday, thousands of Mexican officials and race fans will gather together from Ensenada to San Jose del Cabo, on the lookout for a slithering Snake on four wheels.
As in legendary drag racer Don "Snake" Prudhomme, who will take part in the five-day National Off-Road Racing Association's (NORRA) Mexican 1000 Off-road Rally in Baja, Mexico.
While the part about Prudhomme being entered in the race is unique in and of itself, it's the back story that makes this one of the best racing tales in a long time:
* Prudhomme will once again take part in the race 50 years after trying to make the 1968 race. You read that right: 50 YEARS LATER!
* Unfortunately, his bid in 1968 was cut short when his team was knocked out of competition the night before the race began due to a blown motor.
* Prudhomme has waited five decades to make another run at the 1000, and now he'll do so at the age of 77. That's also 24 years after he retired as an active drag racer following the 1994 NHRA season.
* And in perhaps the best part of the overall story, Prudhomme will try to fulfill a promise to late actor and racing fan Steve McQueen. In 1968, filming on McQueen's epic "Bullitt" in San Francisco ran long, preventing him from competing in the Mexican 1000 along with friend and scheduled co-driver Tony Nancy. When McQueen realized he wouldn't be able to race, he made Prudhomme his hand-picked replacement.
Unfortunately, the night before the 1968 race was due to take the green flag, the motor on Nancy's and Prudhomme's off-road buggy exploded and the team was unable to repair or replace it in time.
Ergo: a missed opportunity that has haunted Prudhomme ever since.
"It's always bugged me," Prudhomme told NBC Sports' MotorSportsTalk in an exclusive interview. "It's been at the top of my bucket list ever since."
HOW STEVE MCQUEEN PICKED PRUDHOMME TO TAKE HIS PLACE
Prudhomme then expanded upon his friendship with McQueen.
"Steve McQueen and James Garner used to go into Tony Nancy's (car customization) shop (in Los Angeles' San Fernando Valley) all the time," Prudhomme said. "And Tony was a drag racer. So we all built our cars there.
"McQueen would come in to Tony's store and I got to know him. He was just a really bitchin' kind of guy. He had his motorcycles and we'd go out and ride our motorcycles and dirt bikes. He was just one of the guys.
"He was going to drive this car in Baja in '68 with Tony and he had a picture he had to film and he couldn't get out of it. So I was standing there and Steve said, 'Hey, how about you?' And I was like, 'I'm in.' Basically, I jumped at the opportunity to do it."
Prudhomme was going to be the co-driver when Nancy moved from co-driver to lead driver to fill-in for McQueen. That is until the engine in their ride had other ideas.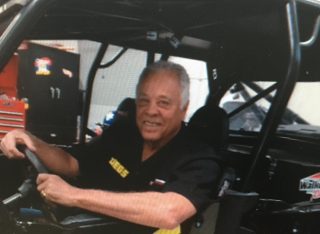 A story in Hot Rod magazine three years ago that detailed Prudhomme's 1968 unfulfilled adventure planted the seed that led to Prudhomme returning to the scene for this year's five-day event, which kicks off at 9 a.m. PT on Sunday morning in Ensenada and runs five days, ending next Thursday, April 26, at San Jose del Cabo.
Prudhomme will team with P.J. Jones, son of legendary racer Parnelli Jones, both behind the wheel of a state-of-the-art off-road buggy by Polaris and sponsorship by JEGS. Off-road legend Walker Evans, a long-time friend of Prudhomme, built the heavy-duty shocks for their machine.
"We went down to Baja on a ride and must have rode 1,000 miles down there in five days last year," Prudhomme said of riding with Jones. "After we finished, we said, 'Hell, let's enter this race.' I haven't been in competition since 1994, to actually race somebody myself. What a splendid idea."
No expense is being spared, because Prudhomme and Jones aren't just in the 1000 to play around.
No way, they're in it to win it.
FROM DRAG RACING TO OFF-ROAD RACING
After retiring first from drag racing and then from running his own team, Prudhomme has spent a great deal of his retirement driving off-road vehicles in Southern California, Nevada and Arizona.
Just for fun, he says, and that includes regular riding off-road and in sand dunes with famous friends such as Tony Stewart, Jeff Gordon, Ray Evernham, Rusty Wallace and others.
But this race is all business, Prudhomme insists.
"I wanted to go back and do it and now I'm doing it in fine style," Prudhomme said. "We've got chase helicopters, we've got a crew of six people, we've got all kinds of stuff. So, I'm going back with guns loaded and hopefully I can finish up good.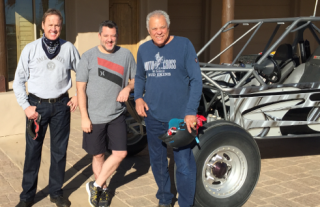 "It's 1,000 miles altogether, so it's grueling. We've got spare tires, spare A arms and spare shocks, all kinds of stuff. We're way more prepared than we were the first time we went down there. We didn't have a clue.
"We've got everything but a spare motor. If we blow the motor, we're in bad shape. Nah, we won't blow the motor. It'll make it easy. We have to worry about all the other stuff, like A-arms and you tear things up, hit big boulders and rocks, things like that.
"And, oh hell, yeah, we've been testing plenty. We've run the hell out of it, changed the suspension and the shocks, just like the big guys."
He then added with a laugh, "We're not leakers, we're really trying to win the damn thing."
AGE IS JUST A NUMBER AND SNAKE'S HEALTH IS EXCELLENT
That he turned 77 years old on April 6 is not a concern for Prudhomme. On the contrary, for him, 77 is the new 57 – maybe even 47.
When asked if his doctor checked off on letting the Snake race in the grueling, bump-filled 1,000-mile off-road event, Prudhomme seemed a bit taken aback.
"Come on, come on, that's embarrassing. How can you say that?" Prudhomme laughed.
His wife, Lynn, who was sitting near him during the interview for this story, quickly chimed in, emphatically saying, "He's in GREAT shape," also adding she's totally in support of his attempting the 1000.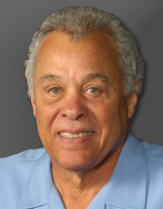 The Snake then continued, "I exercise, always have. I have a gym in my house, so I work out and take care of myself, eat pretty good. Heck, I hit the scale every morning and I'm 195 (pounds). I'm about five pounds over what I'd like to be. But by the time of the race, I'll be right there. Hell, I'm six-foot tall and in good shape. I'm not bragging."
But like Clint Eastwood said in the movie, "Magnum Force," "A man's got to know his limitations," Prudhomme knows his. He may not be able to strike like the Snake of old, but he still has lots of venom and thread still left in him.
"I will admit I'm not the Snake I used to be, if you know what I mean," he said with a laugh. "I mean, I hear 'ya. My buddies are dropping like flies. When you get my age, 77, I'll be honest with you, the big number to me is 80. If you hit 80, you're doing great, and everything after 80 is a free lunch, it's a bonus.
"I'm aware of it (being 77), but let me tell you, I'm doing everything I can do before that magic number comes up. I'm hitting it."
An estimated 300-plus racers will take part in the five-day event in a variety of four-wheel cars, trucks and off-road vehicles, as well as motorcycles.
Prudhomme was asked why he waited a half-century before trying the Mexican 1000 again. Why not have tried it 10, 20, 30 or even 40 years after his first attempt? Why wait 50 years?
"My head was so into drag racing, that's all I ever thought about, the quarter-mile," he said. "I never thought about going 1,000 miles, I was just worried about the quarter-mile.
"I was all hell-bent on winning races and all that with no distractions. But since I've retired, I've been able to do plenty of things. I'm taking advantage of it while I can."
WHAT'S NEXT ON SNAKE'S BUCKET LIST?
So what's next on Prudhomme's bucket list after the Mexican 1000?
He hints he might compete in November's annual big daddy of off-road racing, the Baja 1000 (of which was preceded by the Mexican 1000). The Dakar Rally may also be something to consider.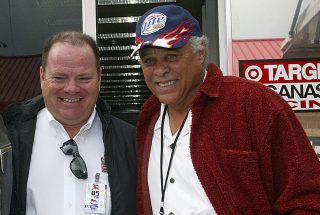 But more immediately, he said, "At some point, I'd like to enter a car in the Indy 500, one of Chip's (good friend and IndyCar team owner Chip Ganassi) cars, a spare car.
"Each year we seem to work on that. I thought we might have a little something going this year but didn't get it. But that's something I've always wanted to do, to be there when the flag falls, the race starts and you have a car in the race. That would be really high on my bucket list, so I'm working toward that."
He then adds with a laugh, "Stay tuned for my next bucket list thing. I tell you, there's more down the line and more things I want to do."
But nothing is more important or more immediate to the legendary Snake than Sunday's start of the Mexican 1000.
And just like he had in mind each time he got behind the wheel in the more than 1,000 drag races he competed in during his career, he has the same mindset for the 1000:
"Let's hope I'm standing in the winner's circle when it's over."