Three consecutive race weekends in the month of April for the Verizon IndyCar Series come to a close this weekend with the Honda Indy Grand Prix of Alabama, the series' ninth race at Barber Motorsports Park in Birmingham, Alabama.
IndyCar's annual trek to the "Alabama Rollercoaster" – as Barber has been referred to in the past – began in 2010, and the venue has quickly become a favorite for teams, drivers, and fans, and while concerns existed that passing would prove too difficult prior to the first race in 2010, every race has featured more than its fair share of overtaking, and the track has seen thrilling late-race battles in each of the last three seasons.
Graham Rahal put on one of the greatest drives of his career to finish second here in 2015, passing Will Power, Ryan Hunter-Reay, Helio Castroneves, and Scott Dixon in the final laps to do so, but he could not quite catch Josef Newgarden that day, with Newgarden taking his first career IndyCar win.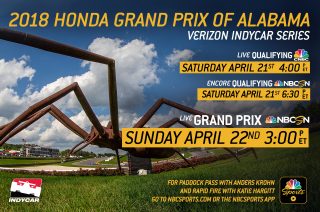 Rahal dueled Simon Pagenaud for the win in 2016, with Pagenaud getting the upperhand after Rahal damaged his front wing following contact with the lapped car of Jack Hawksworth.
And in 2017, Josef Newgarden benefited from teammate Will Power suffering a punctured tire to assume the lead late in the race, and held off Scott Dixon to take his first win for Team Penske.
In summary, Barber has developed a habit of creating late-race drama, and given how the first three races of the 2018 season have gone, it could easily happen again.
Key talking points ahead of the Honda Indy Grand Prix of Alabama are below.
Championship Picture Beginning to Take Shape
Though it is admittedly very early in the season – only three of 17 races have been completed – the championship picture is beginning to come into focus, and Toyota Grand Prix of Long Beach winner Alexander Rossi is currently at the head of the table.
The Andretti Autosport driver sits in the lead on 126 points, 22 ahead of of Team Penske's Josef Newgarden. Rahal Letterman Lanigan Racing's Graham Rahal sits third with 93 points, with Dale Coyne Racing's Sebastien Bourdais in fourth on 88 points. Schmidt Peterson Motorsports' James Hinchcliffe rounds out the Top 5, with 83 points through the first three races.
That's five different teams represented in the Top 5 at the moment, and a few faces have emerged as potential favorites.
Points leader Rossi is the only driver to finish on the podium in each of the first three races, with finishes of 3-3-1.
Team Penske has had somewhat of a quiet start to 2018, though Newgarden did win the Desert Diamond West Valley Casino Phoenix Grand Prix at ISM Raceway, and his results at St. Petersburg and Long Beach – seventh at both races – could have been much better if only a couple small things went differently.
Rahal has been a title contender in each of the last three seasons, even going into the 2015 season-ending GoPro Grand Prix of Sonoma with a shot at the championship. And his 2018 season, highlighted by finishes of second at St. Petersburg and fifth at Long Beach, could be even better if not for miscues and contact in both races that hampered his efforts.
Throw in Bourdais and Hinchcliffe as well, who like Rahal, compete with smaller teams – Bourdais with Coyne in a venture with Jimmy Vasser and James "Sulli" Sullivan, and Hinchcliffe with SPM – and more legitimate players are emerging in the title hunt.
And with big names like Scott Dixon and Simon Pagenaud stumbling out of the gates so far – Dixon is sixth in the championship while Pagenaud sits 16th – there's a lot of room for championship drama to develop in the coming races.
Will Power Seeks Barber Redemption
Will Power started on pole last year at Barber, led a race-high 60 laps, and looked set to take his third win at the Alabama road course before suffering a cut tire, and the Penske squad was left no choice but to bring Power's No. 12 Verizon Chevrolet into the pits.
It was a heart-breaking result for a driver who, at the time, needed to right the ship after finishes of 19th and 14th to open the season.
One year later, Power again heads to Barber looking right the ship after a troublesome start to his season, with finishes of 10th and 22nd in the opening two races.
He took the first step by finishing second at Long Beach, and now looks to avenge last year's Barber disappointment to get his first win of 2018.
"Long Beach was really great for the whole No. 12 Verizon Chevrolet team after we finished second. It was our best finish so far this season, so it's done a lot for team morale going into this weekend at Barber," Power explained. "Road courses are always a lot of fun and I'm really looking forward to racing one with the new car. My team has been really working hard over the past several weeks with back-to-back races and they have a really strong car ready to go. Barber is such a cool course and the fans there are always really excited to be there. It's just a really fun event for everyone and I can't wait to get on track."
Power
Misc.
There have been five different winners at Barber: Helio Castroneves, Will Power, Ryan Hunter-Reay, Josef Newgarden, and Simon Pagenaud. Power, Hunter-Reay, and Newgarden are the only ones with multiple wins at Barber, though, with each sitting on two wins apiece.
Scott Dixon and Graham Rahal have also been successful at Barber. Rahal has two second place finishes, while Dixon has five. However, neither has been able to break through for a win, although that could easily change this weekend.
Marco Andretti sits tenth in the championship, with finishes of ninth and sixth the highlights of his early season. However, his race pace has been very impressive, and if he can get his qualifying up to a similar level, Andretti could be a darkhorse.
Ed Jones and Zach Veach look to build on finishes of third and fourth at Long Beach, their best results of the 2018 season.
The Final Word…
From Josef Newgarden, winner of the two of the last three races at Barber Motorsports Park, including last year:
"We had a decent finish at Long Beach but we're definitely hungry for more. Barber is one of my favorite tracks we visit – not just because we've won there – but because it's a cool track and it's only a few hours away from where I grew up (in Nashville, Tennessee). That just makes it even more special when I've won there. Barber is going to be interesting since it's the first time we're racing the new car on a road course. I think it could lead to some really exciting racing for the great fans at Barber and the fans at home. The whole No. 1 Hitachi Chevrolet team and I are ready to take the strong car we have ready for this weekend to the track and run a great race."
Here's last year's top 10:
1. Josef Newgarden
2. Scott Dixon
3. Simon Pagenaud
4. Helio Castroneves
5. Alexander Rossi
6. James Hinchcliffe
7. Tony Kanaan
8. Sebastien Bourdais
9. Takuma Sato
10. Mikhail Aleshin
Here's last year's Firestone Fast Six:
1. Will Power
2. Helio Castroneves
3. Simon Pagenaud
4. Scott Dixon
5. Ryan Hunter-Reay
6. James Hinchcliffe