After a month break, the Mazda Road to Indy Presented by Cooper Tires is back in action this weekend at Barber Motorsports Park, with two of its series tacking the 2.38-mile road course in Birmingham, Alabama.
Both the Indy Lights Presented by Cooper Tires and the Pro Mazda Championship Presented by Cooper Tires have double-headers this weekend, with Pro Mazda returning to Barber after not running there last year.
The season-opening weekend in St. Petersburg was a tale of two completely different stories, with two different winners – Pato O'Ward and Santi Urrutia – and more than a fair bit of chaos for Indy Lights, while Pro Mazda saw Rinus Veekay sweep the weekend.
Talking points for both series heading into Barber are below.
Indy Lights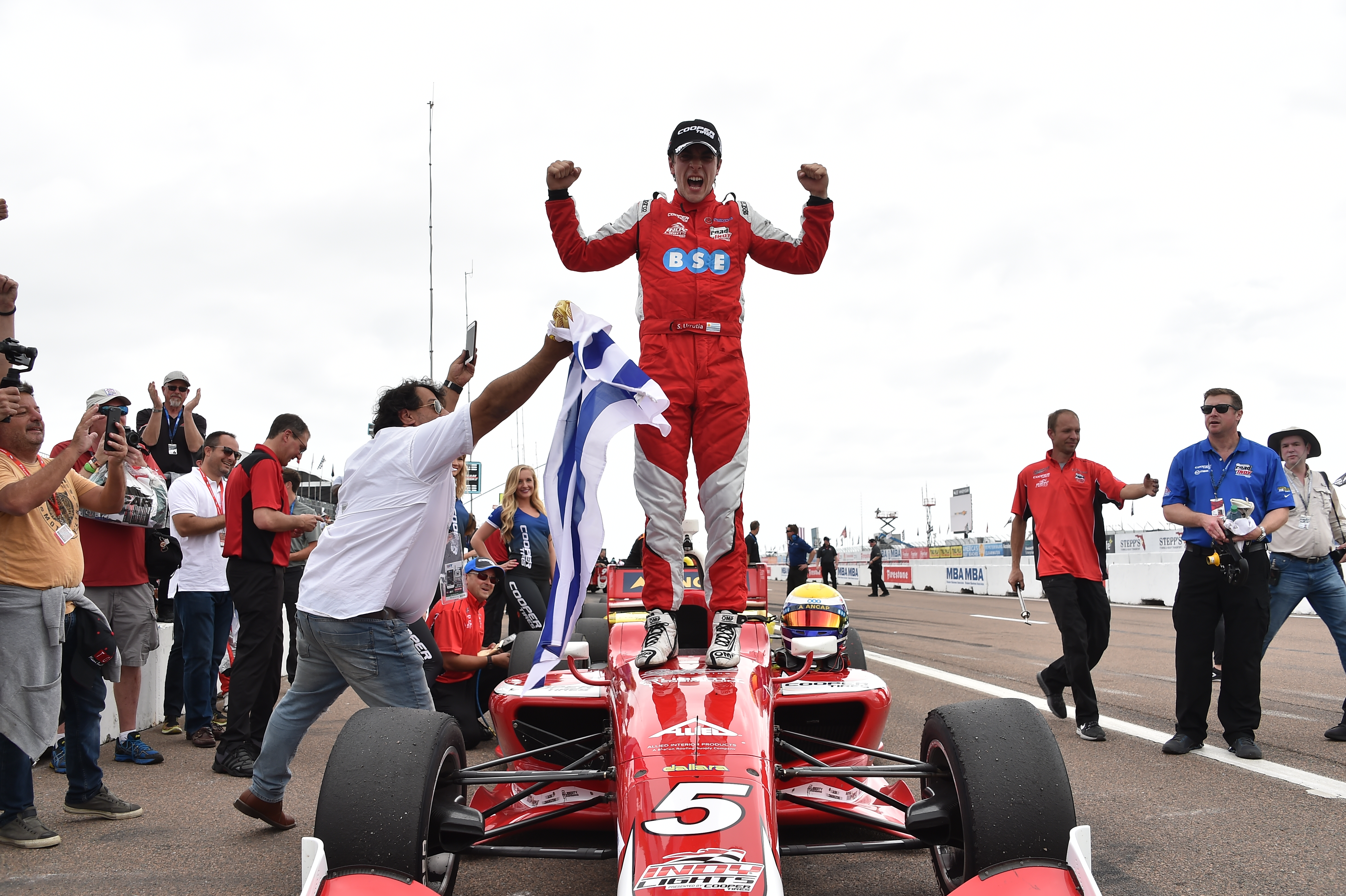 Santi Urrutia displayed great patience at St. Petersburg, finishing second in Race 1 and winning Race 2 after rivals like O'Ward and Colton Herta faltered. However, Barber has not been one of his better tracks, with finishes of 11th, 15th, and 13th in three of his four Indy Lights starts. Yet, he did win Race 2 at Barber 2016, so he has had success there before, and he will be one of the favorites heading into the weekend.
Pato O'Ward looks poised to be a title contender in 2018 and will look to avenge a somewhat disappointing outing at St. Petersburg. O'Ward had the speed to sweep the weekend, winning Race 1 handily and dominating Race 2, but a mistake late in the race saw him overshoot Turn 4 and briefly stall before he could rejoin, relegating him to seventh. If O'Ward can show the pace he showed at St. Pete, he might end up being the man to beat.
Colton Herta will look to rebound from a St. Pete weekend in which he flashed the speed that caught everyone's attention last year, but also committed the same mistakes that ultimately prevented him from taking a championship. After finishing third in Race 1, Herta crashed while chasing then leader O'Ward in Race 2. Herta won Race 2 at Barber last year, and getting another win this weekend, along with staying mistake free, would go a long way to erasing his problems from St. Pete.
Aaron Telitz is also looking to rebound after a down weekend, as his St. Petersburg weekend lasted all of two corners across both races – he won the Pole for Race 1, but crashed in Race 2 qualifying, and the Belardi Auto Racing team could not repair the car to allow him to race. After the team borrowed a chassis from Carlin for Race 2, Telitz get collected with Juncos Racing's Victor Franzoni right off the start, and he crashed again, this time in Turn 2. Telitz finished on the podium at Barber in 2016, the year he won the Pro Mazda championship, and he'll look for more of the same this weekend.
Pro Mazda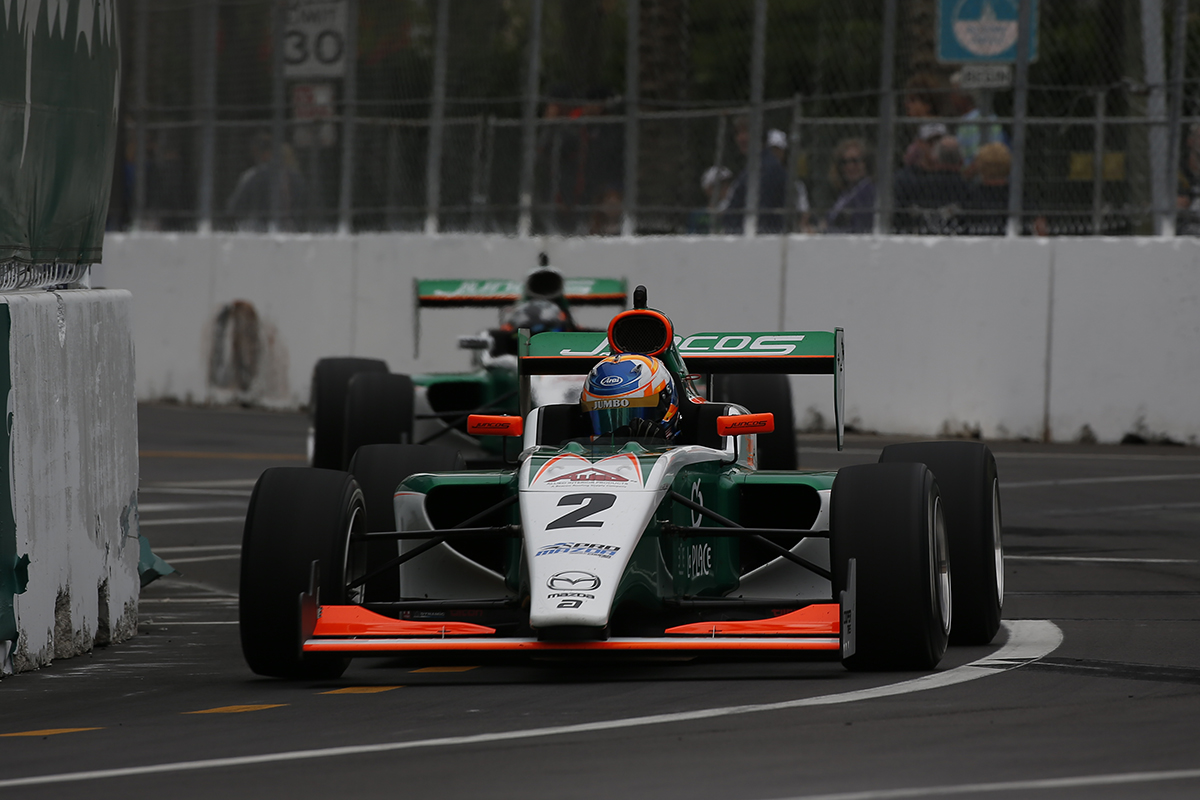 Rinus Veekay had a perfect weekend to open the Pro Mazda season. The Juncos Racing driver outdueled Exclusive Autosport's Parker Thompson for the Race 1 victory, and then ran away with Race 2 to complete the weekend sweep. Veekay was expected to be a title contender after moving up to Pro Mazda in 2018, and if he can repeat his St. Pete performance, then he may leave Barber as the heavy favorite in the championship.
Not to be forgotten, Parker Thompson sits second in the Pro Mazda title chase, and looks to avenge losing out to Veekay in St. Pete Race 1, and then fading somewhat to finish fifth in Race 2. Thompson was the only driver to regularly challenge Veekay and Oliver Askew in the 2017 Cooper Tires USF2000 Championship Powered by Mazda season, and he and Exclusive Autosport have adapted nicely to the new Tatuus PM-18. If they can show the same form at Barber, and then finish the job with at least one trip to Victory Lane, then it could set the stage for another titanic Pro Mazda championship fight.
Last year's USF2000 champion Oliver Askew had a quiet weekend in St. Pete, finishing fifth and sixth in the two races. He swept the Barber races in USF2000 last year, and will need a similar performance to vault himself forward from his current place of sixth in the standings.
Carlos Cunha and David Malukas head to Barber third and fourth in the championship after solid St. Pete weekends – Cunha had finishes of fourth and third, while Malukas had finishes of seventh and second. Neither was necessarily looked at as a title combatant entering 2018, but repeat performances in Barber could vault them into title contention.
A full weekend schedule, including the Mazda Road to Indy sessions, can be viewed here.
**Note: NBCSN will broadcast Sunday's Indy Lights race (Race 2 from the weekend) on Monday, April 23.**