You've heard of the Fast Six in IndyCar, right?
Well, Friday's second practice session for Sunday's Honda Grand Prix of Alabama was the Frustrating Five – Turn 5, that is.
It almost might be easier to list those drivers that were not bitten by the cantankerous turn on the 2.3-mile Barber Motorsports Park layout in Birmingham, Alabama.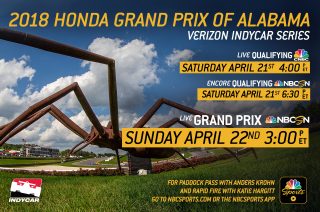 Close to 10 drivers in the 23-driver field suffered issues in the turn, ranging from running off the grass and back on, to getting stuck and having to be towed out, to suffering damage.
But by the time the one-hour session was over, Josef Newgarden took a big step towards defending his win from last year's race there, being fastest in Friday's second of two practice sessions.
Newgarden covered the 2.3-mile permanent road course in a speed of 122.786 mph at a best lap time of 1:07.4345 minutes.
Spencer Pigot was second (125.599 mph/1:07.5372), followed by Sebastien Bourdais (122.129 mph/1:07.7971), Will Power (122.107 mph/1:07.8092) and last week's winner at Long Beach, Alexander Rossi (122.065 mph/1:07.8326).
Sixth through 10th-fastest were Scott Dixon (122.044 mph/1:07.8445), Ryan Hunter-Reay (121.975 mph/1:07.8829), Takuma Sato (121.652 mph/1:08.0628), Marco Andretti (121.579 mph/1:08.1040) and Graham Rahal (121.572 mph/1:08.1076).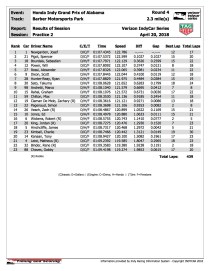 Now, speaking of all the incidents, here's a list.
INCIDENTS:
* Right after rookie Matheus Leist spun early in the session in Turn 5, fellow rookie Zach Veach spun with about 45 minutes left in the session in Turn 5. Graham Rahal had to take evasive action to miss Veach.
But that wasn't all, as Sebastien Bourdais followed in almost the same spot with a spin of his own roughly a minute later, and then Gabby Chaves also had his problems in the same turn, going into the grass but avoiding the gravel.
* Simon Pagenaud joined his Penske Racing teammate Josef Newgarden in the Turn 5 gravel. Newgarden spun into the gravel in the first practice session.
* Rookie Rene Binder, who has struggled in his inaugural season, continued to have issues, running into the wall and causing damage to the front end, needing a tow truck to get him righted.
It appeared Binder snapped part of the front suspension in the incident.
* Turn 5 saw James Hinchcliffe and Tony Kanaan run off-track late in the session, but they were able to continue.
ALSO OF NOTE:
* The third and final practice of the weekend will take place Saturday morning at 10:50 a.m. ET, followed by qualifying beginning at 4:05 p.m. ET, to be televised live on CNBC (with an encore performance at 6 p.m. ET on NBCSN). The race, to be televised live Sunday on NBCSN, is slated to start at 3:30 p.m. ET.
* However, the weather forecast does not look promising for Sunday's race. As of 1 p.m. ET today, the forecast calls for 100 percent rain throughout the day.
* Dixon has had an incredible record at Barber Motorsports Park, with seven podium finishes in eight starts there. Except for one thing: he has yet to win a race there. But he does have five runner-up and two other third-place showings on the permanent road course.