Will Power was fastest in Friday's first of two IndyCar practice sessions at Barber Motorsports Park.
Power covered the 2.3-mile permanent road course in 1:07.5987 minutes at 122.488 mph in the 45-minute practice session.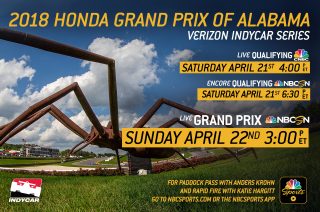 Even though he spun off the course during his session, Phoenix winner Josef Newgarden still managed to be second-fastest (121.919 mph at 1:07.9141 minutes), followed by Scott Dixon (121.296 mph/1:082627), Max Chilton (121.251 mph/1:08.2882) and Ed Jones (121.215 mph/1:09.5692).
Sixth through 10th were Simon Pagenaud (121.208 mph/1:08.3122), Jordan King (121.113 mph/1:083661), Graham Rahal (121.059 mph/1:08.3964), St. Petersburg winner Sebastien Bourdais (121.029 mph/1:08.4131) and rookie Zach Veach (121.014 mph/1:08.4216).
Here's the full speed chart: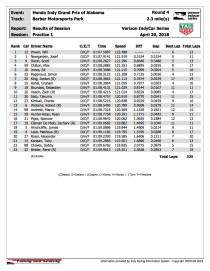 Incidents:
* Early in the session, Long Beach winner Alexander Rossi ran off the track and into the grass, striking a small sign, but was able to get back on-track. However, Rossi was only able to complete 10 laps, relegating him to 20th-fastest in the 23-car field.
* Moments later, it appeared the rear brakes locked up on Newgarden heading into Turn 5, spinning him into the gravel trap. He was able to get going and returned to the pits for service and was back on-track with less than four minutes remaining in the session.
ALSO OF NOTE:
* The third and final practice of the weekend will take place Saturday morning at 10:50 a.m. ET, followed by qualifying beginning at 4:05 p.m. ET, to be televised live on CNBC (with an encore performance at 6 p.m. ET on NBCSN). The race, to be televised live Sunday on NBCSN, is slated to start at 3:30 p.m. ET.
* However, the weather forecast does not look promising for Sunday's race. As of 1 p.m. ET today, the forecast calls for 100 percent rain throughout the day.
* Dixon has had an incredible record at Barber Motorsports Park, with seven podium finishes in eight starts there. Except for one thing: he has yet to win a race there. But he does have five runner-up and two other third-place showings on the permanent road course.