The rain didn't stop following the conclusion of the Honda Indy Grand Prix of Alabama, and neither did the jousting between drivers.
An angry Team Penske's Simon Pagenaud confronted Harding Racing's Gabby Chaves after the race, complaining that Chaves would not let Pagenaud get past him in the closing laps.
Instead of ending up with a hoped-for Top 5, Pagenaud wound up with a ninth-place finish. Chaves, meanwhile, finished 17th, two laps down.
The confrontation turned into a battle of words and profanity between the two drivers, as captured on Twitter by AutoWeek's Matt Weaver.
Afterward – and after their tempers cooled down somewhat – both Pagenaud and Chaves gave their sides of the confrontation to NBCSN.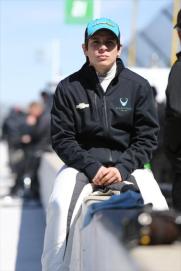 First, here's Pagenaud's take on things:
"We had a really good race going," Pagenaud said. "I think we potentially could have been top 5. I was really frustrated with Gabby. He was two laps down and I was stuck behind him, which gave an opportunity to (Scott) Dixon as I was trying to do everything I could to make it happen.
"It's a real shame because when it's not your day, it's not your day. You'll have better days later, but you want to have everybody on your side when you have a good day. At the moment, he doesn't have me on his side, let me tell you. It's a real shame."
When asked what exactly he said to Chaves, Pagenaud demurred.
"Driver's stuff," he said with a slight smile. "We've all been there. I've been in his position. My side, I played it smart. It is what it is.
"I can't comment for him. You can ask him the question. I'm not going to make a deal about it, it's just a shame it ruined my race. We'll come back stronger. It's Indy soon, so that'll put a smile on my face."
NBCSN then caught up with Chaves for his side of the story.
"It's a tough situation, we had to restart (the rain-delayed race) a lap down," Chaves said. "Our whole strategy depends on trying to get a yellow and holding our position. Some guys think that the track belongs only to them, they're the only guys on-track.
"Everyone else who was faster at that point – we were only one lap down to the leader, so we're still on our strategy and don't know what's going to happen – as soon as they got right up next to me on the lead lap, I let them go.
"Simon was the only one who couldn't drive up to me. I understand his frustration, but he's the one who has to save fuel to make his strategy work, that's not our fault, right?"
The Pagenaud-Chaves dust-up wasn't the only one after the race. Marco Andretti got into a war of words on Instagram with rookie Zachary Claman De Melo.
It was a similar situation to Pagenaud vs. Chaves: Andretti, on the lead lap late in the race, tried to get past De Melo, who was two laps down, but wouldn't yield his spot.