If Don Prudhomme rear-ended another driver on a Southern California freeway, you couldn't blame the other driver if he or she would be at least a bit upset.
But when Prudhomme rear-ended another driver during this past week's Mexican 1000 off-road race in Baja, California, well, let's just say the outcome was markedly different.
Prudhomme was caught in a massive dirt cloud and couldn't see anything when he slammed into the car in front of him Wednesday.
While initially ticked at the contact after climbing out of his VW Dune Buggy, the other driver quickly made a 180-degree turn in reaction to the crash when he recognized the man famously nicknamed "The Snake" was the one who hit him.
"Hey, you're Don Prudhomme! Can you sign (autograph) my car?"
Exactly 50 years after failing to run the Mexican 1000 for the first time due to a pre-race engine failure, Prudhomme not only came back to run the predecessor to the famed Baja 1000, but he also finished.
He drove more than 1,100 of the 1,300 mile-course (including transition and connecting roads) and crossed the finish line to take the checkered flag, something they don't have in NHRA drag racing, of which Prudhomme was a multi-season champion as both a driver and team owner.
Prudhomme finished 95th out of more than 150 entries in the premier event of the year for the National Off-Road Racing Association.
But it didn't matter where he wound up, the key was he finished the grueling off-road course. To Prudhomme, who turned 77 on April 6, finishing was just as good as winning for him.
"It was the most unbelievable experience I've ever had in my entire life," Prudhomme exclusively told MotorSportsTalk. "I've never done anything like this. I don't know if I'll ever do it again, but it was on my bucket list and it was just unbelievable.
"You can't describe it unless you're out there. We crashed, fixed the car, crashed again, people run into you, it's full of dust and dirt – you've never seen so much dust and dirt."
MORE: A Snake's tale: 50 years later, Don Prudhomme to drive again in Mexican 1000-mile, off-road race
Wanting to run the Mexican 1000 has gnawed at Prudhomme for 50 years. He was slated to run in 1968 as replacement for actor Steve McQueen – after filming legendary movie "Bullitt" took longer than planned – but the team blew up the motor the night before the 1000 was to get underway.
Prudhomme always told himself that if the right opportunity – and the right timing – came along, he'd give the 1000 another shot. It may have taken a half-century, but he'll no longer have any regrets or wonder "what if?"
He finally can say he did it.
"I wanted to do it on my own," Prudhomme said. "I wanted the experience of doing it to see what it was like, not just to tell someone I rode maybe 100 miles of the Mexican 1000. I didn't want any of that, I wanted to do it myself."
To drive 1,300 miles for a guy who made his living racing a quarter-mile at a time, it took nearly two years of preparation, being in great health and a determination that was aided by a full team behind him that got him back on-course whenever there were in-race mishaps.
And even when mishaps occurred off-track.
"The second day, when we stopped at Bahia de Los Angeles, my co-driver Mike Byrd, thought it was a great idea if we stopped and ate some tacos," Prudhomme said, before breaking into a laugh as he continued the story.
"Don't eat tacos in the middle of nowhere! I don't recommend it to anybody. But he had a taste for tacos and the next morning woke up sick as a devil, so I had to get a replacement.
"I lost my co-driver. And I was pretty discouraged about it because at that point, we weren't even halfway through it, not even close. Then, all of a sudden, there was this Canadian kid, Shane Chatwell, who was on our pit crew. He said he could drive, but I asked him if he could navigate. The navigator is the biggest thing. I mean, driving is one thing, but navigating is something else.
"You have to remember you have this computer screen right in front of you with a chip in it, and it's pitch dark and we're talking to each other over our radios, where it's "go left here, go right, we've got a right-hand swing coming up then a lefthander. I mean, this kid saved my ass, that's all I can tell you."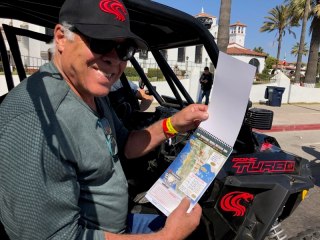 Prudhomme was one of four cars that were part of the team of P.J. Jones, son of legendary racer Parnelli Jones. The younger Jones not only built the car Prudhomme competed in, he also prepped the Snake on what to expect and how this would be a race of strategy, not just playing around in the desert.
"P.J. had the trucks, trailers, the crew, the fuel," Prudhomme said, adding with a laugh, "I mean, you just don't find a gas station in the middle of the desert.
"This is not child's play. You don't just get in this thing and drive. You need to know how many miles per gallon you get, the precise distance between one point and another.
"Sure, we carried a spare 10 gallons of fuel with us, which we had to stop and put in out in the middle of nowhere, but if that chase truck wasn't out there at a designated point that's on the map, we'd be screwed."
As the race – which began this past Sunday and finished Thursday evening – wound on, determination was Prudhomme's own personal fuel. He wanted to prove to himself, first and foremost, that he could not only be competitive, but that he could finish.
"There were a lot of guys that broke down (and didn't finish)," Prudhomme said. "But the big deal wasn't just who won, but just finishing the race. The people down there were cheering you on and celebrating just so you'd finish the son-of-a-bitch. It was so nice. Each competitor in all these different classes were high-fiving each other, it was remarkable. It was like this bond you got with these people, just finishing the race.
"They put you up on stage and the wives, girlfriends, pit crew members were all around the car, taking pictures.
"First, to me, was just finishing the race. That's how I looked at it."
While he was all business and serious about competing, there were other humorous moments like when he autographed the fellow driver's car.
In fact, one incident gave Prudhomme a new-found respect for cacti.
"We hit one of those big Saguaro Cactuses, those big, tall sons-of-bitches," Prudhomme said. "I ran into one as we were trying to get through this dust field.
"The guy in front of me turned left and I couldn't see nothing, I was blind, and I hit one of those cactuses, and man, that thing didn't even move. It was like running into King Kong.
"It tore the left front suspension off and we had to limp to our pit crew on three wheels so they could put a new a-frame on it."
While he dismisses running in races like the Baja 1000 or the Dakar Rally, even though Prudhomme said this week's Mexican 1000 may be the only time he'll ever run it, he admits he is already giving thought to doing it again next year.
Actually, my ass is just fine. What really hurts is my neck, shoulders and arms, gripping that wheel.
"I am considering coming back," Prudhomme said. "I really didn't know anything about it, didn't know the terrain, didn't understand it, didn't know we'd be going through all these little villages and there's goats and sheep and cows on the highway. I didn't know we'd be running in pitch dark night along these narrow cliff-like roads and rocks and stuff.
"Next year, if I do this again, I'll be better equipped and I'll be able to run faster and know the terrain."
There's no question that riding 1,300 miles in a wide-open four-wheel-drive vehicle takes a toll on the body. One would think the biggest problem would be saddle sores, so to speak, what with all the bouncing and shifting in the seat across all types of terrain.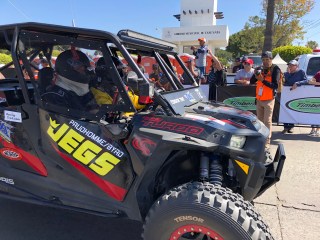 Not so, Prudhomme said.
"Actually, my ass is just fine," he said with a laugh. "What really hurts is my neck, shoulders and arms, gripping that wheel. My hands are like swelled up. I had to put them in ice because you're moving the wheel back and forth and you're holding on through the bumps that your upper body is what takes the beating, not your ass or legs. That's nothing."
Crossing the finish line Thursday night gave Prudhomme pause of sorts. It took 50 years, but he finally can say he not only ran in the Mexican 1000, but that he succeeded in making it all the way through.
"Yeah, I thought about it: we'd have never made it (back in 1968)," he said. "We didn't even a crew back then. We didn't have pits. We thought we could stop at a gas station and get fuel when we needed fuel.
"To be honest with you, I hate to say it but I'm glad we broke because we'd have never made it. And there might not have been a Snake because he'd have been out there, wasted away to bones in the middle of the desert. We weren't prepared. It was a blessing in disguise that we didn't make it."
Driving from eight to sometimes nearly 15 hours per day in the five-day adventure, what kind of payoff was there at the end for Prudhomme completing the 1000?
Nothing. Nada. No check, no prize money, no trophy – just the self-satisfaction of completing the whole distance, as well as a combination pin/medallion that is proof Snake did what he set out to do.
I'm now in a select fraternity that I'm pretty happy to be in.
"I'm going to treasure this thing forever," Prudhomme said. "You only get this thing when you cross the finish line. It's as good as any trophy I've ever won.
"It's bragging rights. You don't do this sh** for money. To get from Ensenada to San Jose del Cabo, across backroads and dirt roads and all the dirt and dust and rocks and stuff, it's a challenge.
"I'm now in a select fraternity that I'm pretty happy to be in."