A number of rookies and veterans took to the Indianapolis Motor Speedway on Tuesday to complete refresher courses and rookie orientation as part of testing at IMS this week.
Most prominent among the veterans to complete a refresher was Danica Patrick, who returns to the Indianapolis 500 this year for the first time since 2011. Initially, things got off to a rough start for Patrick, whose No. 13 GoDaddy Chevrolet for Ed Carpenter Racing was plagued with a water temperature issue when she first ventured out on track, prompting the ECR team to bring her back in for a quick check of the car.
No major issues persisted, though Patrick acknowledged that the car's steering felt heavier than anticipating and required some adjustments for comfort, and she was able to continue running throughout the day, completing her refresher program late in the afternoon, meaning she is now good to go once practice begins later this month.
Patrick explained afterward that the goal for today was simple: knock the rust off and complete her refresher course, rather than focus on putting together an ultra quick lap.
"I just kind of wanted to get today over with, not in a negative sense, but just that it's been seven years since I drove an IndyCar here. Yeah, it's been a long time," she detailed in a press conference afterward.
Patrick also explained that a heavy steering sensation made things a little more complicated, despite a well-documented and intense workout regime she has become known for.
"The car, it just felt very hard to drive. The weight of the wheel was very heavy for me. So I don't know what the heck I've been doing because I feel a lot stronger than when I was here before. You have to see the videos, I crushed it like crazy. I can pick some weight up. But I did not feel very strong out there," she joked.
Patrick will also take part in Wednesday's manufacturer test, and described the goal as getting the car to a point where she can be flat out around the IMS oval.
"I feel like tomorrow (the goal is) just a smooth day where I get flat out and feel the changes, have good information leading into two weeks from now where we really are going to have to get down to business," she finished.
Among the rookies, Schmidt Peterson Motorsports' Robert Wickens also encountered some issues during his rookie orientation, with his No. 6 Lucas Oil Honda suffering gearbox problems. Consequently, the SPM team rolled teammate James Hinchcliffe's No. 5 Arrow Electronics Honda for Wickens to complete his orientation.
However, the rest of the day was trouble free and Wickens was able to finish all three phases of rookie orientation.
Wickens explained that switching to Hinchcliffe's car was far from simple, requiring a quick seat fitting, and also pressed them for time a little bit.
"It wasn't ideal because we didn't really do a seat fit for me in his car. Apart from the seat going in, everything was more get on with it, get the orientation done. We were actually a little pressed for time to get all the phases through in the time allocation we had," he explained.
But, the team completed everything they needed to go to get Wickens back out there and allow him to finish the orientation program.
"The guys worked hard to get the (No. 5) car ready. Yeah, I mean, I love it around here. It was my first taste of Indianapolis. I love the oval. I ran the GP course 12 years ago. Yeah, it was good to do my first laps at the oval, full throttle laps, flat laps. It was very special," Wickens added.
Other drivers to venture out on Tuesday were SPM's Jay Howard, Dreyer and Reinbold Racing's Sage Karam, A.J. Foyt Racing's Matheus Leist, and Juncos Racing's Kyle Kaiser.
Howard and Karam completed their refresher courses without incident, with Leist and Kaiser doing the same for their rookie orientation programs.
Times are below. Wickens was fastest on the day with a quick lap of 220.111 mph. Patrick's best lap came in at 218.500 mph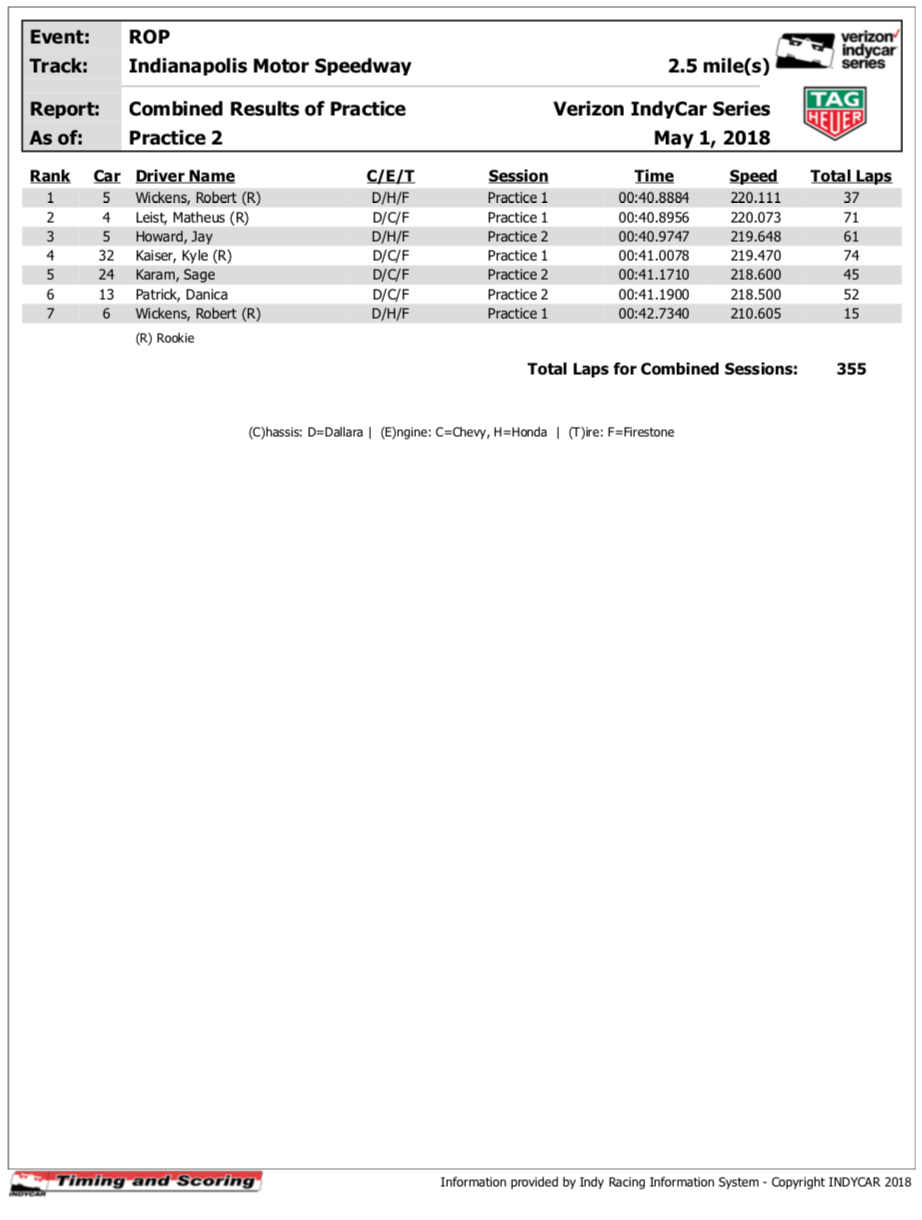 Testing continues on Wednesday in a private, manufacturers' day at IMS.