UPDATE No. 1 (1: 20 p.m. ET): According to several media reports, Pietro Fittipaldi has been airlifted to a hospital with what a statement from the World Endurance Championship said are "suspected fractures to both legs."
The WEC statement also said Fittipaldi remained conscious throughout a lengthy extrication from the mangled wreck of his car and that his injuries were not life-threatening.
If he indeed has fractures in both legs, Fittipaldi's hopes to qualify to race in the May 27th Indianapolis 500 — which would have been his first try at the race his legendary grandfather Emerson Fittipaldi won twice (1989 and 1993) — are done for this year.
NBC Sports has reached out to Dale Coyne Racing, for which Pietro Fittipaldi was slated to qualify for the 500, for a statement and who will replace the younger Fittipaldi in the Greatest Spectacle in Racing.
***************************
Pietro Fittipaldi, grandson of legendary open-wheel racer Emerson Fittipaldi, was injured this morning in a heavy crash at Circuit de Spa-Francocorchamps in Belgium.
The 21-year-old Brazilian was on-track during qualifying for the opening round of the 2018 FIA World Endurance Championship Super Season when his DragonSpeed BR1 wrecked hard in the Eau Rouge section of the track.
Eau Rouge is considered one of the most difficult corners in motorsports.
From a video replay, it appeared Fittipaldi's car began to lose control after hitting a rumble strip as it climbed a hill, bottomed out and then ran head-on into a tire wall at full speed.
It took rescue workers several minutes to extricate the 2017 World Endurance Championship V8 World Series Champion from the mangled wreck.
The session was red-flagged for over 30 minutes.
Fittipaldi was transported to a local hospital. There is no word on his condition yet.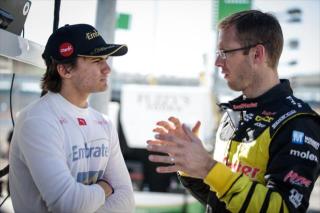 Two weeks from now, Fittipaldi is slated to attempt to qualify the No. 19 Honda for this year's 102nd running of the Indianapolis 500 for Dale Coyne Racing, for which he is running a part-time schedule as a rookie on the Verizon IndyCar Series this season.
He's one of 35 drivers entered in the May 27th running of the 500, for which daily practice begins on May 15.
Pietro Fittipaldi has just one IndyCar start to date: he started 10th and finished 23rd at Phoenix last month on April 7.
We will update this story as additional information becomes available.