It cannot be understated how dominant Andretti Autosport's Patricio "Pato" O'Ward has been to start the 2018 Indy Lights Presented by Cooper Tires season. With two poles and three victories in the opening four races at St. Petersburg and Barber Motorsports Park, O'Ward has asserted himself as the fastest driver early on in the Indy Lights campaign.
And the weekend from Barber serves as evidence of this dominance. O'Ward started second in a hot and dry Race 1 on Saturday, passed polesitter Colton Herta in Turn 5 right after the start, and ran away from there to lead every lap and take the win.
On Sunday, with conditions now cold and rainy, O'Ward didn't miss a beat, scoring the pole and immediately shooting off into the distance when the green flag waved to complete the weekend sweep with a Race 2 victory.
O'Ward revealed that some of that success is down to the track, one he describes as a favorite, a feeling that goes back to his days in the Pro Mazda Championship Presented by Cooper Tires.
"Barber, honestly, is a track I really enjoy driving. I've had a lot of success there, especially in 2016 in Pro Mazda. I didn't qualify on pole in one race, and I won it from fourth (on the grid), and in the other I qualified on pole and I basically just left everyone behind and got the win. So, it's definitely a track where I've had a lot of success," he told NBC Sports.
Further, O'Ward added that he feels like the track meshes well with him. "I think it really suits my driving style," he explained. "I really like fast tracks, like obviously Barber. I really enjoy street courses as well. I know where I'm going to be strong so I wanted to get the most out of it."
And while the rain on Sunday presented a very tricky challenge in and of itself, O'Ward, who has raced in the rain previously, explained that the bigger challenge was actually getting used to driving the Dallara IL-15 in the rain.
"The hardest thing with the Indy Lights car is there's so much torque, it's so hard to keep the rear tires under you, even in the dry," he detailed. "But in the rain, whenever it's wet and slippery, the hardest thing is to put the power down."
However, O'Ward was surprised to find that the track had much more grip than he thought it would.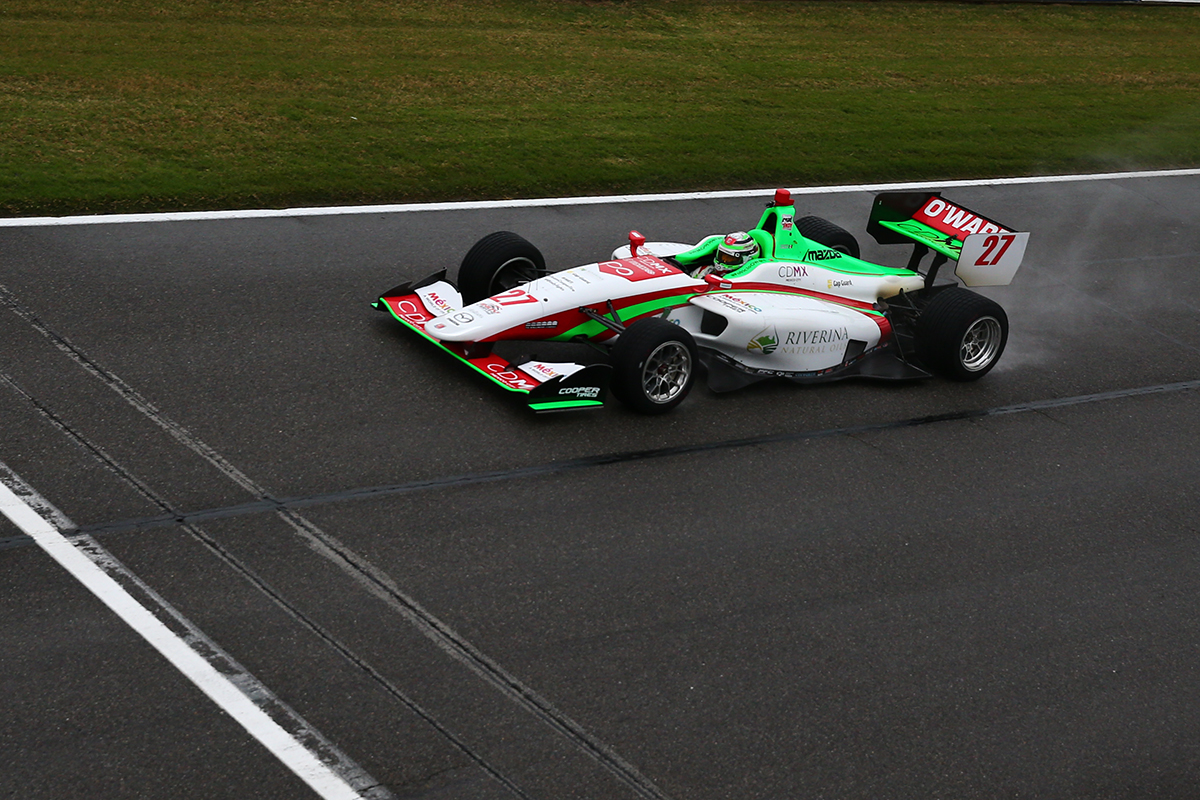 "When I first went out, I felt the track had a lot of grip, that was something I was not expecting at all," he revealed. "The braking (zones) weren't pushed far back that much. It was a surprise, first of all, and second of all, I had the best place to be in, which is first, so you don't have anyone in front of you. There's no spray, and you can actually see. It was definitely a new learning experience, but I think I got around it pretty fast and we were putting down some really fast lap times."
What is potentially more daunting, especially for his Indy Lights competitors, is that O'Ward could easily have four wins in four races if not for Race 2 in St. Petersburg, when he overshot Turn 4 and went into the runoff area before stalling the car on re-entry.
He eventually finished seventh, and revealed that while it was an honest mistake, it is one that did not sit well with him.
"It was kind of embarrassing," he revealed. "I was seven seconds in front of everyone, and then all of the sudden you mess up by yourself, go in the runoff area, and stall the car. I basically just gave a win (away), gave a podium away."
He further explained that running by yourself, as he was at that point in the race, can present a unique challenge in that it can be very easy to lose focus, as you aren't battling anyone.
"Whenever someone is behind you, it kind of helps you keep your focus, but when you're so far ahead, it becomes a mental challenge by yourself. So you're your own competition. I think that's what got to me. I kind of relaxed a little too much and I just made a stupid mistake. On a street course, they're not going to be forgiving. It's definitely something I'm not going to want to happen again."
In addition to honing his craft in the Mazda Road to Indy Presented by Cooper Tires, O'Ward is also taking advantage of opportunities in IMSA. He raced full-time in the Prototype Challenge class of the WeatherTech SportsCar Championship last year with Performance Tech Motorsports, and is doing the endurance races with the same team in 2018, now in the Prototype class.
The relationship between O'Ward and Performance Tech goes back to 2016, when he first contested IMSA Prototype Lites races (now called the IMSA Prototype Challenge presented by Mazda) with them, and that quickly grew into a full-season opportunity for 2017.
"I did an IMSA Lites race with them. We didn't have the strongest car, but they saw what I could do. (Team owner Brent O'Neill) called me and said 'Hey, would you be interested to jump in the car with James (French) and Kyle (Masson) for the PC?' I was like 'Well, yeah, that'd be awesome to do Daytona, Sebring, and everything,'" he said of how their relationship came together.
And while the Prototype Challenge class did not feature deep fields in 2017 – BAR1 Motorsports was the only other team with entries in every event, with only Don Yount contesting every race for them – it nonetheless resulted in several noteworthy accomplishments, including wins at the Rolex 24 at Daytona and the Mobil 1 12 Hours of Sebring, along with a class championship.
Even though O'Ward's primary focus is in the single-seater realm, he is not dismissive of his IMSA exploits.
"I think the championships and the IMSA stuff, it's going to add to your bonuses, to your persona, it just adds to everything," he asserted. "It's always good to have some seat time, to get more seat time, to get your name out there. It's definitely not hurting."
While his career has at times hit a couple stumbling blocks – he ran only four Indy Lights races in 2017 before his budget ran out – O'Ward is confident that if he can keep up the same work ethic, attitude, and form he has displayed so far, a big payoff could be down the road.
"I'm a big believer that things happen for a reason, so I'm sure where I'm at right now is because of the things that have led up to this. So, I think it's just part of the sport, it's part of what it takes to kind of start making (a name for) yourself as a driver. I feel like it's just all a part of it, and honestly I wouldn't be changing a thing."
His championship outlook certainly looks strong four races in – he leads Santi Urrutia by 16 points (110 to 94) – but his focus is not necessarily on maintaining his dominant form.
Rather, he is keen to get the most out of every race, even if that means not winning. "If I have a car for second, I'm going to finish second. If I have a car for a podium, I'm going to finish on the podium – I'm not going to push for the win. But when I know I have a car to win, I'm going to (try to) win. So, I just want to play it smart, watch my surroundings, because I know sometimes when things don't go your way it's not your fault. So that's basically going to be my approach for the rest of the season."
And while the Indy Lights field is small, he is by no means underestimating anyone.
"Santi has been a vice-champion in Indy Lights for two years already. Colton (Herta) got a bunch of race wins last year. Aaron (Telitz) got wins last year and he was fast. Every single guy in the series has gone for wins or has showed a lot of speed. This year is definitely not a walk in the park."
Indy Lights' next event is this weekend's double-header at the Indianapolis Motor Speedway Road Course.